On a recent trip, a friend asked me a tough question: Which of Korea's temples is my favorite? I pondered the question for a moment.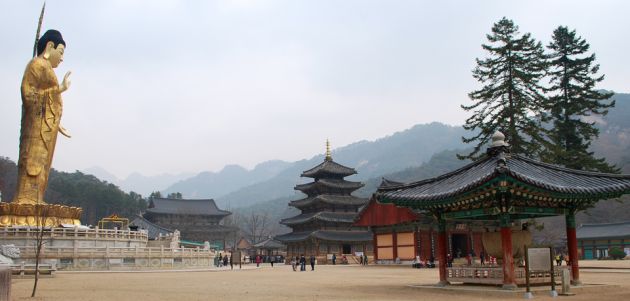 Of course, I haven't visited all of Korea's some 100 temples, but from the good number I've seen so far, my favorite has to be Beopjusa Buddhist Temple (법주사), a fantastic complex located on the southwestern slopes of Mt. Songnisan (속리산) in North Chungcheong Province.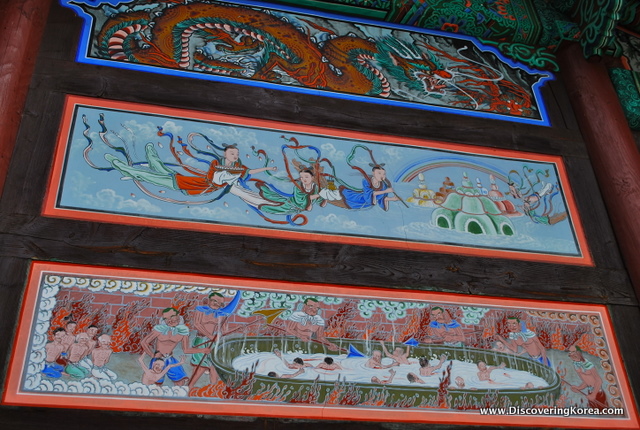 Beopjusa Buddhist Temple was founded by the great monk Uishinjosa (의신조사) in 553 during the Silla Kingdom.
Although the magnificent temple is dedicated to the worship of the Maitreya Buddha, it was built with the hope that ancient Korea's Three Kingdoms would be reunified. Sadly, Some 14 centuries later millions are still hoping for a unified Korean peninsula.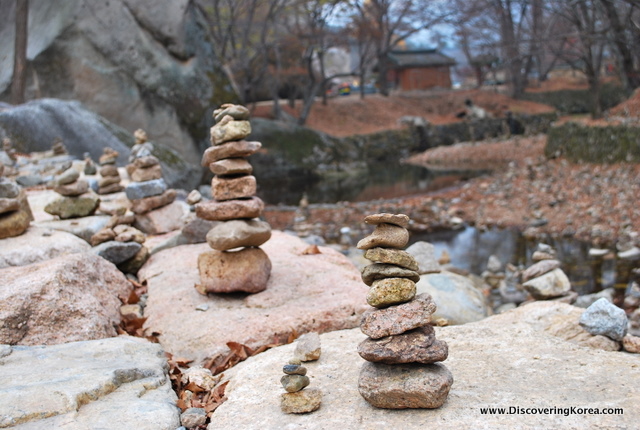 In the meantime, Beopjusa remains a beautiful place to admire the balance between nature- and human-made things.
On the temple's grounds, distinguished wooden structures dating from the early 1600s are located amidst dramatic, pine-covered peaks while ancient graffiti is etched into huge granite boulders.
Upon entering Beopjusa Buddhist Temple's main temple gate, a sole towering pine tree stands on either side of the stone pathway.
If you walk past these trees and through another gate, Beopjusa's grandest building comes into focus. Palsangjeon (팔상전), a five-story pagoda, is the only one of its kind left in Korea.
The 22.7-meter tall blue tower was originally built in 553, but rebuilt in 1624, after the entire temple compound was destroyed during the Japanese invasions of the late 16th century.
But while Beopjusa's wood buildings easily burned, its stone and iron works endure. Three of my favorites date from the eighth century. The Beopjusa Seogyeonji (법주사 석연지) is an octagonal pagoda with a cloud-motif decorating its pedestal. On top of it is a huge lotus-shaped pond.
Another treasure is the Two-Lion Stone Lantern, which was built in 720. But maybe most curious of all is an enormous iron pot. Cast during the Goryeo Dynasty, it's said to be big enough to cook rice for 3,000 monks, which is how many were lived at Beopjusa centuries ago.
More recently constructed is the Golden Maitreya Statue of National Unification. In 1990, at a cost of $4 million, the 33-meter-high, 160-ton Buddha was erected.
Covered in gold leaf, the Buddha was made possible by over 30,000 donations. Sitting at the site of the original temple's main hall, it's an impressive addition that complements the site.
Outside the temple complex but nearby are a few other great sights. The Jeongipumsong Pine Tree (정이품송) is said to be about 600 years old. The tree was granted a ministerial title when it reportedly lifted its branches in order to let King Sejo's palanquin pass in the mid 15th century.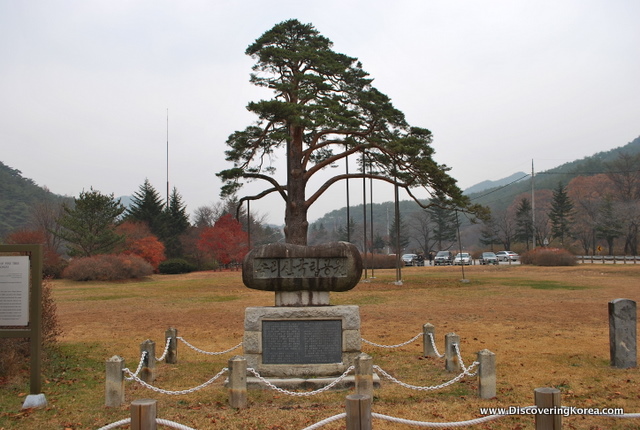 Sadly, in recent years several branches were damaged by snow and ice, though what remains is still beautiful.
Of course, being set on the side of Mt. Songnisan, several hiking trails are accessible. Although you probably won't ride to the top of Munjangdae (문장대) in a coach like King Sejo did in 1464, it should only take you a couple of hours on foot
For your information…
| | |
| --- | --- |
| Open: | 06:00-18:00 |
| Admission Price: | 4,000 won entry for adults, 2,000 for youth, 1,000 for children. Additional charge for parking. |
| Address: | North Chungcheong Province, Boeun-gun, Songnisan-myeon, Beopjusa-ro 405 |
| Directions: | Take Seoul Metro Line 2 to Gangbyeon Station for Dong Seoul Bus Terminal. Buses depart frequently for Cheongju (청주). Be sure it's not Chungju (충주). From Cheongju, take a bus from Boeun Intercity Terminal. Buses take ~20 min. and run every half hour between 06:30-20:10. The temple is a 20-min. walk from Songnisan Intercity Terminal. |
| Phone: | 043-543-3615 |
| Website: | English |
Last updated September 17th, 2019