As I've said on more than a few occasions on this blog, autumn is one of the best things about living in Seoul. After a sweltering summer, fall is the perfect time to get outdoors and enjoy the city.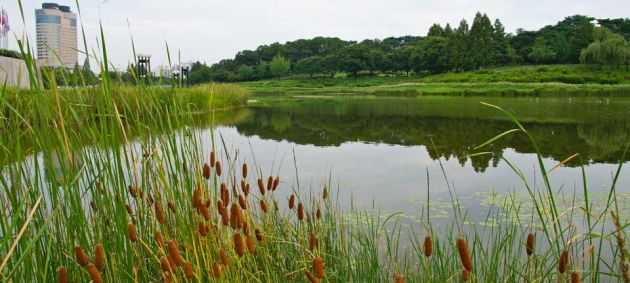 For the nature lover, few spots can match the size and beauty of Seoul Olympic Park (서울올림픽공원). Located in southeastern Seoul's Jamsil-gu district, the park's massive 1.4 million square meters set it apart from virtually any other green space in the city.
As one might expect from its name, the vast wooded Seoul Olympic Park includes extensive sporting facilities, including six stadiums.
Seoul Olympic Park's massive size means there are multiple points of entry. However, the main north entry is where you'll find the iconic Peace Gate. In fact, most Koreans can't separate the gate from the 1988 Summer Olympic Games, when the park served as a focal point for guests.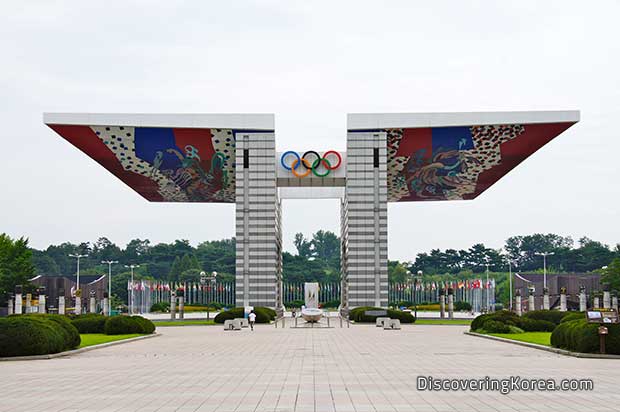 Designed by Kim Chung-up, it's an impressive 24 meters high, 62 meters long and 37 meters wide. On the wide promenade leading up to it, four rows of pillars are decorated with traditional Korean mask designs.
Behind the structure are flags of the 161 countries that participated in the 24th Olympiad. At its center is an eternal Olympic flame that flickers above the Seoul Peace Declaration.
In addition to a large pond that wraps its way around much of the park, I'd say that Seoul Olympic Park's most conspicuous feature is the recreated earthen fortress that rings most of its interior.
Known as Mongchontoseong (몽촌토성), it's the remains of an ancient wall constructed during the Baekje era to protect what was a capital city. Given that Baekje existed between the 1st century BCE and 8th century, the settlement marked the first time that the Seoul area was a Korean capital.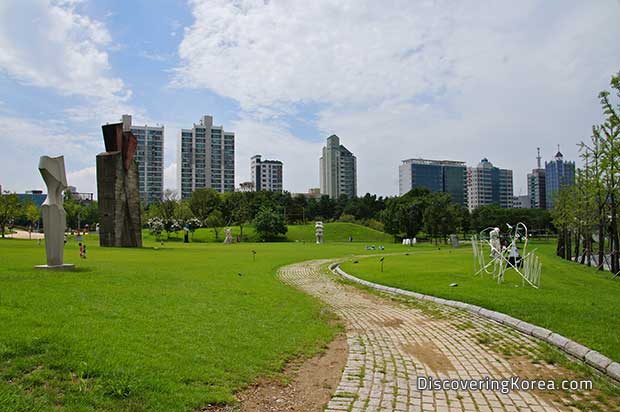 Today, the wall feels more like a precocious berm, with its grassy slopes covered in all manner of trees and bushes. Transformed into an extensive walking trail, it provides a great vantage point from which to view the park's many interesting features.
Smaller in scale but no less conspicuous are the hundreds of pieces of art that decorate Seoul Olympic Park's lawns. SOMA, an acronym for Seoul Olympic Museum of Art, was opened in 2004 to highlight the cultural achievements of the 1988 Games.
By using a huge swath of the park as its outdoor exhibition gallery, it's said to be one of the world's five largest sculpture parks. Today, the 219 installations by 155 artists from 66 countries create a fitting international celebration, much like when the Olympics came to South Korea. Also on site is the newly constructed Seoul Baekje Museum (서울백제박물관).
One thing that I've always appreciated, in my five years living here is that Seoulites really do love their parks. The city's green spaces are well-utilized in a city that admittedly isn't very green.
On a recent visit, looking around there were many singles on bicycles or skates and couples and families riding on bike carts. Under the shade of trees were groups playing badminton or enjoying a picnic.
Given the fact that admission to the park is free and access is available around the clock, there's even more reason to visit Seoul Olympic Park this fall.
For Your Information..
| | |
| --- | --- |
| Open: | Sunrise - 22:00 |
| Admission Price: | Free |
| Address: | Seoul Songpa-gu Bangi-dong 88-8 |
| Directions: | Olympic Park Station (#P550) on Line 5, Exit 3 |
| Phone: | 02-410-1114 |
| Website: | |

Matt Kelly is native of the US Pacific Northwest and is half-Korean by ethnicity. He lived in Korea for five years and has written hundreds of travel guides for Wallpaper, TimeOut, the Boston Globe and Seoul Magazine and was a host for several different variety shows on Korean radio and television.