The Songsanri Tombs of Gongju Korea provided archaeologists more evidence of the culturally sophisticated Baeje Kingdom (18 BCE-660 CE).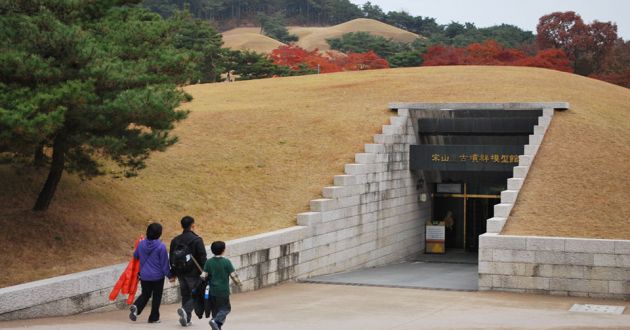 One of ancient Korea's Three Kingdoms, the city of Gongju (then Ungjin) was selected as Baekje's capital, and for 63 years its spectacular temples and palaces thrived until it was destroyed by a Silla-Tang China coalition in 660.
Today, this town in South Chungcheong Province (충청남도) has several important cultural attractions that tell the story of Baekje's glory years.
Although most escape notice from travelers to Korea, the Songsanri Tombs of Gongju Korea are gaining popularity. To passers by, the tombs resemble large, gently sloping earthen mounds blanketed in neatly-trimmed grass.
It's believed that ten Baekje kings are buried in Gongju, although so far just seven have been discovered.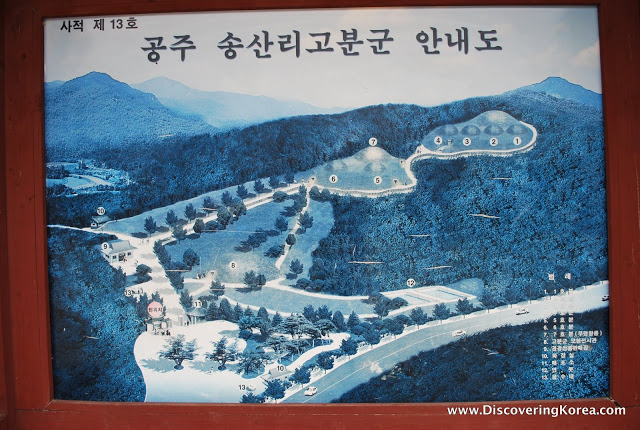 The most important Tomb #7, which belongs to King Muryeong (무령왕) and his wife, the queen. Baekje's 25th king was born in 462 and reigned from 501 until his death in 523.
According to the Samguk Sagi, History of the Three Kingdoms, Muryeong, also known as Sama, became king after his father was assassinated by a court official. A year later, he crushed a rebellion by the same renegade.
During Muryeong's reign, the southwestern kingdom of Baekje and its eastern rival Silla were allied against the northern kingdom of Goguryeo.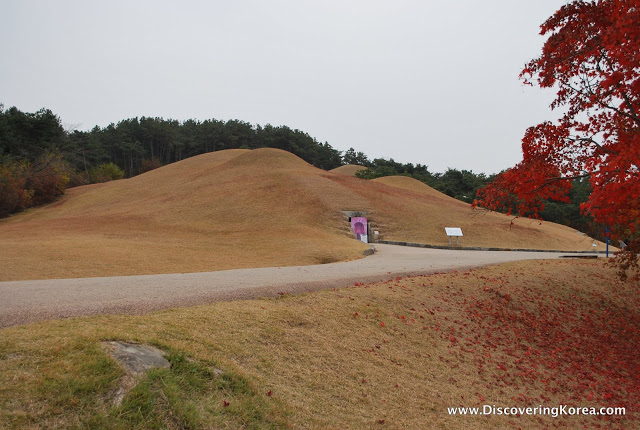 Furthermore, the king expanded contact with China and Japan and both countries' historical records reference him. In fact, Japan's emperor Akihito created controversy in 2001 when he told reporters, "I, on my part, feel a certain kinship with Korea, given the fact that it is recorded in the Chronicles of Japan that the mother of Emperor Kammu was of the line of King Muryeong of Baekje."
Japanese historic texts say that Kammu's mother was a descendant of Muryeong's son. His remarks were the first time that a Japanese monarch publicly acknowledged there was Korean heritage in the Chrysanthemum throne's imperial line. No doubt this is one reason why many Japanese tourists visit the Baekje capitals of Gongju and Buyeo (부여).

Among the Songsanri Tombs of Gongju Korea, King Muryeong's tomb was discovered by accident in 1971 while drainage pipes were being installed to protect two nearby tombs. It's rare to find an intact Baekje tomb, yet Muryeong's hadn't been opened since the king and queen were originally interred some 1,500 years earlier!
Inside, archaeologists discovered 2,906 items. Of those, 12 were designated National Treasures, and all can be seen at the Gongju National Museum.
Baekje is often regarded as the most artistically sophisticated of the Three Kingdoms. Some of the best examples include the distinctive royal crowns, jewelry, gilt bronze shoes and neck pillows found inside the tombs.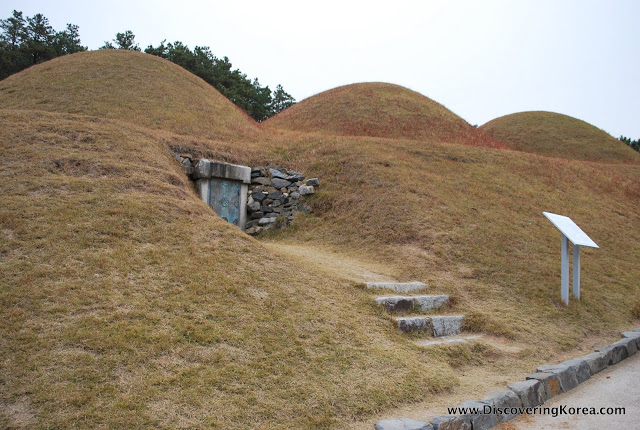 Unfortunately for me (but fortunately for its preservation), the actual tomb is permanently closed. But the Korean government has made an excellent, albeit miniature duplicate for visitors.
The 3.14 meter high tomb extends 4.2 meters in the north-south direction and 2.72 meters east-west.
Lined with textured black bricks (many featuring lotus motifs), the end of the long tunnel features a dome-like ceiling and paintings of fire-breathing dragons, tigers, peacocks, turtles and other auspicious creatures.
The unusual wall mural in Tomb #6 is probably its most remarkable aspect. In fact, it's the only representative art of this kind in the world.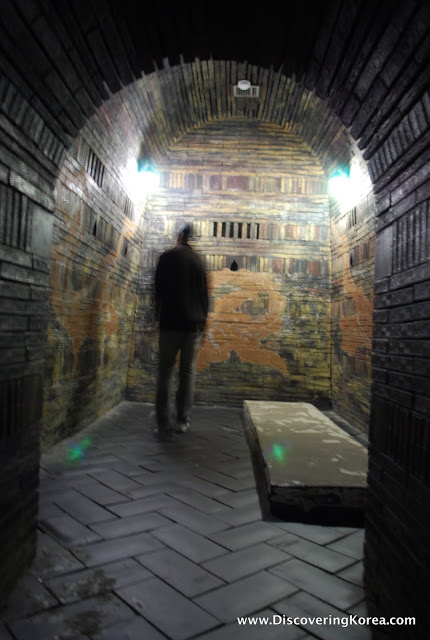 Not surprisingly, the Songsanri Tombs of Gongju Korea are among South Korea's future pitches to be considered for UNESCO World Heritage status..
What about you? Have you visited the tombs? Let us know in the comments below and tell us your story!
Last updated September 12th, 2019

Matt Kelly is native of the US Pacific Northwest and is half-Korean by ethnicity. He lived in Korea for five years and has written hundreds of travel guides for Wallpaper, TimeOut, the Boston Globe and Seoul Magazine and was a host for several different variety shows on Korean radio and television.