If you've been to Seoul, chances are you've seen ddeokbokki (떡볶이) being cooked at a street-side stall.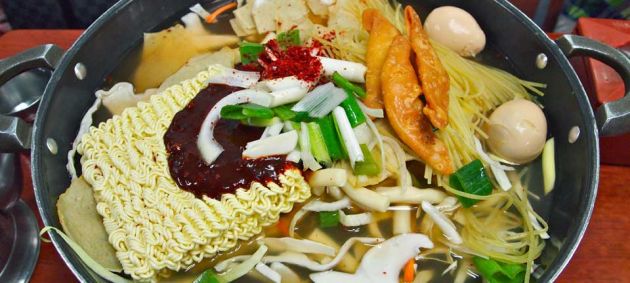 Among the most popular types of Korean street food, Ddeokbokki is made by mixing chalk-sized pieces of chewy white rice cakes with a spicy red sauce.
Often, cabbage, fishcake and other ingredients are added to the mix. Among the snack's greatest draws is the cheap price.
Interestingly, the original ddeokbokki was considered a royal delicacy, not a simple street food. Like most royal cuisine, the original recipe didn't call for red pepper flakes or the paste called gochujang (고추장); soy sauce was used instead.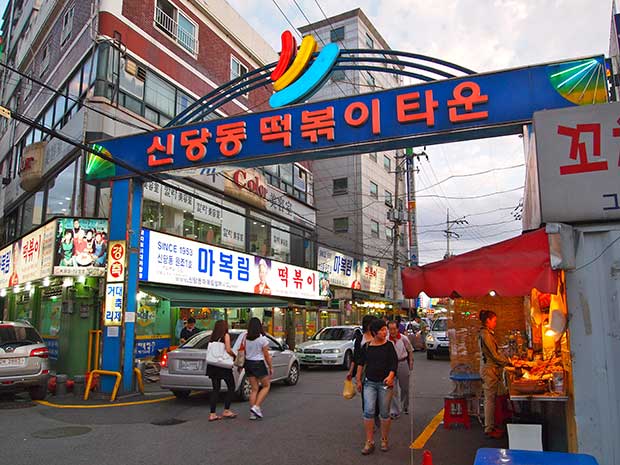 It wasn't until the lean years following the Korean war that the limited availability of soy sauce gave rise to ordinary Koreans supplanting the sweet and salty soy sauce for the sweet and spicy gochujang.
Although you can sample ddeokbokki almost anywhere in Seoul, the most famous area for it is in Sindang-dong (신당동), where for almost 60 years, the beloved spicy rice cakes have fed hungry students, office workers and families.
Today, Sindang-dong Ddeokbokki Town is what it's called – a few hundred meters of blacktop lined on both sides by about one dozen restaurants. Each end is marked by neon lights, and since the 1980s the strip has invited DJs and live guitar performances.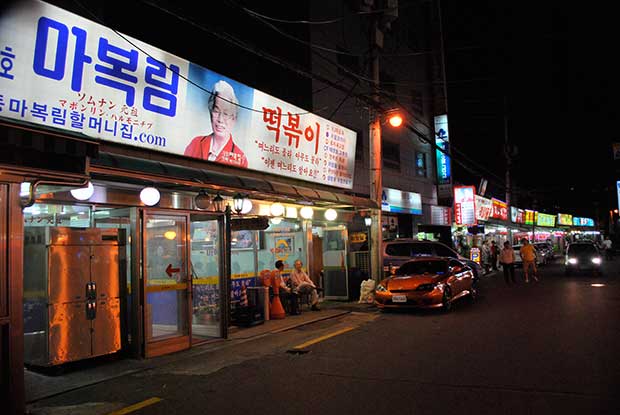 The original Sindang-dong ddeokbokki establishment is Ma Bok-lim's Restaurant. It was in 1953 that Mrs. Ma started selling her rice cakes from an outdoor stall.
As the story goes, her once "secret recipe" was discovered by chance when she accidently spilled red pepper paste into her father-in-law's bowl of Chinese noodles.
Well, the rest is history and while her daughters-in-law run the business now, it's grown to take up a long strip of real estate that opens early and stays open until after midnight!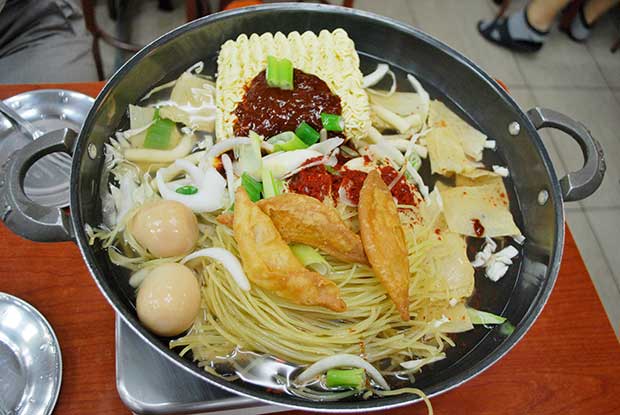 Ma Bok-lim's ddeokbokki is different from your average street snack. After often waiting in line, you're ushered to a narrow table with tiny stools. The ambience is more cramped cafeteria than restaurant.
You pre-pay for the single menu item, and a few short minutes later the uncooked medley arrives at your table in a big shallow pan, which is then simmered on your table on a hotplate.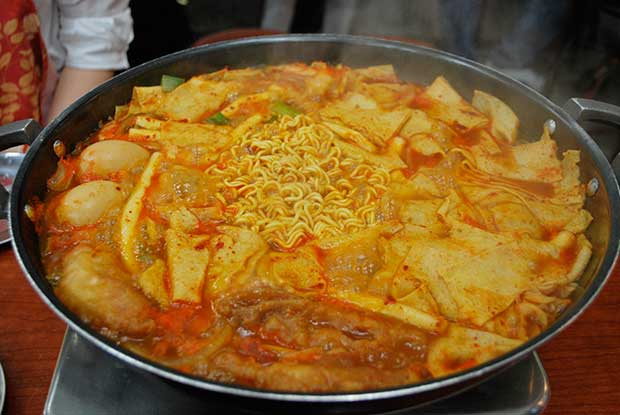 As the mix bubbles and the ribbons of ramyeon noodles separate, the ingredients begin their delicious blend.
It takes about 15 minutes for the sauce to really take on its full flavor as the small portions of cabbage, leeks and carrots mix with the generous amounts of fried fish cake and pieces of ddeok that are thinner and shorter than your typical snack cart variety.
Once it's time to eat, the snack quickly turns into a filling meal, and before you know it you're out the door.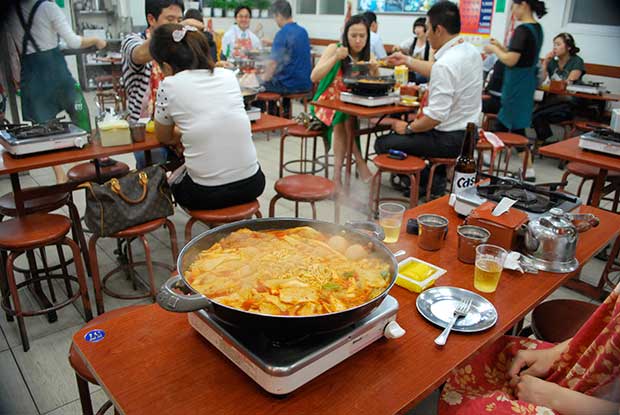 Across the street from Ma Bok-Lim's is I Love Sindang-dong, which was created in 2002 when seven restaurants merged.
The only real competition to Mrs. Ma, it has a few more options on their menu, and they're also primarily responsible for keeping the neighborhood's live music tradition alive.
For Your Information..
| | |
| --- | --- |
| Open: | Please call for hours. |
| Price: | Prices start at 11,000 won for 2 people |
| Address: | Seoul Jung-gu Sindang-dong 304-518 |
| Directions: | Sindang Station (#206/#635) on Lines 2 & 6, Exit 7 |
| Phone: | 02-2232-8930 |
| Website: | |

Matt Kelly is native of the US Pacific Northwest and is half-Korean by ethnicity. He lived in Korea for five years and has written hundreds of travel guides for Wallpaper, TimeOut, the Boston Globe and Seoul Magazine and was a host for several different variety shows on Korean radio and television.