If you're looking for something different, a Hangang river cruise through Seoul is a unique way to view the city.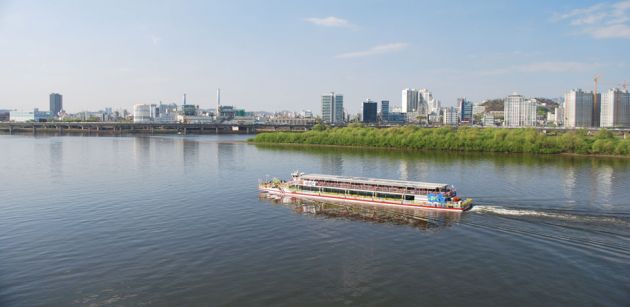 Surely anyone who has visited Seoul knows of the wide and mighty Hangang (한강). From its modest origins atop two mountains, one in South Korea and the other in the North, the Hangang winds along peacefully for over 500 kilometers before passing through Seoul on its way into the West Sea (or Yellow Sea).
Despite being over one kilometer wide in places, the shallow Hangang isn't fit for deep-hulled boats, which limits its navigation to flat-bottomed barges and pleasure craft.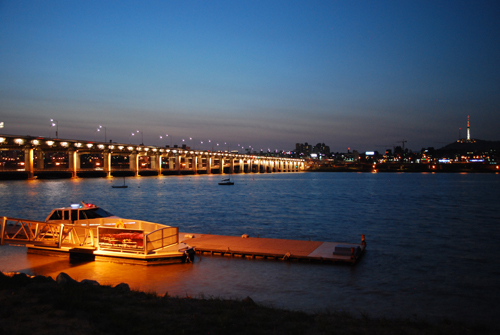 Fortunately, since 1986, a small fleet of cruise ships operated by the C& Hangang Land company has ferried passengers on a Hangang river cruise through Seoul on one-way and roundtrip tours from seven docks.

Seeing Seoul from its main artery is a great way to get your bearings in such a huge city. My friend and I took the cruise from Jamsil dock, in southeast Seoul to the wharf on Yeouido island (여의도) in the west.
Along the way, you'll no doubt see numerous landmarks, including the main stadium from the 1988 Olympic Summer Games, and neighborhoods like Apgujeong-dong and Hannam-dong.
Something you should know before boarding a Hangang river cruise through Seoul is the obvious – this isn't Hong Kong's Victoria Harbor! That is to say, this cruise is more peaceful or romantic than thrilling.
With the notable exception of Yeouido, most of Seoul's dramatic skyline was built a ways from the riverfront, due to flooding concerns in the past.
Despite the lack of copious skyscrapers, a highlight to any Hangang river cruise through Seoul is passing under many of the city's 27 bridges.
In fact, anyone who's taken a cruise of late has enjoyed the colorful fruits of a just completed, 3-year project.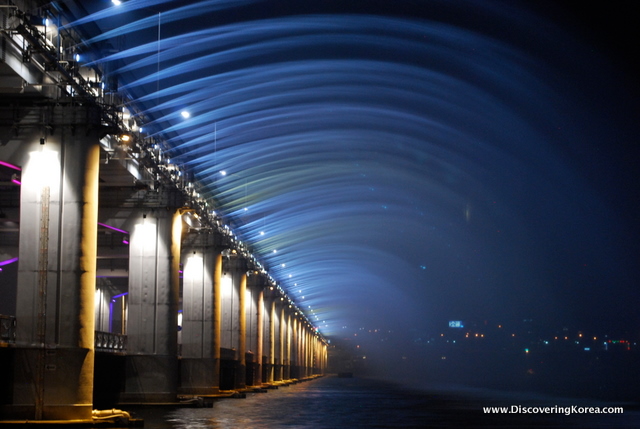 Since 2006, Seoul City has worked with lighting designers to create new illumination systems for the bridges that span the river.
The result is a diverse array of bright and beautiful pieces of light art that paint not just the bridges, but the surrounding river as well in a colorful glow.
On our tour, we saw "White Sea" and "Korea in the World," the titles of the displays on the Hangang (한강대교) and Dongho (동호대교) bridges, respectively.
To conserve energy, only half of the bridges are illuminated at any one time, and low-wattage, energy-efficient bulbs and cold cathode lamps were installed.
In fact, the daily cost for illuminating a bridge is just 33,000 won, or about 25-bucks. In addition to the standard sightseeing cruises, the boats can also be chartered for special events and parties.
There's an especially tacky "Pirates of the Caribbean"-themed boat, if that's your thing.
But whichever route you choose, here are a couple of tips:
Although you'll probably also want to spend part of your cruise on the decks outside of the cabin, when you board the boat, make a beeline for one of four seats located on the top deck at the ship's bow.
Also, although night cruises are popular, why not take a daylight cruise? The afternoon sailings also afford great views and a refreshing breeze on these hot summer days.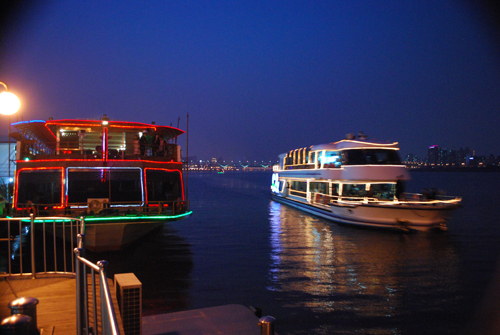 And finally, if you'd prefer to see the Hangang from the seat of a bike, check out this article about a bicycle tour of Yeouido (여의도) and Seonyudo (선유도) islands.

Matt Kelly is native of the US Pacific Northwest and is half-Korean by ethnicity. He lived in Korea for five years and has written hundreds of travel guides for Wallpaper, TimeOut, the Boston Globe and Seoul Magazine and was a host for several different variety shows on Korean radio and television.