Back in September of 2006, i booked a $19 (+tax) roundtrip ticket on Malaysia's Air Asia. The prospect of being airborne for so little was intriguing.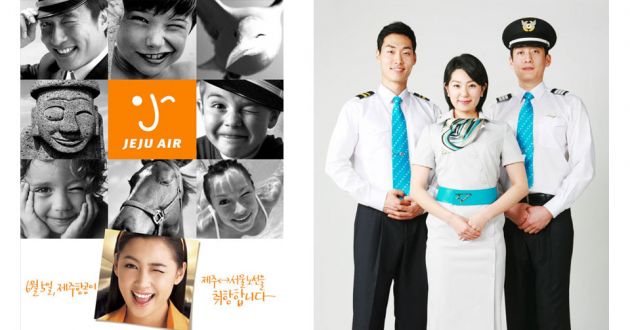 Sure, I was flying from Kuala Lumpur to the unlikely destination of Kota Bharu, but c'mon, $19? At the time, I was struck by how inexpensively one can fly in Southeast Asia… especially when originating out of KL or Bangkok.
This just isn't the case in pricey northeast Asia, where 2-hour trips between Seoul and Tokyo still can run $500+ this time of year.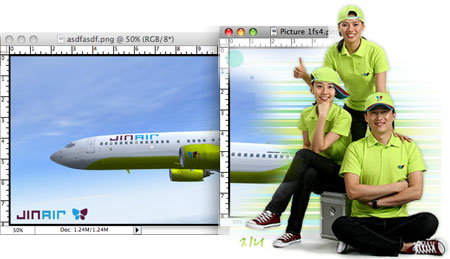 But 2008 promises to fill Korea's skies with a glut of new budget carriers. A total of 5 new airlines are launching this year, in addition to the two already in operation. Last month, the Busan-based Yeongnam Air launched its inaugural flight between Seoul's Gimpo International (mostly domestic) and the lovely Jeju Island.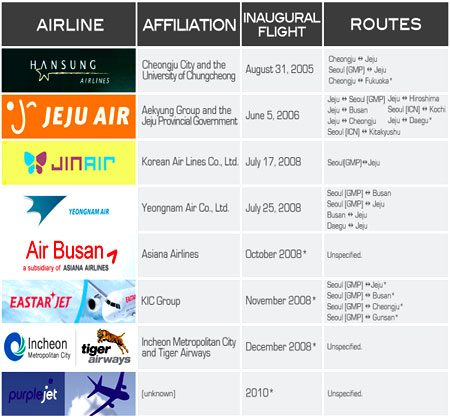 By the end of the year, Yeongnam plans to service four domestic routes that concentrate on Korea's southeastern region. In fact, bonafide Yeongnam region residents receive a 5-10% discount… which is kinda weird.
A week before Yeongnam, Jin Air, the budget arm of Korea's Tiffany-blue flagship carrier, Korean Air, made their own maiden voyage on a 189-seat Boeing 737-800.
Jin is so easy breezy cool that their flight attendants, called "jinis" (yes, from the lamp) wear t-shirts and jeans and their check-in counter features a DJ.
Although initial plans were to call the airline Air Korea, they switched to "Jin," whose Chinese character can mean "true" or "genuine", or, it can sound like how Koreans pronounce "jeans", which is appropriate since their staff wear them.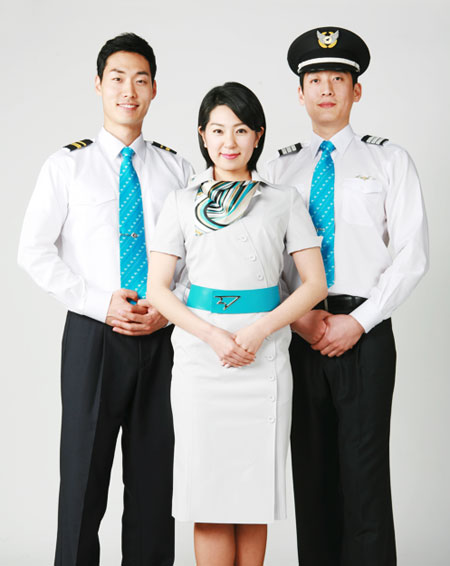 Which came first, the outfits or the name? Regardless, what's even better is their slogan: "fly, better fly – Jin Air." Hmmm… Wait! Their logo looks like a butterfly… which sounds a lot like "better fly". Clever! Coincidence? Starting late next year, Jin Air plans to fly to Japan as well as to China and Southeast Asian destinations.
Hansung Airlines is Korea's oldest budget carrier (inaugural flight in 2005). The Cheongju-based airline has offered the popular Seoul (Gimpo) to Jeju route at half the typical $200+ cost of the major airlines. Although Hansung experienced early popularity, it suspended service briefly in 2005-06 to search for additional funding.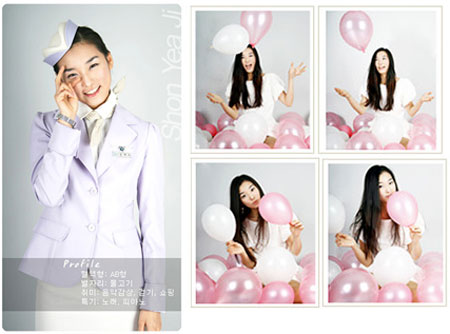 Adding literal injuries to that insult was an accident in November 2006 that broke off their plane's nose and caused six minor cuts and bruises.
If safety concerns have you second-guessing Hansung, please don't. Who else's Web site has a "cabin interview" feature that tells you your flight attendant's hobbies and blood type? For example, now I know that Yea-ji Shon really likes balloons.
Not to be left out, Korea's other major carrier, Asiana Airlines, will also launch a subsidiary airline this fall. Air Busan, as it will be called, is scheduled to start operations next month.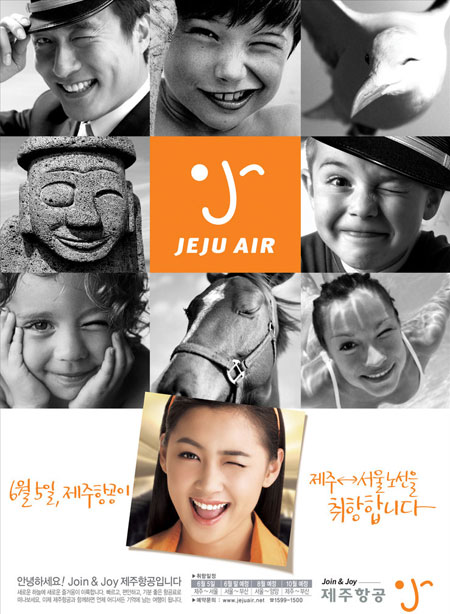 Two other low-cost carriers are also planned before year's end. In November, Eastar Jet is scheduled to start service, with Incheon-Tiger (co-owned by the city of Incheon and Singapore Airlines) to kick off in December, eventually hoping to serve Japan, China, Mongolia and the Russian far east.
A few others, like Purple Jet, Daeyang Air, Pocheon Air, Kostar Airlines and Seoul Airlines have all been knocked about, although it's unclear which (if any) will materialize.
Korean aviation restrictions require new carriers to have at least 2 years of domestic test-runs before going international.
The new companies are eager to go abroad since that's where the real profits lie. Jeju Air, which has operated since 2006, already qualifies and offers service to three Japanese cities (unfortunately, Tokyo isn't one of them).
Let's hope some of them start international flights before high oil prices push them under!

Matt Kelly is native of the US Pacific Northwest and is half-Korean by ethnicity. He lived in Korea for five years and has written hundreds of travel guides for Wallpaper, TimeOut, the Boston Globe and Seoul Magazine and was a host for several different variety shows on Korean radio and television.