Every so often we profile some of Seoul's best places to eat and drink on DiscoveringKorea.com, and since it's been a while since we've taken a culinary tour of the city, I think it's time we take a look at two of my favorite Seoul noodle shops.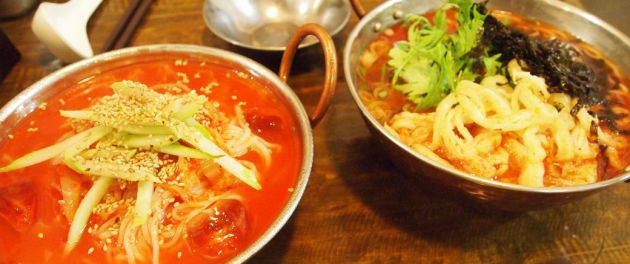 The cooking of noodles, called both guksu (국수) and myeon (면) in Korean, goes back thousands of years. Noodles symbolize longevity in Korea and to this day are often served at wedding banquets in honor of the happy couple.
There are a number of popular noodle dishes in Korean cuisine, from the cellophane noodles used in popular side dishes like japchae (잡채) to handmade kalguksu (칼국수) wheat noodles found commonly in hot soups, as well as the thin buckwheat noodles found in cold naengmyeon (냉면).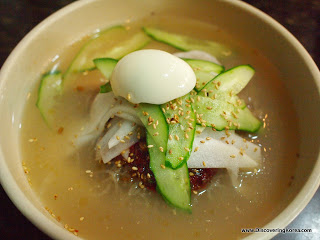 Of course, there's also the always-popular ramen instant noodles.
Basically, noodles are a great choice for every season.
But at this time of year when autumn is in the air, maemil (메밀) or buckwheat comes to mind. My favorite place for maemilguksu (메밀국수), a healthy alternative to wheat noodles is a tiny place located across the street from Gyeongbokgung palace (경복궁) .
Maemil Ggotpilmuryeop (메밀꽃필무렵)
Maemil Ggotpilmuryeop is a supermarket-slash-six tabled eatery named after the Korean novelist Lee Hyo-seok's much-loved story about the fields of tiny white buckwheat blossoms that cover his hometown high in the mountains of Pyeongchang County (평창군).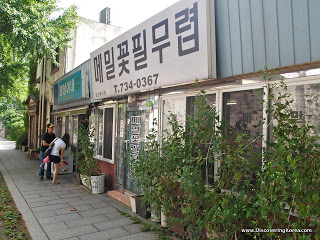 Buckwheat thrives in colder, high altitude climates, which is a good fit for eastern Korea's mountainous terrain.
Contrary to its name, buckwheat is not a wheat nor cereal or grass, for that matter, but a triangular seed that's crushed into a dough.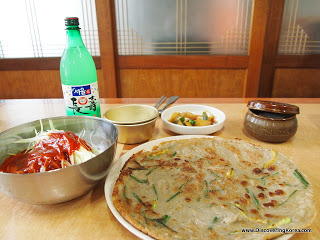 Maemil is similar to Japanese soba, however Korean maemil noodles are typically chewier and less fragrant, due to its higher wheat content.
The restaurant is partly concealed by potted buckwheat plants and run by Pyeongchang transplants.
The no-frills restaurant serves deliciously nutty, handmade noodles and crispy buckwheat pancakes seasoned with coarse salt, mustard or a jalapeno-vinegar sauce.
Other maemil dishes on hand include a thick and savory bean kongguksu (콩국수) and two varieties of the summertime favorite, naengmyeon.
Should you wish to complement your buckwheat meal with some grain-based alcoholic drinks, several of them are also on offer.
Yogi (요기)
But if you're looking for a fun ambience in which to enjoy your noodles, I suggest you head to Yogi, a trendy Seoul noodle shop that's especially popular among the college set.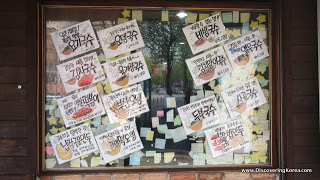 With locations in the university neighborhoods of Sinchon (신촌) and Hongdae (홍대), Yogi's comic book-style menu and walls festooned in colorful post-it notes and scribbled messages create a youthful vibe.
Thankfully, though, it's their specialty – hot and cold noodles cut on the spot – are the primary draw.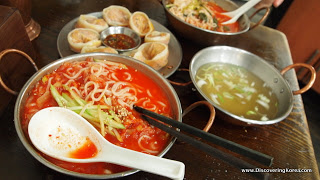 In fact, their hot tofu guksu their cold bibim or spicy noodles, or a number of other popular treats like mandu dumplings, and fried rice and fish cakes, all go great together, and Yogi serves some of Seoul's best noodles at some of the city's least-expensive prices.
If you'd like to sample their most popular dish, order the kimchi mariguksu (김치 마리국수), a refreshing mix of cold noodles and hand-rolled kimchi topped with slices of cucumber and sesame seeds.
So there you have it, a snapshot of two great options for the noodle lover.
Inevitably, there are many, many more, and when I find them I'll be sure to share them with you.

Matt Kelly is native of the US Pacific Northwest and is half-Korean by ethnicity. He lived in Korea for five years and has written hundreds of travel guides for Wallpaper, TimeOut, the Boston Globe and Seoul Magazine and was a host for several different variety shows on Korean radio and television.