Gwangjang Traditional Market in Seoul has become a popular destination for foreign visitors.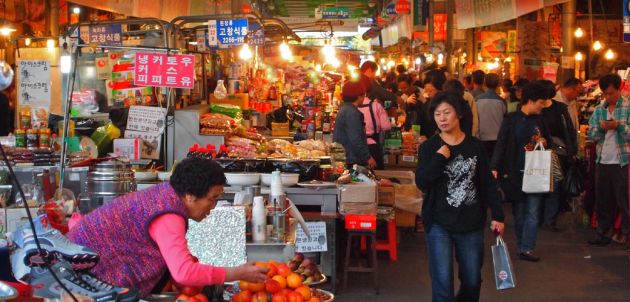 While it's understandable that many Koreans are eager for foreign tourists to visit Seoul's glitzy high rises, luxury malls and top-tier hotels, in my experience, travelers to Korea are usually eager to see what makes the nation and culture unique, and are looking for places that are unmistakably Korean.
For them, I can't think of a place that does this better than a public market, like Gwangjang Traditional Market (광장시장).
Despite huge competition from discount chain stores and facilities that can provide conveniences like free parking, Seoul's traditional markets are holding on. And thank goodness for that!
They retain a special charm that makes them a "must-see" on any tourist's Seoul itinerary. Thankfully, the city government has realized their important role to citizens and visitors alike, and has allocated support for their modernization.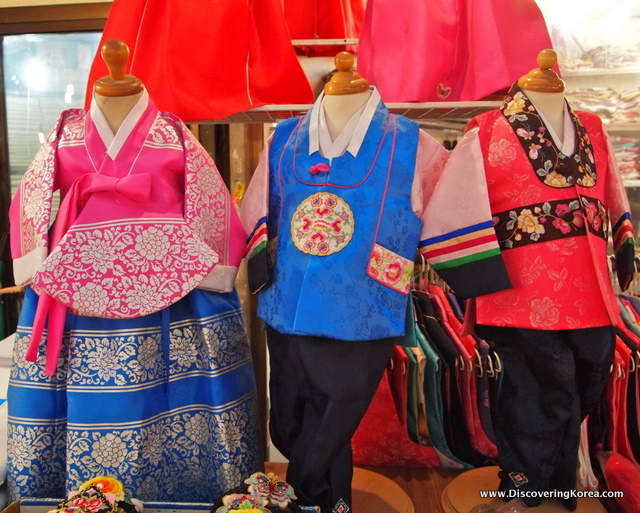 Among Seoul's many traditional markets, Gwangjang Traditional Market in Seoul was the first to open as a daily market.
Established in 1905, it's actually far bigger than it looks, with 5,000 independent shops and an entire upper level dedicated to high quality silk, satin and linen.
It's one of the best places to have everything from bed sheets to traditional Korean hanbok custom made for you.
In fact, many of Gwangjang's vendors supply Namdaemun Traditional Market (남대문시장) and Dongdaemun Fashion Town (동대문시장) merchants with their fine-quality textiles.
On the market's central ground level, the floor space is dominated by scores of pojangmacha snack stalls selling delicious snacks like red bean porridge called patjuk (팟죽), jokbal pigs' feet and sundae (순대) blood sausage.
But the treat that Gwangjang Traditional Market in Seoul is truly famous for is its delicious bindaetteok (빈대떡). Resembling very thick pancakes, these crispy morsels will run you less than four dollars, which is a small price to pay for your own piece of Gwangjang Market's rustic delicacy.
Watch as the hard-working vendors cook their mung bean batter seasoned with meat and vegetables into sizzling pancakes while steam rises into the air.
It's an especially beloved treat in the winter or on a rainy day. Matched with some makgeolli rice wine and a simple soy and onion dipping sauce, I can't think of a better way to spend a cold or wet evening!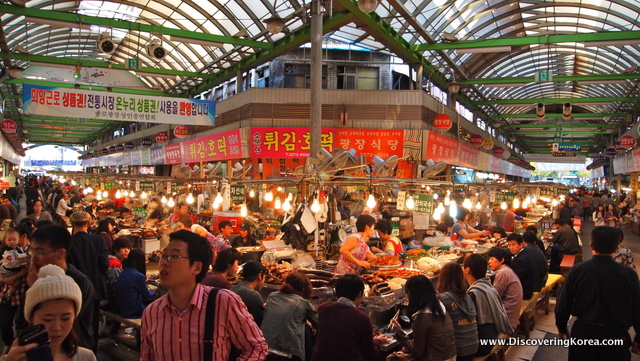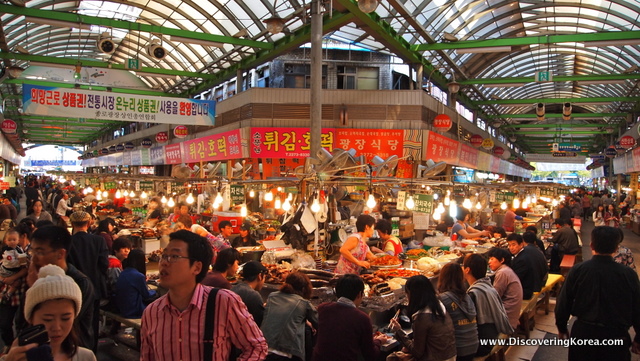 Despite the crowded floor space, Gwangjang Traditional Market in Seoul features high ceilings topped with domed glass and an interior lit by naked bulbs hanging from every stall.
The ubiquitous red aprons designate the vendors from the customers, and frankly, it's a little bit exhausting to consider what it would be like to work there all day.
Keep in mind that many of the food stalls remain open until midnight (but arrive before 21:00 for the best selection).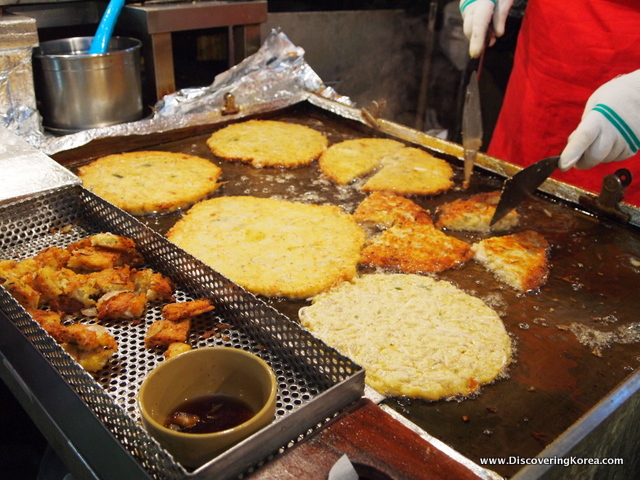 On a recent visit to Gwangjang Traditional Market in Seoul, it seemed like the food vendors were doing pretty well. There was a fun mix of curious tourists and well-heeled groups of salary men and women and retired folks who were all enjoying an early evening stop for snacks and a drink… or three.
Be it the boisterous banter between customers to the delicious and inexpensive treats, Gwangjang Traditional Market displays Koreans' enthusiasm for good food and conversation, and is one of Seoul's most exciting destinations.
For Your Information…

Matt Kelly is native of the US Pacific Northwest and is half-Korean by ethnicity. He lived in Korea for five years and has written hundreds of travel guides for Wallpaper, TimeOut, the Boston Globe and Seoul Magazine and was a host for several different variety shows on Korean radio and television.