One of the most popular neighborhoods among Seoulites for the past few years is undoubtedly Samcheong-dong (삼청동).
The neighborhood's unique mix of traditional hanok-style buildings, modern art galleries, comfy cafés and excellent restaurants collaborate to make it a huge draw.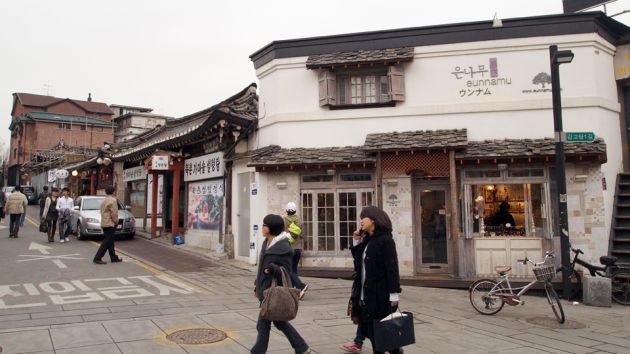 In my opinion, the best way to reach Samcheong-dong is via an attractive, narrow road that starts not far from Anguk Station.
The popular walkway is flanked by stonewalls, benches and tiny groves of trees, with Bugaksan mountain (북악산) in the distance. After walking a few hundred meters, the street opens up a bit, and Samcheong-dong's charming storefronts begin.
Gapsan Myeonok (갑산면옥)
Among them, one of my favorites for a delicious dinner is Gapsan Myeonok. Four generations of this family have prepared North Korean-style naengmyeon (냉면) and grilled Korean beef.
Naengmyeon is typically made from thin buckwheat noodles, served cold in a simple broth, with sliced carrot, cucumber, pickled radish and dollops of hot sauce, mustard and/or vinegar, depending on your preference. The dish is usually topped with half a boiled egg, added to help your stomach digest the buckwheat.
My friend and I ordered the hwae bibim naengmyeon (회비빔밥냉면), a spicier alternative served with uncooked fish, and it was excellent! The restaurant is also famous for its Korean hanoo beef, so my friend ordered some marinated bulgogi (불고기), which was cooked at our table in a sweet marinade with mushrooms, onions, bell peppers and carrots.
Hakgojae Gallery (학고재)
Having filled our stomachs, our next stop was the Hakgojae Gallery.
Located on the street that runs along Gyeongbokgung palace's eastern wall, the gallery is technically in Sogyeok-dong, but the street's many fine galleries fit seamlessly with next door Samcheong-dong. Hakgojae Gallery's philosophy of "Create things new by mastering things ancient" is reflected in its building – a mix of traditional hanok and modern architecture.
Its also apparent in their current collections, colorless colors by six artists from around the world, and a special exhibit, titled, "Return Home After 500 Years: Joseon-era Paintings Return from Japan."
As the title suggests, the 30 rare paintings were in Japan for a century or more before being re-purchased by Korean art collectors. Prominent in the collection are several delightful tiger paintings, very appropriate in this year of the tiger.
Book Café Naeseojae (북카페 내서재)
Many people refer to Samcheong-dong as a café district, thanks to its many cute coffee houses. So, following the exhibit, despite being still full from lunch, my friend and I decided to grab some coffee.
Among my favorite Samcheong-dong cafés is Book Café Naeseojae. The small business welcomes customers with a bright yellow sign, with an interior resembling a funky library. Of course, the most prominent interior feature is the wall-to-wall bookshelf filled with titles that customers are welcome to peruse.
The chandeliers, quiet music and a simple menu of fine drinks, chocolate muffins and cheesecake made for the perfect culmination of our afternoon in one of Seoul's most charming neighborhoods. No need for concern, because we'll definitely be back sometime soon.
There you have it, three perfect venues for you to sample Samcheong-dong's charms in Seoul!

Matt Kelly is native of the US Pacific Northwest and is half-Korean by ethnicity. He lived in Korea for five years and has written hundreds of travel guides for Wallpaper, TimeOut, the Boston Globe and Seoul Magazine and was a host for several different variety shows on Korean radio and television.