Once upon a time, Seonyudo island (선유도) (also known as Seonyubong) had a small peak and picturesque, jagged cliffs. This beautiful setting inspired wandering Confucian gentleman scholars, or seonbi (선비), who came here during the Joseon Dynasty to paint and compose poetry.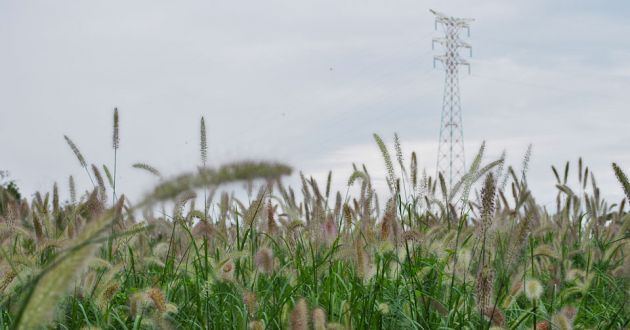 But in a dramatic shift of fortune, this small island on the west side of the Hangang river (not to be confused with the island of the same name in North Jeolla Province) had its mountain and cliffs removed during the Japanese occupation of Korea, and in 1978, it became the site of a sewage treatment plant.
Twenty-three years later, the plant was shut down, and after two years of planning and restoration, Seonyudo island was transformed into a gorgeous, eco-consciousness park that opened in 2003.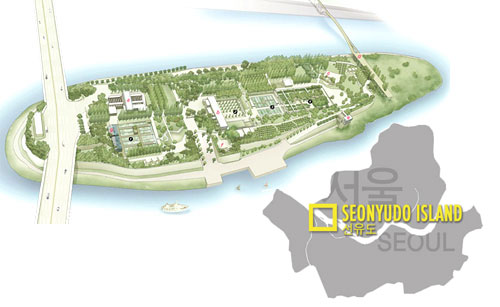 n 1998, a concept known as "New Seoul" was unveiled with the goal of making Korea's 600-year-old capital a more livable place for its 10 million inhabitants. The initiative's major goals were:
1) to create easily accessible parks,
2) to restore the Han River's fragile ecosystem
3) to offer more public cultural events.
The 110,000-square-meter Seonyudo island park seems to do all three.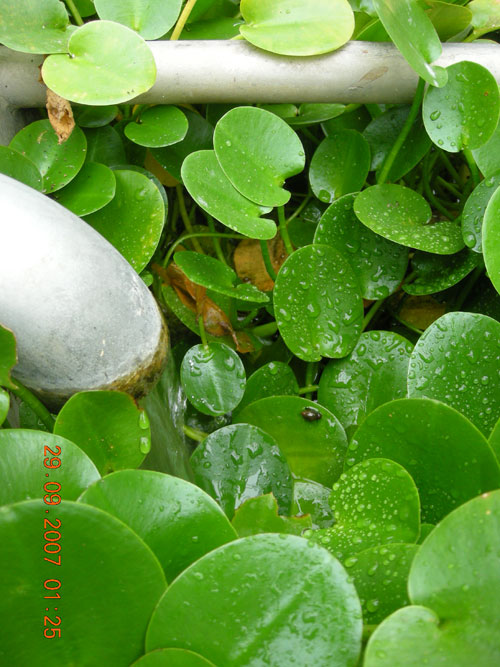 Described by the Seoul Metropolitan Government as a "postmodern space," the award-winning park harmoniously combines the organic with the industrial by preserving the former treatment plant's structures and integrating them into a series of gardens.
Water is the island's principle theme. For example, bygone settling basins for water treatment chemicals are now home to small fish and many species of aquatic plants that naturally purify water.
In a large, recessed area, rows of 15-foot tall supporting columns are wrapped in vines. These columns used to support a reservoir's concrete slab roof, but today they stand roofless on a bed of small, smooth rocks.
Nearby, there's also a large hot-house chock full of plants with small, medium and large streams of water flowing all around.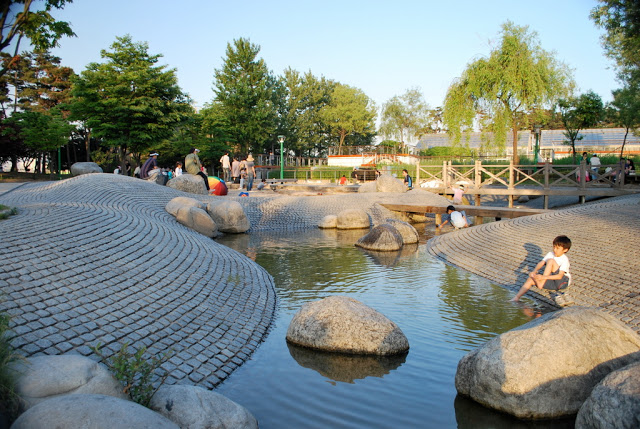 Besides the gardens, a maze-like series of paths and bridges connects the park's other components, including the Hangang History Museum, a 200-seat amphitheater, a greenhouse and the modest Cafeteria Naru, which offers snacks and a great view of the river below.
In recent years, "eco-consciousness" has become a popular buzzword around Seoul. A few years ago the city government unveiled an ambitious 30-year "Hangang Renaissance Master Plan."
A kiosk near Seonyudo Park's entrance promoted the city's environmental strategic plan for the Hangang and the metropolis that surrounds it. In my opinion, Seonyudo island is a great start.
Since auto access to Seonyudo island is limited, most visitors reach it via an elegant 468-meter footbridge, nicknamed the Mujigae-dari, or the Rainbow Bridge.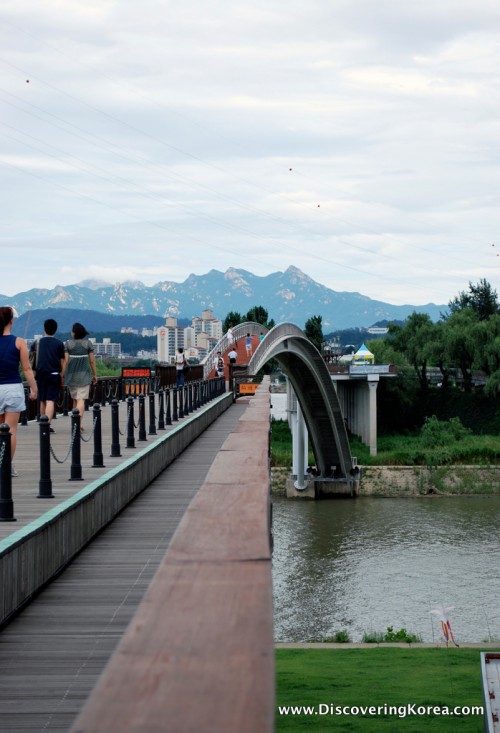 It was designed by a French architect as a gift from France to the Republic of Korea, so a big "merci beaucoup" to La France. At night, vivid colors illuminate the bridge from below.
It surprises me that I rarely find Seonyudo island mentioned in English-language Seoul travel guides.
No wonder I've seen few foreigners when I've visited despite the fact that, the last time I checked, guided park tours were available in both English and Japanese.
What I have seen, however, are the scores of couples on a romantic walk, and amateur photographers who are inspired by the island park's colorful environmental/industrial juxtaposition.
For Your Information…

Matt Kelly is native of the US Pacific Northwest and is half-Korean by ethnicity. He lived in Korea for five years and has written hundreds of travel guides for Wallpaper, TimeOut, the Boston Globe and Seoul Magazine and was a host for several different variety shows on Korean radio and television.