Much has been written about Seoul's Cheonggyecheon stream (청계천), the 5.8-km restored stream that magically starts in the heart of downtown Seoul and courses through the neighborhoods of Jongno and Dongdaemun before it meets the Jungnangcheon (중랑천) and eventually empties into the mighty Hangang river (한강).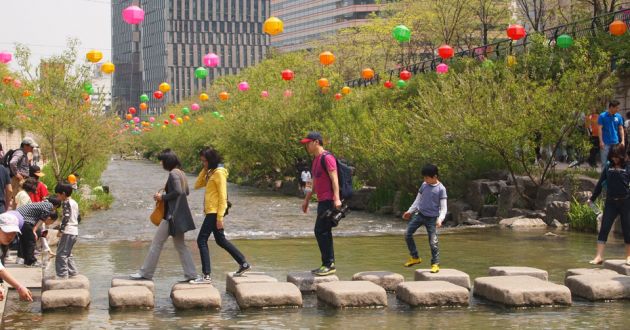 Completed in 2005, the restoration of the historic Cheonggyecheon stream was a major success for then Seoul mayor and former president, Lee Myung-bak.
It gave the former Hyundai Construction executive international plaudits and "green" credentials as the Cheonggyecheon stream ("cheon" means stream in Korean) was regarded by many as a major success in urban renewal and beautification.
Beauty didn't come cheap.
The initial price tag was estimated to be 900 billion won (approx. $900 million), but an additional $12 trillion won is expected to redevelop the adjacent neighborhoods into major commercial and residential areas.
Although recent history saw the Cheonggyecheon stream paved over by a concrete expressway, the "clean stream" as the translation goes, is older than the 600-year-old city itself.
Before Seoul (then called Hanyang) became the Joseon Dynasty's capital in the late 14th century, the Cheonggyecheon stream (originally known simply as "Gaecheon" or "a stream") was one of several naturally formed streams that drained the ring of mountains into the Hangang river.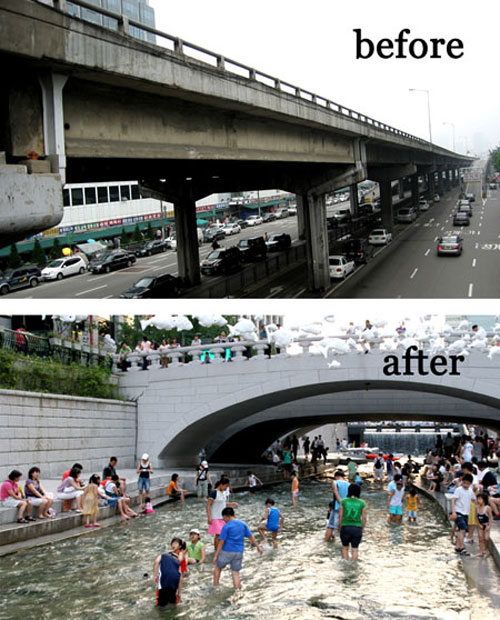 In 1406, King Taejong ordered the stream dredged to temper the seasonal flooding that plagued his new fortress city's residents.
Although its geomantic value (known in Korean as pungsu) suggested the stream should be kept clean, from early days until recently, practicality made the Cheonggyecheon stream a primary way to dispose of wastewater.
During the Japanese colonial period, the stream was renamed "Cheonggyecheon" and became the border between the Jongno neighborhood and Honmachi, a Japanese town.
Following liberation in 1945 and the Korean War (1950-53), the area became a large slum. Soon, the "clean stream" was filled with human waste, trash and rising sediment and emitted a pervasive stench.
Later that decade, as Seoul began its rapid industrialization, the Cheonggyecheon stream was paved over and the slums were destroyed. In 1968, an elevated highway was constructed over the old streambed, and in the 80s and 90s, the area became the noisy and dusty commercial center of Seoul.
In 2003, with an eye towards making Seoul a more environmentally-friendly and livable city, the Cheonggyecheon Restoration Project got underway.
And, nearly three years since completion, the Cheonggyecheon stream is widely viewed as a big success. That said, the project caused considerable opposition and controversy by displaced merchants and a previous mayor, who feared (rightly so) that the project would accelerate gentrification in the area.
Furthermore, a few months prior to its completion, then-mayor Lee Myung-bak's vice mayor and another political hack were arrested on bribery charges in connection with the project.
Nowadays, each week, over 500,000 people walk alongside the 120,000 tons of water that are pumped into the old streambed.
In the mornings, groups of brightly-clad ajummas (married ladies) power-walk along the paths while lovebirds walk slowly arm-in-arm at night when the banks are lit up.
There's also a growing number of fish and birds returning to the Cheonggyecheon stream, including a few bright orange goldfish i saw on a recent trip… no doubt the stream has become a favorite place for kids to release their pets.
Anyhow, if you plan to make a visit to Seoul's Cheonggyecheon stream, interspersed among the route's 22 bridges are several sights worth mention:
Cheonggye Plaza – This plaza marks the Cheonggyecheon's starting point. a colorful (and much derided) spiral sculpture, a miniature etching of the stream, and a grand waterfall and fountain meet stones from eight provinces symbolizing harmony and eventual Korean reunification. Location: prior to Mojeon Bridge (#1)
Gwangtong Bridge – This ancient bridge was built during the early Joseon Dynasty and was the ancient city's largest stone bridge. Its current placement is approx. 150m from its original location. Location: it is bridge #2
Banchado – A 192-meter long illustration of a visit by King Jeongjo to suwon castle, painted on 5,120 ceramic tiles. Location: between Gwang (#3) and Samil (#5) bridges.
Laundry Site – This laundry site is a reminder of the stream's value for ordinary citizens for centuries. Location: between Dasan (#16) and Yeongdo (#17) bridges.
Wall of Hopes – 20,000 citizens decorated 10 x 10 cm ceramic tiles with written wishes and drawings that decorate both sides of the stream. Location: between Hwanghak (#18) and Biudang (#19) bridges
Jonchigyogak – These remaining piers are all that's left of the ugly old expressway that was replaced. It's one of my favorite elements. Location: just before Muhak bridge (#20)
Cheonggycheon Museum – A 6-story structure featuring seminar rooms and exhibits on the stream's past and present. Location: straddling Gosanja bridge (#22)
Willow Wetland – A wetland reclamation area featuring pussy willows, river bulrush and iris was planted to secure habitats for fish, birds and amphibians. Location: after Gosanja Bridge (#22).
For Your Information..

Matt Kelly is native of the US Pacific Northwest and is half-Korean by ethnicity. He lived in Korea for five years and has written hundreds of travel guides for Wallpaper, TimeOut, the Boston Globe and Seoul Magazine and was a host for several different variety shows on Korean radio and television.