It's primarily known as having one of the world's highest concentrations of theater stages, but Seoul's Daehangno neighborhood is also home to a six-story modern box of rusting metal, an appropriate facade for a museum dedicated to the collection, preservation and display of the dying art of handmade metal work.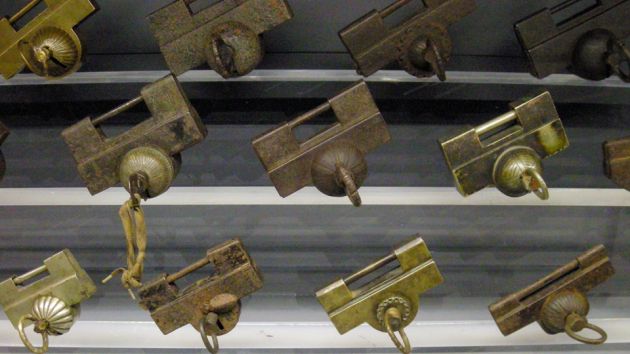 The Lock Museum in Seoul (쇳대박물관) was opened in 2004 by Choi Hong-kyu (최홍규), a man who has made his fortune in selling the hardware associated with doors and locks. Choi has collected some 5,000 locks over three decades.
He says the museum's pieces – just five percent of his total collection – provide glimpses into the everyday lives and the aesthetics of their previous owners.
The The Lock Museum in Seoul's permanent collection is housed on the fourth level. Situated entirely in a dark room of wood floors and concrete and cinder block walls, the entry hall is lined by a long glass case filled with hundreds of rusty keys.
Inside, a dozen glass cases are illuminated by narrow columns of light. The dark and secretive space seems appropriate given the lock's traditional function.
Of course, the lock's primary purpose is one of protection – to prevent theft of valuable objects and personal secrets.
As we move to an era where the primitive iron lock and key is being replaced by biometric technologies, like iris scans and voice prints, the museum's collection of locks, latches and key charms from the 14th to 20th centuries truly point to a bygone era.
Compared to the Nepalese and European locks, the Korean aesthetic stresses simple sophistication over ornate decoration.
And while Korean locks often-eschewed florid patterns, the traditional lock mechanism often employs a "secret lock" system. Often the keyhole isn't readily visible, and anywhere from two to seven steps are required to reveal the hole and to enable the L-shaped key to release the cylindrical lock.
In the west, the lock shape is generally imagined as a circle or square shape with the curved band top.
But in Korea, one traditional shape popular in the Jeolla, or southwestern region is shaped like the Korean letter "deegut" (ㄷ), essentially a rectangle with the right side removed.
A popular lock motif was animals, and it was thought that these talismans held their power. The fish – whose eyes remain open even while sleeping – was a popular guard to keep vigil over personal treasure.
Other animal shapes were also common, including turtles, bats and dragons. Beyond protection, they would offer wealth, health and happiness to their owners.
Called "jangseok" in Korean, metal work is recognized as an Important Intangible Cultural Heritage in Korea, with a coterie of artists designated Living National Treasures.
Two of these men are celebrated in a small annex room that features a recreated former workspace. The Lock Museum in Seoul provides excellent insight into Korea's metal work, in a very attractive setting.
For Your Information…

Matt Kelly is native of the US Pacific Northwest and is half-Korean by ethnicity. He lived in Korea for five years and has written hundreds of travel guides for Wallpaper, TimeOut, the Boston Globe and Seoul Magazine and was a host for several different variety shows on Korean radio and television.