In lieu of the Eiffel Tower or Sydney's Opera House, Seoul city officials believe that natural landmarks can best symbolize the city.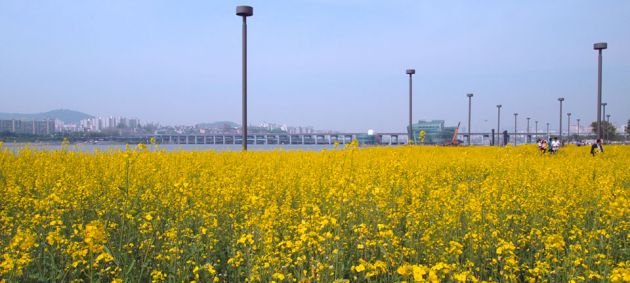 Like the taeguk, the yin-yang symbol at the center of the South Korean flag, the Hangang river (한강) creates harmony as it calmly bisects the massive city.
Thankfully, 12 riverside parks line the river. These 40 square kilometers of park lands are visited by nearly 60 million people annually, and ambitious efforts are underway to improve this already impressive network of green space in central Seoul.
Among the most popular is the Banpo Hangang Riverside Park in Seoul (반포한강공원) section.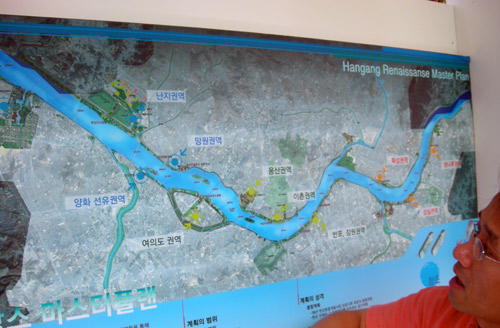 Located between the Banpo and Hannam bridges on the river's south bank, the park was recently redone, with much of the natural vegetation removed in favor of expansive lawns, walking and bicycle trails, and a large play area for children.
An inline skating rink and outdoor stages were also incorporated into the new design. This being a riverside park, jet skis vy with water taxis and river cruise boats for primacy on the water.
Several pedestrian-friendly measures were also incorporated into the Banpo Hangang Riverside Park's remodel. A broad and attractive walkway was built linking it with a busy street. A wood-paneled tunnel safely dips under the riverside expressway, allowing easy access to the park. In addition, two lanes of the lower-level Jamsu Bridge were converted into pedestrian and bicycle lanes, creating a safe and enjoyable way to stroll across the river.
It's always surprised me that Seoul's riverbanks aren't where you'll find the city's several "centers." The result is that the river parks are more calming than dynamic, which means they're a great place for a picnic on a hot summer day.
And if you don't want to lug the food, just flag down a fast food delivery men on his moped. In 30 minutes or less, you'll have spicy fried chicken, pork bossam or any number of other delicious meals delivered to your picnic blanket.
And while you eat, colorful dragons, phoenixes and geometric patterns will fly high above you. Kite flying remains a popular pastime in Korea.
For six months starting in May 2009, the Seoul Metropolitan Government has organized a series of "Hangang Rainbow Festivals" at the park.
The highlight has been the installation of a Guinness Book of Records-certified, world record-setting waterfall installed along both sides of the Banpo Bridge. 380 nozzles spray some 190 tons of water per minute along over 1,000 meters of the bridge.
The dancing water show is made to resemble a willow tree in the wind, but by night, the streams are lit by 200 colorful lights.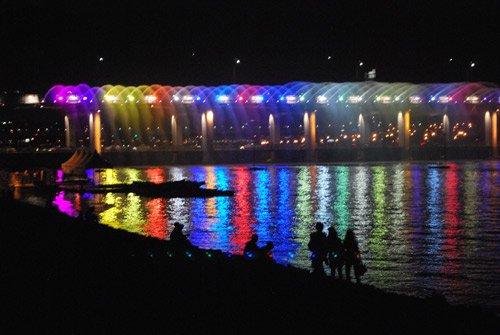 The seven afternoon and evening shows, each lasting about 20 minutes, are already appearing in Seoul tourism spots.
And finally, a key goal of the ongoing Han River Renaissance Project is to make it easier to reach the parks. To this end, water taxi service will be expanded and more bus service will shuttle people between subway stations and parklands. So it sounds like it's going to become even easier to enjoy the symbol of Seoul.

Matt Kelly is native of the US Pacific Northwest and is half-Korean by ethnicity. He lived in Korea for five years and has written hundreds of travel guides for Wallpaper, TimeOut, the Boston Globe and Seoul Magazine and was a host for several different variety shows on Korean radio and television.