In June 2009, the United Nations' scientific and cultural organization, UNESCO, added 40 royal tombs built over five centuries to its list of world heritage sites.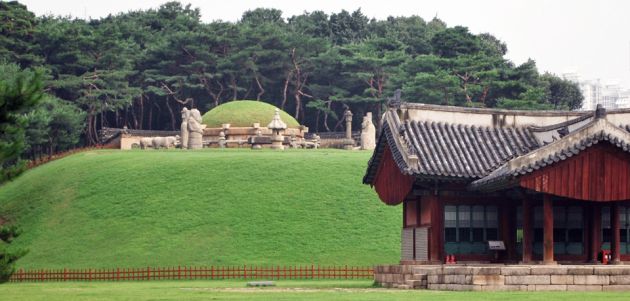 The list includes nearly 900 places of cultural or physical significance located in some 148 nations.
Currently, South Korea has nine world treasures on the list, with three of them located inside Seoul.
Although most of the Joseon Dynasty's royal mausoleums are located outside the capital city, eight tombs are within the city's limits. So to celebrate the honor, we'll take a look at two of Seoul's Royal Tombs.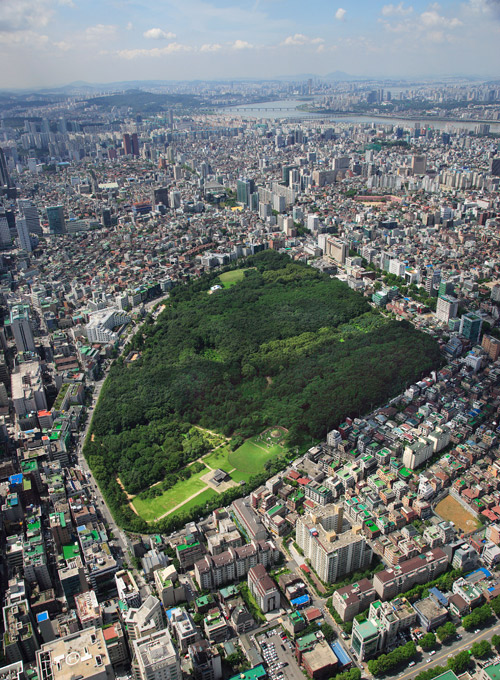 In the heart of Seoul's busy Gangnam District is Samneung Park (삼릉공원), a rare piece of greenspace in this busy area of very high priced real estate. The park's name means "Three royal tombs," and it's the final resting spot for two Korean kings and one queen.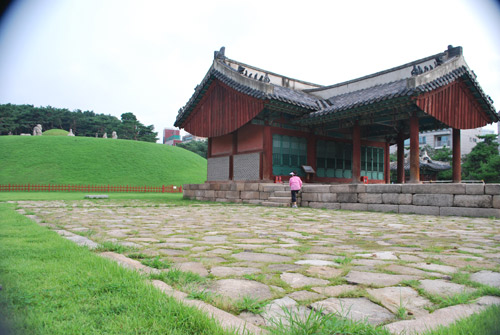 The park's west side is called Seolleung (선릉), and it's where King Seongjong (성종대왕) (1457-1494) and his third wife, Queen Jeonghyeon (정현) (1462-1530) are buried, in separate tombs.
Seongjong was Joseon's ninth king, and although he ascended the throne at just age 13, his reign is remembered as a time of peace and prosperity- the "Seong" in his posthumous name means "accomplishment."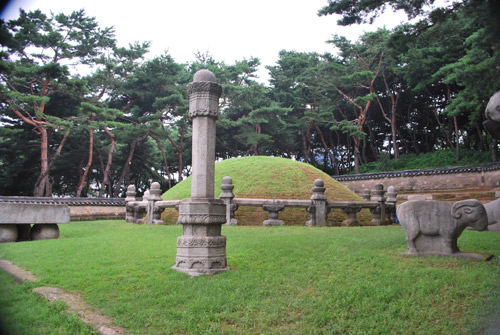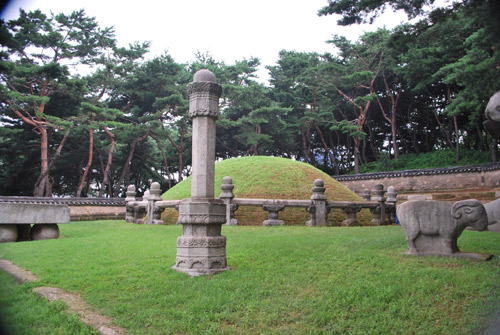 Both the king and queen's tombs follow standard Confucian and geomantic principles.
Typically set in the middle of a hill facing southward, ideally toward water and mountains, a burial mound is protected by stone figures of people and animals and enclosed by a "C"-shaped wall. Each element was designed to direct energy towards the burial chamber.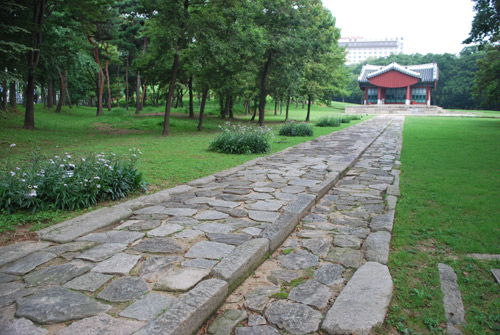 A significant difference between the king and queen's tombs, however, is the T-shaped wooden shrine that designates a king's resting place.
Built at the end of a long stone pathway marked with a decorative red gate, a small shed protects a stone stele.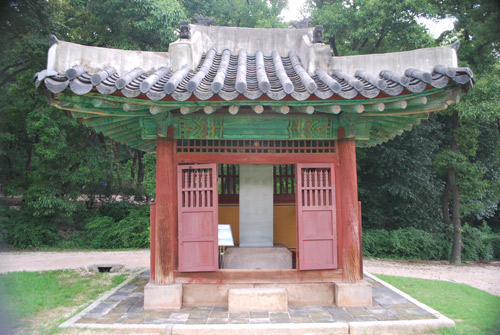 The park is basically a family burial plot, because on the east side you'll find Jeongneung (정릉), the tomb of King Jungjong (중종대왕) (1488-1544), second son of King Seongjong and first son of Queen Jeonghyeon.
Joseon's eleventh monarch came to power after his half-brother was dethroned in a coup. His 38-year reign was marked by political reform.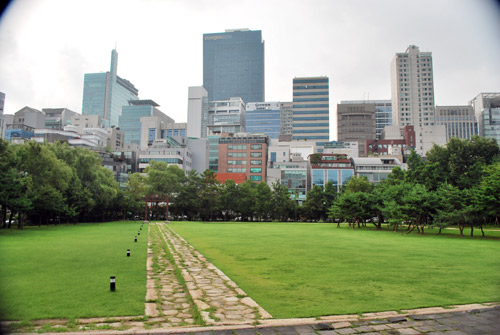 Jungjong was not originally interred here, but moved to Samneung by his third consort, Queen Munjeong.
She felt the site was more propitious, although ancient records say the area was routinely plagued by floods. Sadly, her desire to be buried next to him was left unfulfilled, and today she rests alone a few kilometers away.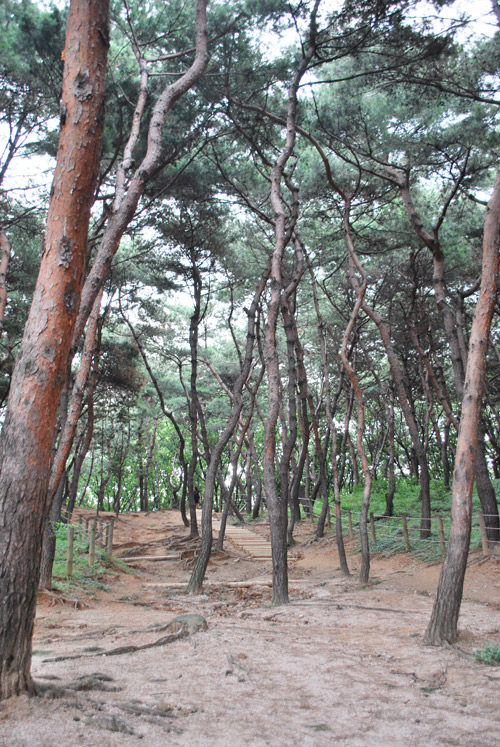 Although Samneung Park is primarily a place to respect and honor ancient Korea's monarchs, it's also a favorite place to exercise.
The area in-between the tombs is densely wooded and crisscrossed by walking trails and benches.
On my visit, several women wearing dramatic sun visors were stretching or hiking among the old pine, willow, oak and jujube trees amidst the peaceful sounds of birds and cicadas.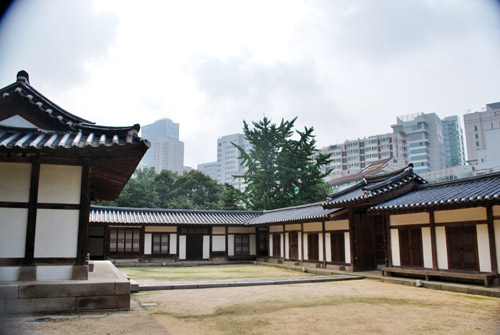 If you follow one of the trails you might happen upon Jaesil (재실), a traditional house used by priests to prepare the sacrificial rites for the deceased kings.
To this day, members of the Joseon Dynasty's original family, the Jeonju Lee clan, use Jaesil for this purpose.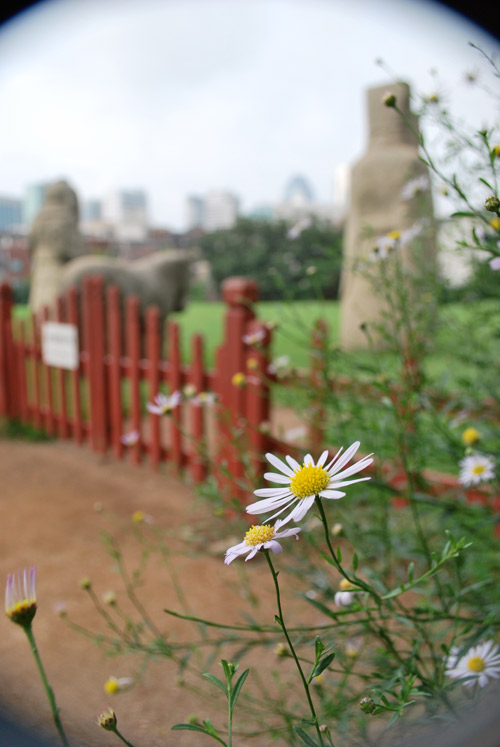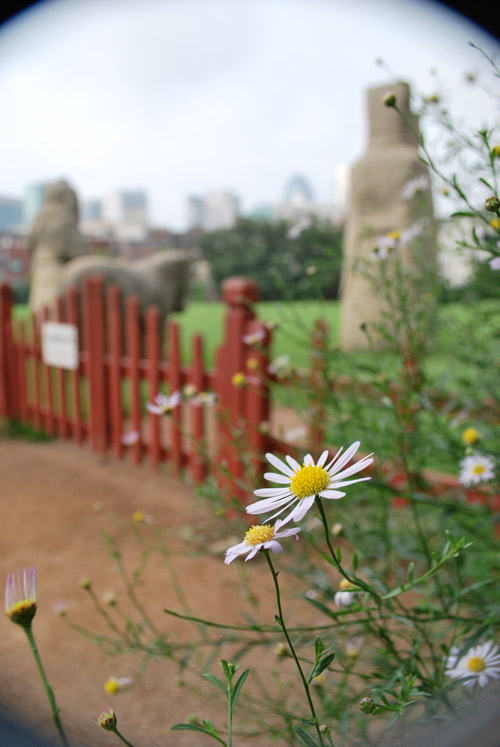 In granting the special status, the UNESCO folks praised the remarkable preservation of the tombs and funeral rituals over six centuries.
Let's hope this latest distinction will help maintain these sacred sites for centuries to come.
For Your Information..

Matt Kelly is native of the US Pacific Northwest and is half-Korean by ethnicity. He lived in Korea for five years and has written hundreds of travel guides for Wallpaper, TimeOut, the Boston Globe and Seoul Magazine and was a host for several different variety shows on Korean radio and television.