One of the best things about Seoul is its efficient and inexpensive public transit system. It's a mind-boggling number, but the metro rail system facilitated over two billion passenger rides in 2008.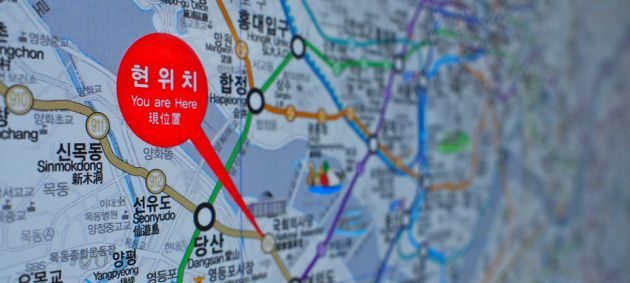 Seoul's network is the world's third most heavily used, behind only Tokyo and Moscow. Seoul Metro's new gold Line 9 is the latest in a massive system of 15 lines, with two more to open in the next year.
On June 24, 2009, the inaugural journey of Seoul Metro's new gold Line 9 began at 7:00 am from Gaewha Station (개화역) in western Seoul for its 25.5-kilometer journey to Sinnonhyeon Station (신논현역), in southern Seoul. Line 9, which is also called the Gold Line, broke ground in 2002.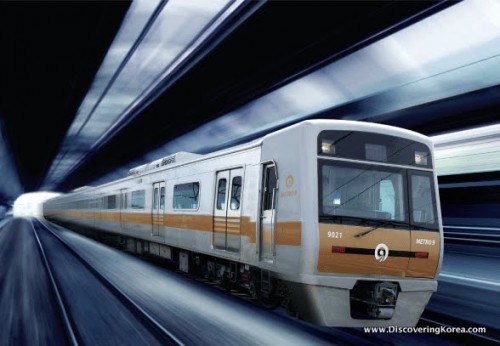 After several delays, everything seems to have gone off without a hitch. For a standard base rate of 900 won, or less than 75 cents, I left the verdant agricultural area just west of Gimpo International Airport.
The new trains offer several improvements. The seats are wider and sport fabric to prevent your backside from sliding. The bright yellow hand straps alternate heights for kids.
The doors between the four carriages are also gone, creating a roomier feel, and allowing easier access for disabled passengers. The elaborate digital menu displays cycle through a lot of information, including the current and upcoming stations, which side to exit, and even how to exit into the neighborhood.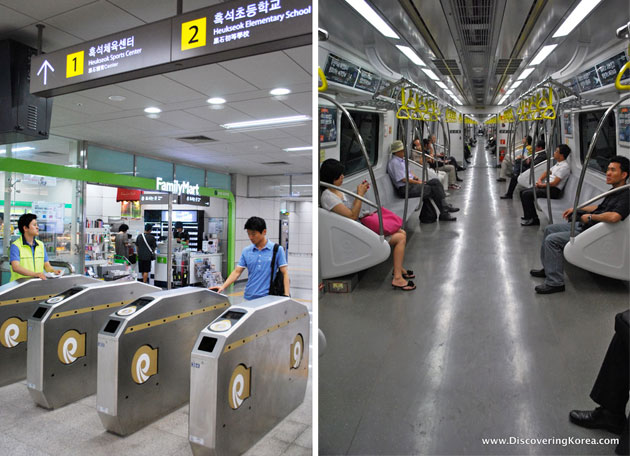 All signage is in both Korean and English.
Let's talk about destinations. The obvious first major stop is Gimpo Airport.
But from there the line makes 23 additional stops. Among them, Seonyudo Station (선유도역), is a short walk from the urban renewal island park of the same name that was covered on a previous show.
Two stops later is the National Assembly Station (국회의사당) on Yeouido island (여의도) . Take exit #2 and you're staring at South Korea's Parliament building.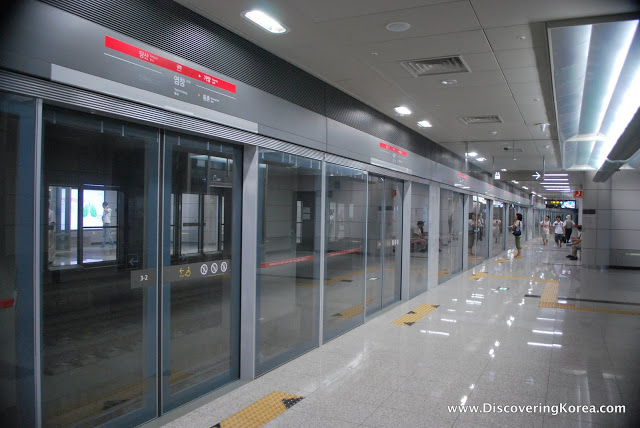 After another three stations you'll arrive at Noryangjin, home of the famous Noryangjin Fisheries Wholesale Market, and a convenient transfer to Line 1.
Stay on board and you'll arrive at the major transportation hub, the Express Bus Terminal. As mentioned in a previous show, it's also home to the huge Gangnam Underground Shopping Arcade.
And, finally, just two stops later is Sinnonhyeon (신논현역), the terminal station, which empties out beside the Ritz Carlton Seoul.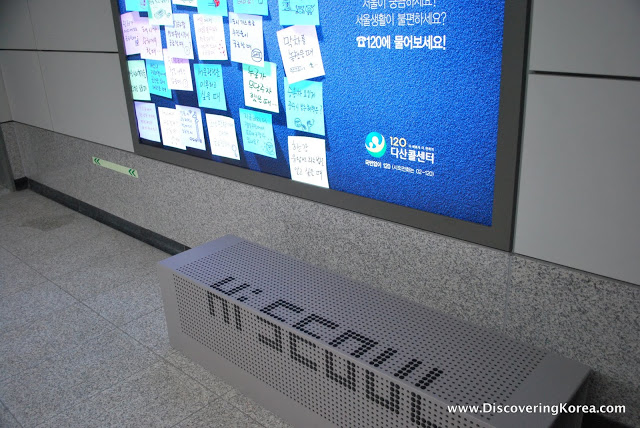 Unlike any other line, Line 9 is triple-tracked, which allows for geuphaeng (급행) or express service between stations. Express trains run at 47 kilometers per hour, that's 14 faster than the local tracks.
This means a 20-minute savings on trips from the Airport into Gangnam.
Seoul Metro's new gold Line 9's gleaming silver stations are sophisticated, metallic and spare, maybe even a little too much so.
But I liked the mesh benches printed with the city's friendly, somewhat nonsensical "Hi Seoul!" slogan, as well as vending machines that are designed to blend in.
Furthermore, all stations feature powder rooms and family-friendly diaper changing rooms and children's toilets. There are also seven performance halls, and a number of galleries, exhibition spaces, Internet cafés and 113 convenience stores.
But as a map dork, my favorite feature is the neighborhood maps located near the exits.
Positioned above attractive gray and white vicinity maps are detailed birds-eye satellite images, which really help to determine which exit to use to get where you want to go.
For airport travelers who prefer riding the rails to a bus, take the Airport Express line from Incheon International Airport to the mostly domestic, Gimpo International Airport.
From there, transfer to Line 5 for destinations generally north of the river, and Line 9 for southern spots.
Seoul Metro's new gold Line 9 is headed by a multinational French company, making it the first privately-run subway in Korea.
If all goes as planned, 12 more stations will extend eastward to COEX, the Sports Complex, Jamsil and Olympic Park in two phases, to be completed by 2016.

Matt Kelly is native of the US Pacific Northwest and is half-Korean by ethnicity. He lived in Korea for five years and has written hundreds of travel guides for Wallpaper, TimeOut, the Boston Globe and Seoul Magazine and was a host for several different variety shows on Korean radio and television.