On August 1, 2009 after 15 months of renovation, city officials unveiled a shiny new Gwanghwamun Square as Seoul City Center.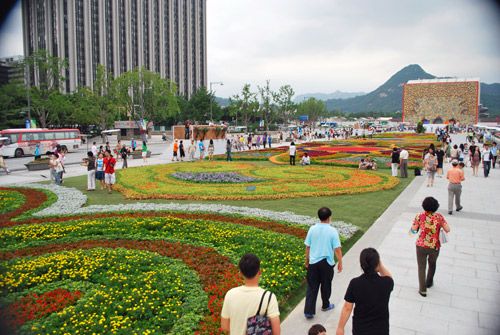 Actually, despite the major face-lift, the newly-named Gwanghwamun Square (광화문광장) isn't new at all.
Located at the south gate of Gyeongbokgung palace (경복궁), Sejong-ro boulevard has long been the heart of the 600-year-old city, with the city's guardian, Bugaksan mountain, looming in the background.
But what was 16 lanes of traffic is now punctuated by a 19,000-square-meter public plaza.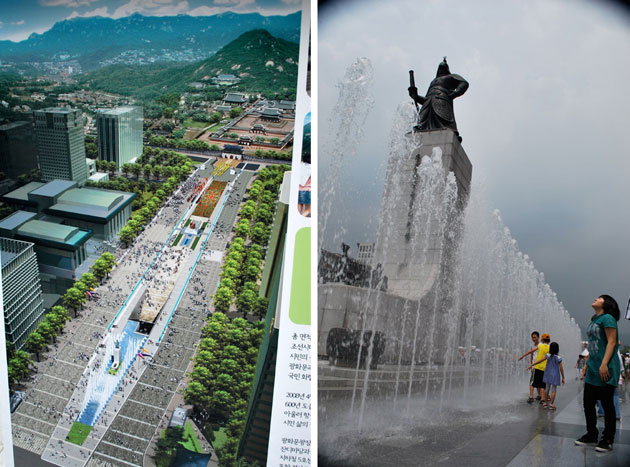 At a cost of 47 billion won, or about $38 million, six lanes of traffic were converted into a 34 x 557 meter plaza. The unifying theme is Korean national identity and the city's history.
Both sides of the park feature a narrow waterway where 617 stone plates depict historic events from Seoul's founding until 2008.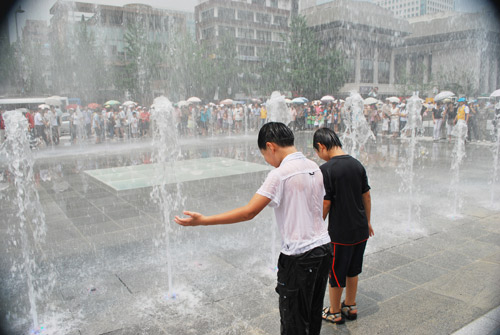 A statue of Korea's greatest naval hero, Admiral Yi Sun-shin (이순신), steals the show. His likeness stands amid 364 water jets, some of which shoot 20 meters into the air.
Although city workers tried to keep people out of the fountains on opening day, kids seem drawn to water like magnets.
Behind the Admiral is an elaborate "Flower Carpet," where city officials claim that 224,537 flowers are planted – one to represent each day since October 28, 1394, when King Taejo founded the Joseon Dynasty and moved Korea's capital to Seoul.
Underneath the fountain is a recessed space called the "Haechi Madang." "Madang" means "court" in Korean, and Haechi is Seoul's new mascot.
Inspired by the haetae (해태), a mythical, fire-eating creature that has guarded ancient Seoul's palaces, city officials are doing their best to secure the friendly orange beast as a city symbol.
To this end, most of the madang is filled with Haechi paraphernalia… stone Haechi, stuffed Haechi, giggling video of Haechi…
But also on display is a photo exhibit of European plazas. Because unlike European cities, large public squares aren't part of Korea's architectural tradition.
That said, given the 370,000 people gathered on Saturday and Sunday to officially open the plaza, Koreans seem to be taking to public spaces with enthusiasm.
Attendees to the Saturday evening grand opening were treated to an elaborate ceremony, featuring a chorus and orchestra, a huge Korean flag made from handprints, and congratulatory video messages from the majors of Beijing, London and Sao Paulo, Brazil.
In October, a statue of Korea's greatest king, King Sejong the Great will be seated on the plaza. Another underground museum space called The Story of Sejong will showcase the ingenuity of Hangul (한글), the written Korean language promulgated by the king in the 15th century.
But the plaza won't be truly complete until the massive gate for which it's named is finished.
Under renovation since 2006, Gyeongbokgung palace's grand Gwanghwamun gate (광화문) is scheduled to be completed in late 2009. Until then, visitors can view an exhibit featuring photographs of the gate from the 19th century to the present.
It seems like plaza is already exceeding expectations, but that's not to say there aren't some concerns.
Despite being located in the midst of busy traffic, there's no safety fencing. Furthermore, police and city officials have banned all demonstrations at Gwanghwamun Square, fearing it could become the site of Seoul's infamous mass protests.
That decision was almost immediately challenged by civic and opposition groups. During an August 3rd press conference protesting the move, several people were arrested by police.
While it's a bit early to say what's in store for Gwanghwamun Square in the years to come, it seems inevitable that this new Seoul landmark will feature prominently in the city's future.
For Your Information..

Matt Kelly is native of the US Pacific Northwest and is half-Korean by ethnicity. He lived in Korea for five years and has written hundreds of travel guides for Wallpaper, TimeOut, the Boston Globe and Seoul Magazine and was a host for several different variety shows on Korean radio and television.