During the summer, Korea's national flower, the mugungwha (무궁화) or Rose of Sharon, is in bloom across the city. And each year, August 15th is celebrated as Gwangbokjeol (광복절), or Korean Independence Day.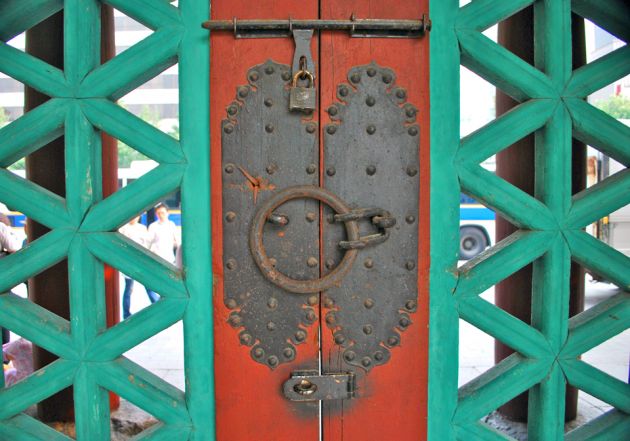 But before Korea's liberation, millions of Koreans participated in activities to free themselves from Japan's brutal colonialism.
And perhaps the most important site in that struggle is Seoul Tapgol Park (탑골공원), in central Seoul's Jongno-gu district.
Completed in 1897, the park was commissioned by King Gojong to be Korea's second Western-styled park (the first being Incheon's Jayu "Freedom" Park).
To that end, he enlisted an Irishman, John McLeavy Brown, who served as the king's Chief Commissioner of Customs, to design the public park.
His plan called for the removal of dozens of houses, the installation of benches and fences and landscaping, and the construction of an octagonal pavilion as Seoul Tapgol Park's centerpiece.
It was on that very spot on March 1st, 1919 that a college student named Chung Jae-yong read Korea's Declaration of Independence, a document that had been signed earlier that day by 33 nationalists at the nearby Taehwagwan Restaurant.
Virtually simultaneous proclamations of Korean independence occurred across the country that day, and over the next year, some two million Koreans joined in 15-hundred protests.
These demonstrations were savagely put down by Japanese forces, resulting in over 23,000 dead and wounded and 46,000 arrests.
But the mass independence movement, called the Samil Undong (삼일운동) or March 1st Movement, precipitated the founding of the Provisional Government of the Republic of Korea in Shanghai the following month, and inspired similar nonviolent resistance movements in India, the Philippines and Egypt.
Today's Seoul Tapgol Park is mostly a place for relaxation for Seoul's elderly residents. Outside the park's western wall are fortune tellers waiting under colorful tents.
Inside the park, older gentlemen in fedora hats and canes chat and play games together. Around them are statues of Korean patriots, like Sohn Byeong-hui (손병희), and a series of bas-relief plaques depicting Korea's independence movement.
Most notably, however, the park is also home to two prominent historical treasures.
One of them is a remarkable, ten-tier marble pagoda enclosed in a protective glass box located at Seoul Tapgol Park's northern end. The "tap" in the park's name means pagoda, and this public space's massive namesake was constructed in 1467 as part of a newly commissioned Wongaksa temple (원각사)..
The only remaining stone pagoda from the Joseon Dynasty, the Wongaksa Pagoda (원각사지십층석탑) is 12 meters high and features carvings of lotus flowers, mythic creatures and Buddhas.
The Four Heavenly Kings are also carved on each tier. The pagoda was restored in 1947 and is appraised by many art historians as one of the dynasty's finest examples of stone art. It was designated Korea's National Treasure #2 in 1982.
National Treasure #3 is also at the park. A five-meter-tall marble and granite tablet featuring a dragon top and a turtle bottom was once called the "sleeping guardian of Seoul." Today, the 500-year-old monument is also protected by a pavilion.
Although Seoul Tapgol Park has historically been the site of mass gatherings in Seoul, these days, most demonstrations have moved elsewhere.
Nevertheless, it remains an attractive urban sanctuary that helped launch Korea's modern independence movement.
For Your Information..

Matt Kelly is native of the US Pacific Northwest and is half-Korean by ethnicity. He lived in Korea for five years and has written hundreds of travel guides for Wallpaper, TimeOut, the Boston Globe and Seoul Magazine and was a host for several different variety shows on Korean radio and television.