During Seoul's hot, late summer weeks, if you're walking along the colorful streets of the Hongik University (홍익대학교) neighborhood, you may very well happen upon a seemingly impromptu performance.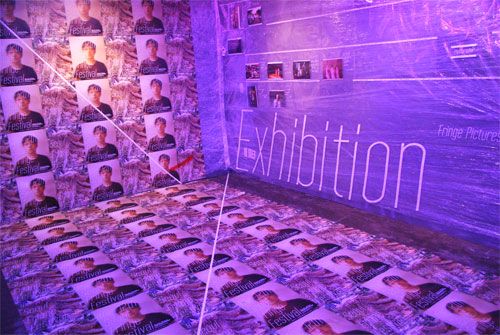 That's because for the past 12 years, the Seoul Fringe Festival has hosted perhaps Asia's largest such fest, a three-week showcase of independent and underground art installations.
The fringe festival was created in Edinburgh, Scotland in 1947 as an alternative to so-called "high art" events. Today there are scores of fringe fests in cities like Melbourne, Prague, New York and Saskatoon where spaces for alternative cultural arts are being cultivated.
The Seoul Fringe Festival started in the Daehangno (대학로) neighborhood in 1998 and moved to Hongdae in 2001.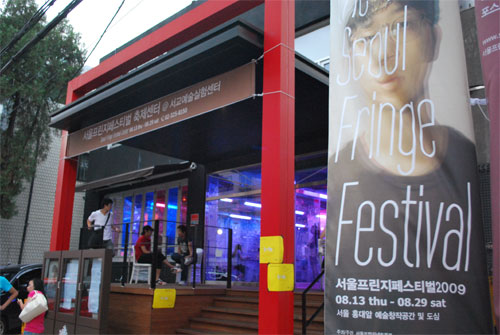 Today, it draws some 200,000 spectators who watch – and indeed participate – as individual artists and troupes perform over 300 non-juried theater, dance, music and installation art performances in 17 theaters, 8 live clubs, and a dozen outdoor stages. Non-traditional venues are also utilized.
A subway station, neighborhood alleys, playgrounds and parking lots are among the performance spots.
While it's impossible to cover the festival's full slate, here are a few snapshots from recent years.
The feminist artist network Red Goddess performs "The Proverbs of Women," a play criticizing patriarchy through the lives of four exceptional women – Camille Claudel, Sappho, Hye Seok-na and Yoko Ono – each of whom were overshadowed by men.
Audience members will join the performance by crying, screaming, being teased by witches or by cutting effigies of male reproductive organs.
For a change in tone, there are usually a number of outdoor art, music and theater installations. Each evening, live music and dance performances will pop up around Hongdae, especially around the Art Wall, the subway entrances and the neighborhood information kiosk.
While walking around on one Saturday night, I was treated to a few musical acts, most notably a rousing rock, jazz, tap dancing and beat boxing medley by the street performance group, Sound Box. But a word of warning: at least three other performances mentioned in the guidebook were nowhere to be found.
A recent year's Seoul Fringe Festival included an Overseas Exchange program featuring groups from Hong Kong and Thailand.
The program "GOD a Gardener" by the Thai group B-Floor Theatre followed the story of migrant workers who lost their housing. Hong Kong's All Theatre performed the masked dance, "Life, Love and Death" at Hongik Park on the festival's final two days.
Finally, the Seoul Fringe Festival Center is located in the recently-opened Seoul Art Space Hyper Seokyo.
Described as the festival's primary meeting and exchange venue, the Center hosts workshops, artist talks, stage performances and films for free. Festival information and souvenirs are also available, not to mention an "Indie Café" if you need to take a break.
Typically, the Seoul Fringe Festival runs from mid-August. Although the theme song is "Free, Free, Free!" most of the indoor performances are not.
Tickets run between 5-15,000 won, though group and volume discounts are available. Outdoor events are indeed, free.
For Your Information..

Matt Kelly is native of the US Pacific Northwest and is half-Korean by ethnicity. He lived in Korea for five years and has written hundreds of travel guides for Wallpaper, TimeOut, the Boston Globe and Seoul Magazine and was a host for several different variety shows on Korean radio and television.