Haneul or Sky Park in Seoul (하늘공원) has an exciting story. The park is the former site of the Nanjido Landfill, a massive disposal site that operated until 1993. 
Like any metropolis, Seoul produces millions of tons of garbage, and Nanjido was South Korea's largest uncontrolled landfill until it was transformed into a spectacular green space one when nature was encouraged to reclaim the land.
The impetus to create Haneul or Sky Park in Seoul was the 2002 World Cup, when South Korea and Japan co-hosted the world's largest sporting event, outside of the Olympics.
It is now part of what's one of Seoul's largest parks. In preparation for the event, football (or soccer) stadiums were built all across Korea.
Seoul World Cup Stadium (월드컵경기장) was placed at the city's far western end in a place that many people probably wouldn't have selected just a few years earlier.
Because Seoul is surrounded by green hills and mountains, what might be two conspicuous buttes in other cities can pass for typical topography here.
So, guided by a 1994 master plan, city planners covered the mounds in a meter of soil, and, combined with the adjacent World Cup Stadium, created a network of six major parks.
The highest of the six is Haneul or Sky Park in Seoul. Haneul means "sky" in Korean, and this park alone covers some 192,000 square meters. A blue arched bridge connects the stadium area to a zigzagging staircase.
Affixed to each stair is a little plaque with a number. Exactly 291 stairs takes you to the top, where you can see fantastic views of Samgaksan, Gwanaksan (관악산) and Namsan (남산) mountains and the Hangang river (한강).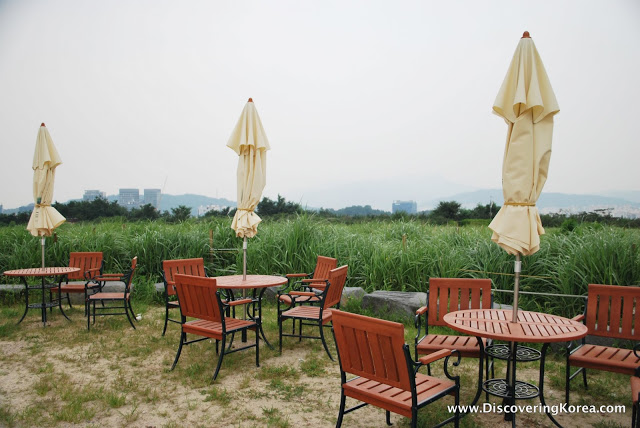 Some 85 different varieties of plants and wildflowers grow in Haneul or Sky Park in Seoul, although the vast plateau is famous for its hectares of cogon grass and eulalia. Each October when Seoul's skies are especially blue and the reeds turn a golden hue, the park hosts a popular festival.
But during the times that I've visited, I've had the massive park virtually to myself, and its height and placement in the far west of the city can make the busy urban landscape disappear.
Walking along the dirt paths that cut through the wild grasses, you'll come upon tables and parasols for picnickers. But if you prefer to gaze out over the city, modern benches resembling large, smooth stones feature prominently on the park's 22 peripheral lookout points.
They're a great place to watch an orange and pink sunset over the Hangang and Gayang Bridge (가양대교).
When Haneul or Sky Park in Seoul was created, it was designed with conservation and the preservation of biodiversity in mind.
To that end, five wind-powered generators produce electricity to operate the park's lamps, while the methane gas produced underground by the landfill is recycled as fuel for the stadium and nearby apartments.
This is important since methane production at landfill sites can pose significant health and environmental risks.
So far, Haneul or Sky Park's environmentally-friendly design has enticed ducks, pheasants, cranes, kestrals and several other types of birds back into Seoul.
Even the endangered narrow-mouth frog, named as the park's flagship species, lives here. I didn't see any frogs, but I did spy a curiously tame rabbit.
Next door to Haneul or Sky Park is Seoul's Digital Media City (디지털미디어시티), another example of Seoul as a forward-looking, state-of-the-art city.
So whether you're looking for a nice walk, a great view or what's becoming choice real estate in one of the world's largest cities, I'd suggest visiting Haneul or Sky Park in Seoul.
For Your Information..