Fall Color at Gwanaksan mountain in Korea shouldn't be missed! The peak, which forms Seoul's south border, erupts into beautiful shades of crimson, orange and gold each autumn.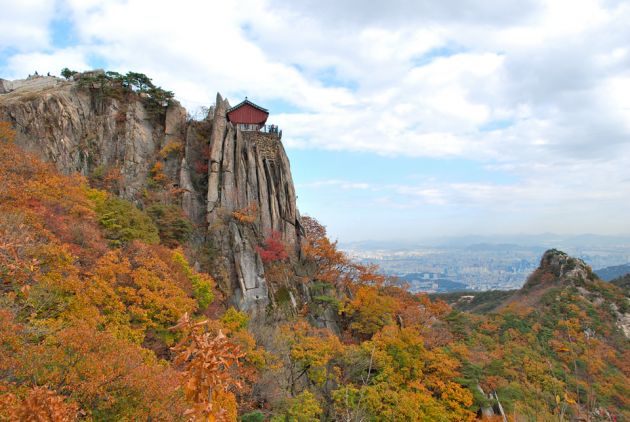 But before we get to a quick profile of one of my favorite mountains in Korea, here's a quick Korean language lesson (which I'm completely unqualified to give).
The word "san" (산) in Korean more or less means mountain. That's why every mountain in Korea has the "-san" suffix, e.g. Seoraksan (설악산), Wolchulsan (월출산), Jirisan (지리산), etc.
Trouble is, living here I've become familiar calling Korea's peaks by their Korean names (fancy that!), so calling Jirisan, "Mount Jiri," for example, just doesn't feel right. When translating to English, however, it's unclear that it's a mountain without the obligatory "Mt." title.
So what's my awkward compromise? (Korean mountain name) + "mountain" (in lower case). This follows my recent habit of doing the same thing with rivers, e.g. "Hangang river," since "gang" (강) means river. Let me know your thoughts!
Anyhow, given that autumn color has started here in Seoul, I wanted to put up some photos from a quick trip last year to, ahem, Gwanaksan mountain (관악산), which forms much of Seoul's southern border.
As I've mentioned previously, Seoul is surrounded by mountains, and at just 629 meters, Gwanaksan mountain isn't as tall as the major peaks of Bukhansan National Park (북한산국립공원), like Samgaksan (삼각산) and Dobongsan (도봉산) to the north.
That said, it's a decent hike with great views. Plus, like the aforementioned peaks, you can reach it via the safe and efficient Seoul Metro subway system.
Gwanaksan mountain is located on Seoul's southern tip, straddling the Geumcheon-gu and Gwanak-gu districts and the Gyeonggi Province suburb of Gwacheon (과천시).
Designated a city park back in 1968, the area is probably best known as the home to Korea's most famous institute of higher ed., Seoul National University (서울대학교). SNU's campus is cradled between two mountain ridges, and is the most popular starting point for hikers.
Not surprisingly, Gwanaksan mountain is home to several Buddhist sites, namely Yeonjuam (연주암) and its favorite hermitage, Yeonjudae (연주대).
Founded in 677 during the reign of the Silla Dynasty King Munmu (문무왕), it was renamed by Goryeo loyalists who fled here after the Joseon Dynasty toppled Goryeo in 1392.
According to lore, the site seemed fitting since Yeonjudae's dramatic perch faces northward toward the old Goryeo capital of Gaeseong (now part of North Korea).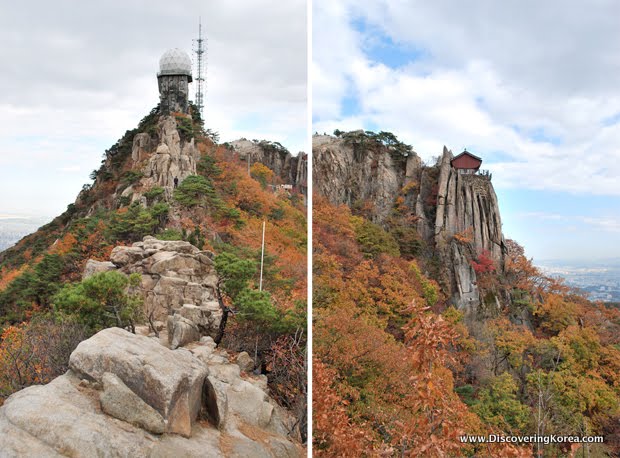 Also up on top is a number of radio towers. Most notable is a large white geodesic sphere (well, almost a full sphere) that's actually a weather radar facility.
Speaking of weather, meteorologists have said that this year's color should be even more spectacular than when I shot these pics last October, so pick a nice day and see the fall color at Gwanaksan mountain in Korea for yourself!.
For Your Information

Matt Kelly is native of the US Pacific Northwest and is half-Korean by ethnicity. He lived in Korea for five years and has written hundreds of travel guides for Wallpaper, TimeOut, the Boston Globe and Seoul Magazine and was a host for several different variety shows on Korean radio and television.