Although Seoul is one of the world's largest cities, its residents don't restrict themselves to the concrete jungle. Thankfully, the city is also home to many popular green spaces that bring a natural balance back to city life.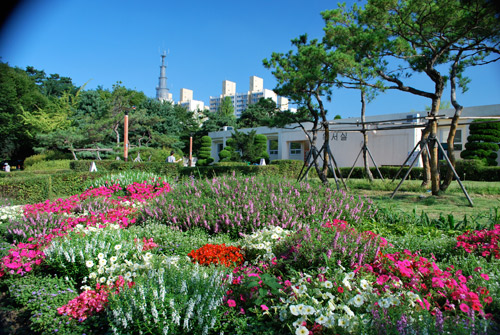 Located in southwest Seoul, Boramae Park (보라매공원) is an oft-overlooked city park in a similarly forgotten neighborhood of Sindaebang-dong.
The name "boramae" means young hawk in Korean, which is a hint to the air force base that occupied the area for 27 years. As the former home of the Korean Air Force Academy, today the park includes a small airpark with mothballed jets on display.
Stairs even allow visitors to get an up close peek into the cockpit of an F-4D Phantom fighter-bomber.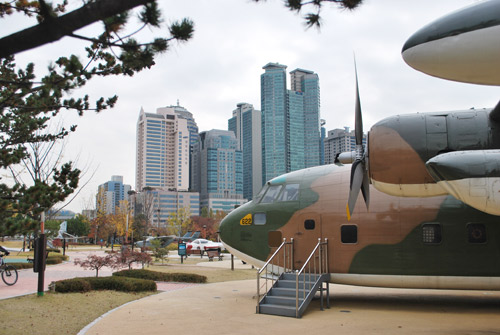 But in 1986 the 420,000-square-meter grounds were transformed into a lush Boramae Park.
The central area is dominated by a huge oval lawn surrounded by a green spongy track that's great for low-impact walking and jogging. On the periphery are a playground, tennis courts, a small zoo, and wooded areas.
No doubt one of Boramae Park's most popular places is the 9,000-square-meter lotus pond that is surrounded by willow trees, attractive landscaping and benches. To increase blood circulation, there's also a 192-meter barefoot walk.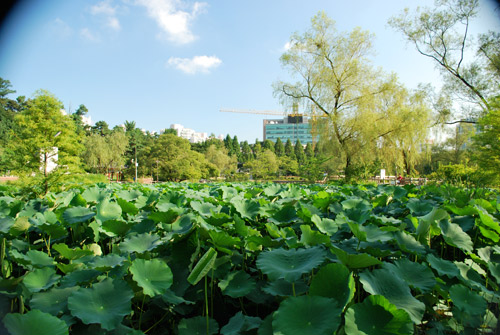 Additionally, from April to October, the "Floor Fountain" performs 40- and 60-minute shows to music five times per day during week and seven times daily on the weekends.
And beyond the typical parkland amenities, Boramae Park is also home to a variety of facilities for youth, the elderly and disabled. For example, the park is the site of a skate park and a 15-meter climbing wall, which is why Boramae was chosen as a host site for the 2005 Asian X-Games.
Also inside the park are a youth center and the Dongjak District Community Center. Finally, ground has already been broken on a new Seoul Safety Center, which is slated to open in July 2010.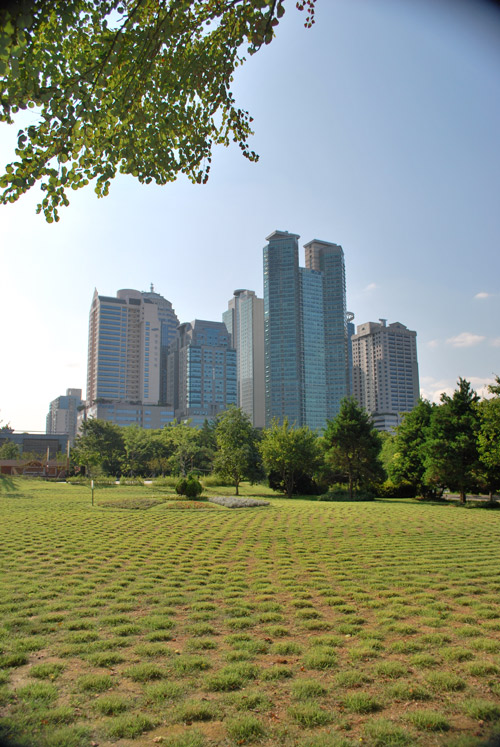 While Boramae Park's western side is heavily wooded, its eastern border has a very different feel.
A conspicuous grove of a dozen high-rise apartment towers, each outfitted with a rooftop helipad provide a dramatic backdrop. Among them is the 49-story Boramae Chereville. At 174-meters, it's one of Seoul's tallest buildings.
Boramae Park is a destination for all seasons. In the spring, it's a great place to catch pink cherry blossoms. During the summer, the lush landscapes are at their height and the lotus pond blooms.
In the fall it's time to enjoy the colorful leaves, thanks to the park's wide array of plant life. And during the cold winter months, the snow-covered pond in front of a traditional Korean pavilion makes for a perfect snapshot.
Boramae Park is conveniently accessible via subway lines 2 and 7, or you can do what I did, and just walk along the Dorimcheon stream (도림천) as it meets the park.
When your visit comes to a close, if you leave through the rear gate, you'll no doubt notice an ornate sculpture called the Boramae Tower.
Dozens of young cadets lift the world while a hawk lands atop it. Below, the words "Fly to the Sky to Protect the Country" are prominently engraved.
For Your Information…

Matt Kelly is native of the US Pacific Northwest and is half-Korean by ethnicity. He lived in Korea for five years and has written hundreds of travel guides for Wallpaper, TimeOut, the Boston Globe and Seoul Magazine and was a host for several different variety shows on Korean radio and television.