A few weeks ago friends and I traveled to Gangwon Province, and in our trips to the beach and to the world's largest gramophone museum, we spent time in the city of Gangneung (강릉).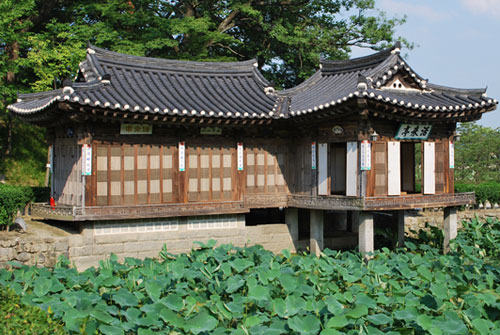 Gangneung is the economic center of eastern Gangwon Province, whose name is a combination of the "gang" from Gangneung, and the "won" of its old provincial capital, Wonju.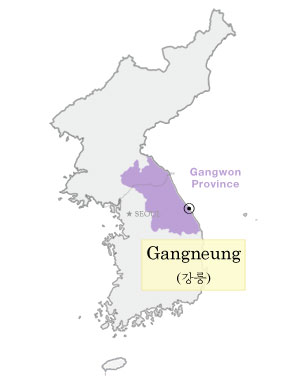 The city was one of my favorite places in Gangwon-do because of its simple beauty. In addition to its popular shoreline and famous Gyeongpodae Beach, the city boasts a large lagoon and several gorgeous buildings that date from the Joseon Dynasty.
Remarkably, a few of Gangneung's historic villas: Ojukheon (오죽헌) and Seongyojang (선교장), have been beautifully maintained for centuries.
Another one of the best known is the famous Gyeongpodae Pavilion that overlooks the Gangneung Lagoon. It's said that one can see the moon five times from the pavilion- once in the sky, once reflected on the sea, another on the lake, once again in a drinking glass and finally, in the eyes of your lover.
Now, whether you're there with your significant other or all by your lonesome self, you may notice, among Gyeongpodae's 28 pillars, a poem by the philosopher-statesman, Yul Gok (율곡).
Yul Gok was the pen name of Yi I (이이) one of Korea's two most renowned Confucian scholars. A child prodigy, he is said to have composed poems in classical Chinese before age seven, and to have passed the civil service exam by 13.
Later in life, Yul, who was also an excellent calligrapher and painter, served his king in several government posts and was internationally respected for his scholarship.
Yul was born in Gangneung, as was his mother, the equally revered Lady Shin Saimdang (신사임당). Lady Shin lived in the early 16th century, and is widely considered a traditional role model for Korean women.
She was born in a sprawling compound that was built by her maternal great-great grandfather in the early 1400s. The family home, which is called Ojukheon, consists of seven notable buildings, five gates and a huge plaza.
After being passed down through one family for over 500 years, in 1975, Ojukheon was designated treasure number 165, renovated extensively and opened to the public.
If there's any doubt to Koreans' affection for Yul and Lady Shin, one must only look to the modern nation's currency. Yul is featured on the 5,000-won note, and Lady Shin is the first woman on Korean currency, as she appears on the 50,000-won bill.
Ojukheon is fantastic, but my favorite sight in Gangneung was Seongyojang. Built in 1703 by an 11th-generation descendent of a Korean prince, the home is perhaps the best example of a typical yangban, or aristocrat's home, in the Joseon era.
For 300 years, 10 generations cared for the beautiful compound, which includes an anchae and yeolhwadang, or womens' and mens' quarters, respectively. In addition, a guest room, library, servant's quarters and an annex building are included. Away from those structures is also an elegant pavilion that stretches over a lotus pond.
What was most interesting to me, however, is that since most of the Joseon-era architecture that remains is palaces and temples, it's easy to assume it was all done in the very colorful and ornate dapo-style painting.
But such decoration was forbidden on non-royal or religious buildings, so aristocratic homes like Seongyojang feature dark woods and bone-colored walls atop elegant stone and mortar foundations. In this case, the only splashes of color were the purple irises in bloom.
A notable exception to Seongyojang's traditional architecture was the mens' quarters, whose terrace building sports a curious style that's thanks to its architect, the Russian consul to Korea at the time.
The complex also includes a small museum featuring life-sized mannequins sporting the traditional costumes of various ranks during the Joseon age, as well as a gift shop.
For Your Information..

Matt Kelly is native of the US Pacific Northwest and is half-Korean by ethnicity. He lived in Korea for five years and has written hundreds of travel guides for Wallpaper, TimeOut, the Boston Globe and Seoul Magazine and was a host for several different variety shows on Korean radio and television.