The Korean calendar is a hybrid one. It's a mix of the Gregorian calendar, which begins on January 1st, and a luni-solar calendar that begins on the first new moon of the year.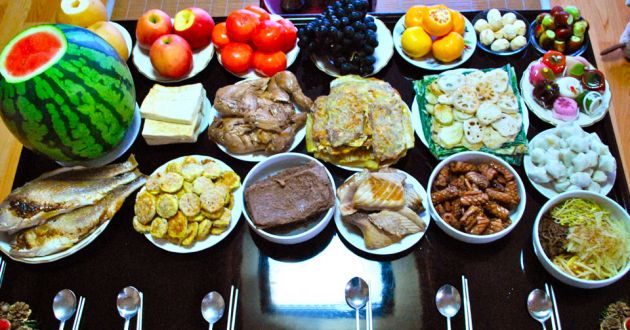 The result is a mix of holidays- so, while Korean Independence Day always falls on August 15th, a traditional holiday like the autumn harvest festival Chuseok (추석), occurs on the 15th day of the 8th lunar month, which means sometime in September or early October.
This year, Korea's full moon festival Chuseok, which is also known as Hangawi (한가위), falls on September 14th. The days before and after are combined to create one of Korea's four main traditional holidays. 
This weekend, tens of millions of Koreans are returning to their ancestral hometowns to be among family and friends. Traditional rites include an early morning ancestral worship ritual and the tending of family tombs, called beolcho (벌초).
Most villages hold their own festivals. There are a variety of traditional plays and folk games that vary by region.
In North Gyeongsang Province, where my mother's family lives, one traditional game has two teams compete to capture or destroy each other's gama (가마), or palanquin.
Typically played by boys, it was said that the winners would easily pass their civil service exams.
Of course, as a harvest festival, food is a holiday highlight. Although most homes feature a huge assortment of delicious foods, the quintessential Chuseok treat is songpyeon (송편), which is a crescent-shaped rice cake filled with chestnuts, honey, sesame and/or beans and steamed with pine needles.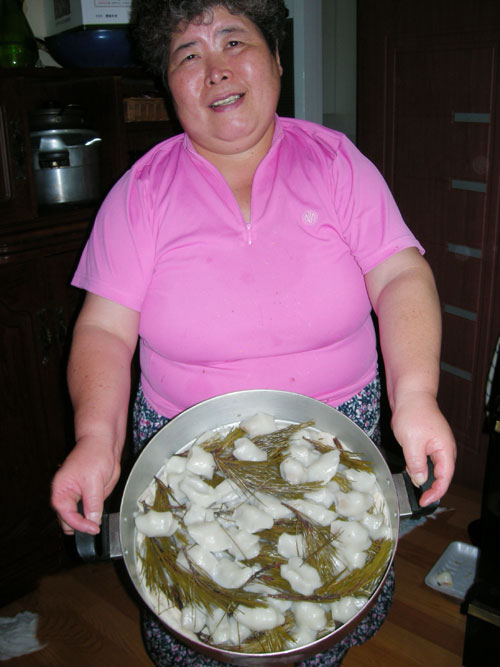 It's said that while the Chinese prefer a full-moon shape, Koreans prefer the half-moon, because while the full moon is fleeting, the crescent symbolizes future growth and potential.
Stuffing myself silly with delicious homemade food makes Korea's full moon festival Chuseok one of my favorite Korean holidays. So, this weekend I, too, will board one of the gwiseong yeolcha (귀성열차), or homebound trains, as part of the mass exodus out of Seoul.
For other travelers, however, if you didn't purchase your train tickets several months ago, good luck finding a seat! I don't recommend taking a bus or car, either, as you'll be stuck in horrible traffic.
For example, the drive between Seoul and Busan typically takes less than four hours. But during Chuseok, it can take you literally all day!
So, a word to travelers this weekend: stay put! But even if you do, good luck locating a restaurant or an ATM!
Cash machines are typically drained the week running up to Chuseok, and Seoul's typically bustling streets will be eerily quiet.
All is not lost, however. I did some research and found several tourist sites that are open this weekend. If you want to experience a bit of holiday culture, the National Center for Korean Traditional Performing Arts in Southern Seoul is offering a special, three-part Chuseok performance tomorrow.
It will feature royal court music, folk songs, tightrope walking and samulnori percussion music. If you arrive with three generations of your family in tow, it's free. But, if you can't cajole mom and grandma to join you, it's 5,000 won.
Seoul's major palaces, the Jongmyo Royal Shrine (종묘)and the Namsangol Hanok Village (남산골한옥마을) and several local amusement parks will all be open with Chuseok-related events.
Other popular tourist sites like the 63 Building, the COEX Aquarium, the War Memorial of Korea (전쟁기념관) and the Namsan Park and N Seoul Tower will also be available to tourists.
But travelers should note that most of the shops at Namdaemun Market (남대문시장)and Insa-dong will be closed.

Matt Kelly is native of the US Pacific Northwest and is half-Korean by ethnicity. He lived in Korea for five years and has written hundreds of travel guides for Wallpaper, TimeOut, the Boston Globe and Seoul Magazine and was a host for several different variety shows on Korean radio and television.