Insadong (인사동) is a central Seoul neighborhood that's so popular, especially among tourists, that my first impulse is usually to avoid it. But when out of town guests or business takes me there, I'm immediately reminded of its charms.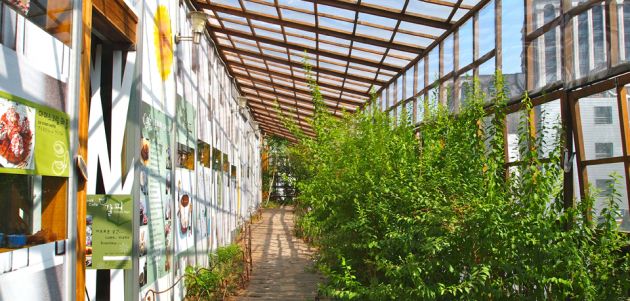 Although most of the buildings are fairly new, there is something quaint about Insadong, and the city should get credit for enforcing codes to limit the height of buildings, the use of garish signage, and designating car-free hours to create a truly pedestrian-friendly area.
Among my favorite places is Insa-dong's cheerful Ssamzie-gil complex (쌈지길). I've covered the shopping and arts mall briefly in a previous post, but this time we'll take a closer look at the multi-level art, culture and shopping destination located in the heart of Insadong.
Built in 2004 by the Ssamzie Co. Ltd., a company dedicated to supporting young and talented local artists, today, it's owned by the Eunsan Group, which says the shopping complex is designed as "a bridge between the past and present."
Walking along Insadong-gil, It's the cheerful Ssamzie-gil complex's two huge yellow symbols that may catch your eye. It's actually the Korean letter, "sang-sheeut," which is the first letter of Ssamzie-gil.
The complex is a focal point of the neighborhood, but does so without dominating it. Set back from the street by a line of single-level storefronts, it's connected to Insadong's main street and side alleys by five entrances that lead into the open-air, central courtyard.
That's where you can typically find a few snack carts selling Korean taffy, rice cakes and an artist to sketch the cartoon-version of you. It's also where 12 shops from the pre-Ssamzie-gil days were incorporated into the new complex.
To reach the upper levels, a gently-sloping ramp winds around the courtyard, measuring about half a kilometer from ground-level to roof-top deck.
Along the way you'll pass about 70 glass storefronts, most of which don't exceed 10 square meters. These small businesses offer a nice mix of established artisans with the work of young upstarts.
Some integrate traditional Korean themes into their craft, while others sell goods with no obvious Korean cultural-affinity. Be they clothing and accessory shops, porcelain music boxes or fruit smoothies, Ssamzie-gil's motley vendors make for a nice mix.
As the ramp winds up to a fourth level, you'll reach a popular Sky Garden, Gallery Sum and the Galpi book café. The high vantage point provides a nice view of Insadong and Seoul proper.
Do note, however, that the ramps can get crowded on weekends. With that in mind, you may want to opt for the stairwells for your descent. If you do, it's likely you'll come upon unexpected art installations.
Keep going down and on the B1 level you'll reach a few good Korean restaurants, Gallery Bob and the Experiential Workshop. The latter is where foreign visitors can dabble in traditional Korean paper craft, mother of pearl inlay or candle making.
While you're in the area, consider also stopping by the nearby Unhyeongung Royal Villa (운현궁) , Jogyesa Buddhist Temple (조계사), or Cheondogyo Central Temple (천도교 중앙대교당). All three are great destinations to combine with your Ssamzie-gil stop!
Finally, although Insadong is famous as a traditional culture street, Ssamzie-gil is unmistakably modern.
And yet, the building was constructed with materials that blend into the neighborhood by focusing on natural substances and colors that match the subdued palette of its surroundings.
Let's hope this successful and inspired mix found in Insadong's cheerful Ssamzie-gil complex helps shape future city projects.
For Your Information..

Matt Kelly is native of the US Pacific Northwest and is half-Korean by ethnicity. He lived in Korea for five years and has written hundreds of travel guides for Wallpaper, TimeOut, the Boston Globe and Seoul Magazine and was a host for several different variety shows on Korean radio and television.