There's a habit among some to equate parts of Seoul or Korea as the "fill in the blank" of Europe or America.
I've always found these comparisons ill-fitting.
Also, why should Korea describe itself only in reference to somewhere else? For better or worse, Korean cities always feel more like Korea than Manhattan or Naples, and a lot of people (myself included) prefer it that way.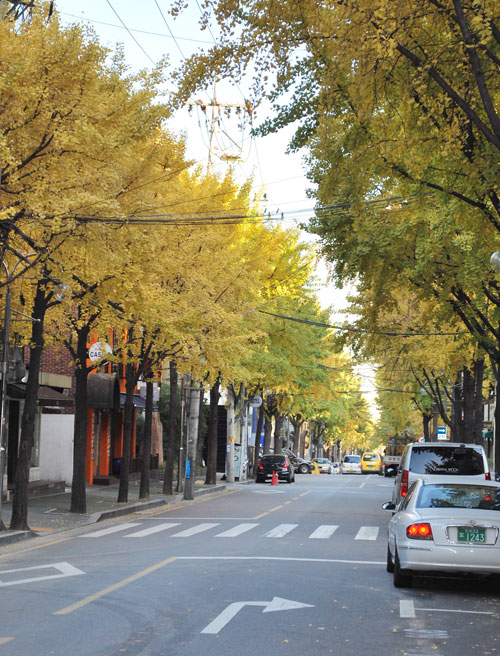 But in a nation as homogenous as this one, I can imagine it's fun for the locals to pretend they're somewhere else.
A case in point is the popular Garosugil, in Gangnam's Sinsa-dong neighborhood. The street officially known as Dosan-daero buk 5-gil (도산대로 북 5길), has become a trendy place for 7,000-won lattés and foreign cuisine.
And to be fair to the friend who introduced Garosugil as "Europe in Seoul", there does seem to be an affinity for faux-French.
A quick survey of area business's revealed: "A Priori Thé: Maison du Chocolat & Thé", "Fleur and Goûté" and "Les Chiots: Maison de Qualite, Fondre en 2003." Never mind the spelling errors, the latter is a cute pet store in front of which I saw two well-coiffed Bouvier des Flanders a couple of Sunday mornings ago. How fitting.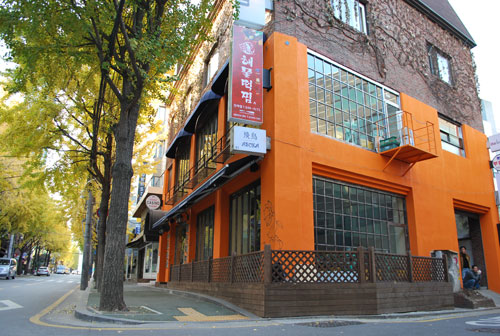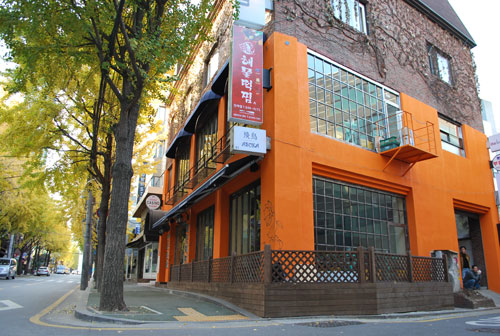 Garosugil means "tree-lined street", and the half-kilometer promenade has lots more charm than the affluent neighborhoods of Apgujeong and Cheongdam-dong immediately to the east.
But like much of Southern Seoul, rents are high. As such, most of Garosugil's restaurants, cafés and stores are cozy.
Boutiques like Farmer appear to mix new and gently-used fashion at OK prices while a narrow bookstore specializes in art, design and architecture.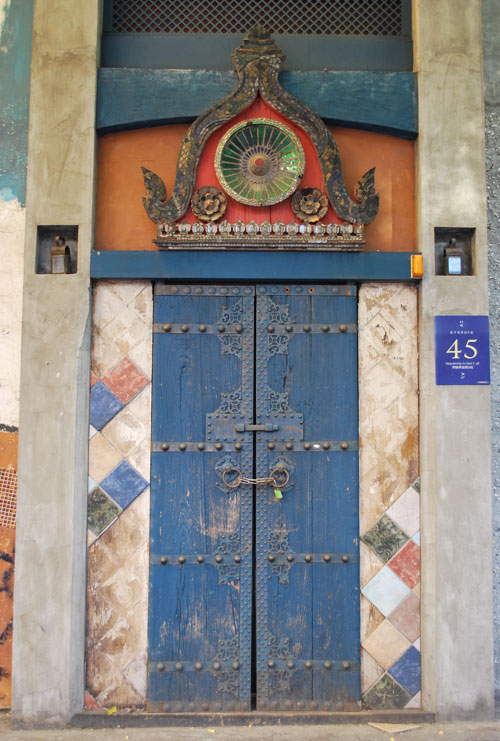 If you're prone to claustrophobia, make way to the new Italian restaurant Nonna. The vast, mood-lit dining floor feels nothing like grandma's house ("nonna" means grandmother in Italian).
But what she does provide is your best hope for an open table and some of Seoul's best Italian food.
Most entrées run 18,000-30,000 won. Since specialty coffee costs a silly 8,000 won, I paid 1,000 more for the tasty house red wine.
If you're not in the mood for the Italian granny, Garosugil also has an English one. The restaurant/wine bar Grandmother features a Persian-ish interior serving pan-Asian vittles.
But for more cheaper fare, check out Buccella for yummy sandwiches or Oriental Spoon's usually tasty pan-Asian dishes.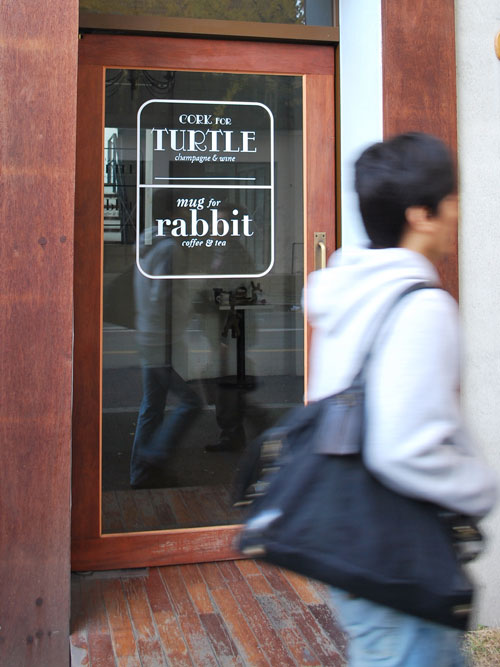 Although I don't mind eating alone, it's rare to see Koreans dining solo. And on a romantic walking street like Garosugil, be it a lunch meeting or dinner date, it feels weird to not be in another's company.
For example, a personal favorite: Cork for Turtle; Mug for Rabbit. The first floor and sunken B1 is a spare but cozy café while the upstairs is an intimate restaurant encouraging wine and champagne consumption.
If you were alone, you'd miss the chance to ponder the peculiar name together, or discuss Korean restaurants' penchant for empty wine bottles as décor.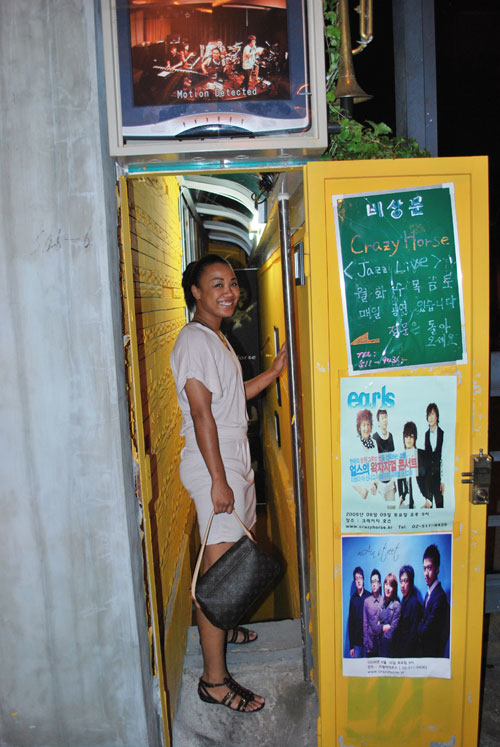 Example 2: On an early autumn evening, a friend and I happened upon Crazy Horse, a lower-level, American Indian-themed bar with an entrance so narrow you have to shimmy sideways to get in.
Had I gone by myself, who would have received my bemused expression when the front man of the band "The Earls", called out his own "En-core! En-core!" after finishing the band's live set?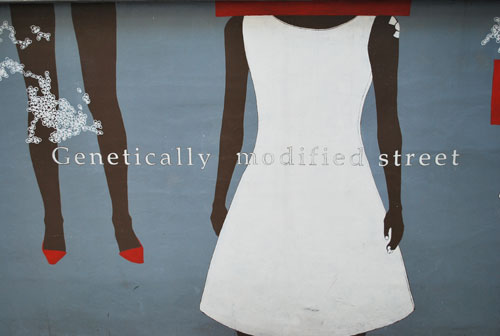 As one of Seoul's "It" neighborhoods, afternoons and evenings can feel a bit overrun with fashionable couples and amateur photographers.
But if you have a chance, head on over on a morning this week or next. Good luck finding anything but Starbucks open before 11 am, but you can enjoy the gorgeous golden ginkgo trees for which the street is named, with blankets provided to ease the autumn chill.
Afterwards, check out the latest offerings at Gallery Yeh (예화랑), and take the short (although a bit perilous) walk to the Jamwon section of the vast Han River Park (한강 공원).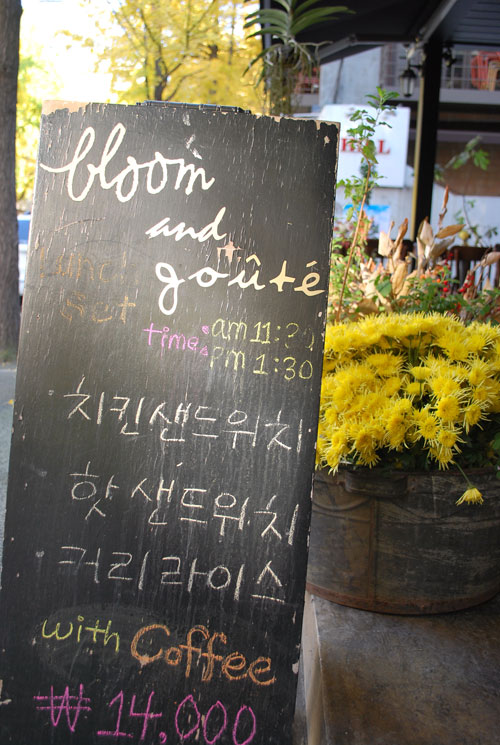 Overall, Garosugil is a slice of Seoul still in transition. The Dunkin' Donuts store and a run-down noraebang (karaoke) look old and out of place.
Conversely, a massive Japanese furniture store under construction is a scary example of what's to come as the neighborhood's popularity and shoddy zoning laws collide.
But for now, Garosugil provides a nice change of pace from much of Seoul, despite remaining far more Korean than European.
Getting There: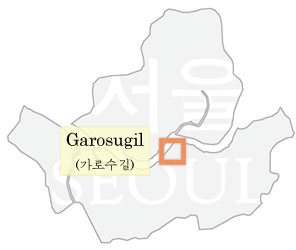 → Garosugil runs perpendicular to two major streets. It can be accessed from either end. Take subway line 3 to Sinsa Station (exit #8). Walk about three blocks until you reach a corner with the area's tallest building. Turn left onto Garosugil.
Or, take subway line 3 to Apgujeong Station (exit #5) and walk about 15 minutes. Turn left at the Kraze Burger.

Matt Kelly is native of the US Pacific Northwest and is half-Korean by ethnicity. He lived in Korea for five years and has written hundreds of travel guides for Wallpaper, TimeOut, the Boston Globe and Seoul Magazine and was a host for several different variety shows on Korean radio and television.