As described in several other posts, hanok (한옥) are traditional Korean homes built of clay, wood and stone.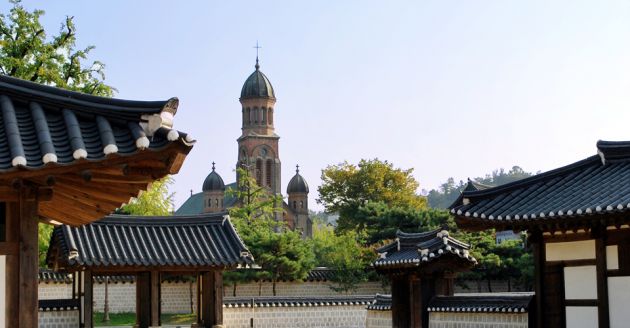 Unfortunately, these graceful one-story structures featuring curved tile roofs are becoming a rarity in Korea, but some places are doing their best to preserve them.
One of the best examples of a hanok village is in the city of Jeonju, located in North Jeolla Province. Jeonju was once the capital of Korea's Baekje Kingdom, and was also the home of the Joseon Dynasty's founding king, Yi Seong-gye.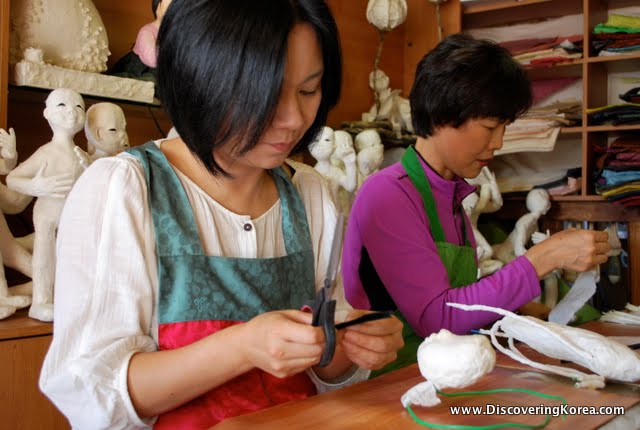 Jeonju has been one of Korea's most important cities for centuries, and today, the Jeonju Hanok Village (전주한옥마을) is a wonderful place to sample Korea's traditional culture. So, over the summer, I took the three-hour trip from Seoul.
After the taxi dropped me off at the Jeonju Hanok Village entrance, in front of me was a sea of tile roofs. Without a set itinerary in mind, I just started walking along the main road, and it wasn't long before I happened upon Kkotsugee Gongbang (꽃숙이공방) the handicraft workshop of Yang Mi-yeong.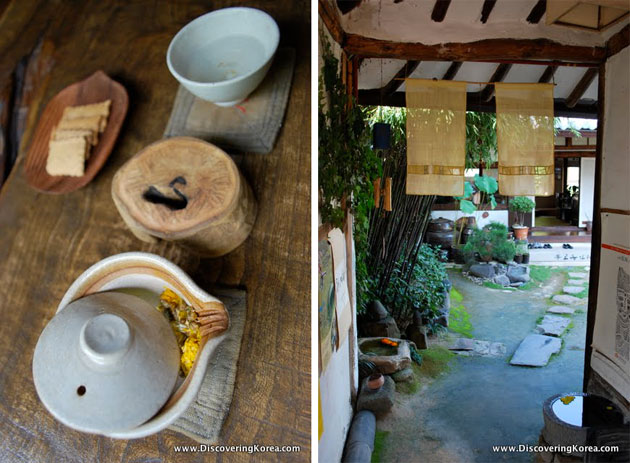 In addition to artisan shops, there are also a number of traditional teahouses in the village. I had read good reviews of the chrysanthemum tea at Gyodong Dawon (교동다원), so I was pleased to happen upon the place. Inside, calming music complemented the beautiful dark wood and clay interiors.
When my tea arrived, there were a few small yellow chrysanthemums inside a tiny stone cup. After adding scalding water from a thermos, about one shot's worth of tea was drained into my tea cup.
The tea proved to have a subtle but satisfying taste. And when a breeze came through the windows, the faint smell of chrysanthemums filled the room. Close to an hour later, I departed Gyodong Dawon for Jeonju Hanok Village's far west side. Three notable sights dominate the west village.
The first is Gyeonggijeon (경기전), a large, park-like complex where the portrait of King Yi Seong-gye is enshrined. Originally built in 1410, some of the current buildings date to 1614.
The king's portrait features him seated in a magnificent red chair with three gold-foiled dragons on his royal blue robes. Several other Joseon kings also have portraits enshrined here.
And across the street is the beautiful Jeondong Catholic Church (전동성당). When Catholic missionaries first came to Korea in the late 18th century, many were martyred here.
The first deaths occurred in 1791, and Father Xavier Baudounet honored their sacrifices by erecting Jeonju's fantastic Byzantine/Romanesque-style church in 1914. It's said that the church's cornerstone was where the head of one of the early martyrs was hanged.
And finally, just west of the church is the stately Pungnammun (풍남문). It's the only remaining gate of former city fortress. Rebuilt in 1768, Pungnammun's stately architecture is similar to other great gates, like Seoul's Sungnyemun and the main gate of Suwon Hwaseong Fortress (수원화성), except that the Jeonju gate's pillars extend from the first level up into the second.
Jeonju's Famous Food
Like most countries, Korea's provinces tend to have some regional rivalries. But when it comes to food, it seems like almost everybody from Seoul down to Jeju Island agree that Korea's best food is found in the Jeolla provinces.
Actually, it makes sense that Korea's southwest corner, which is less mountainous than the rest of the peninsula and is known as the country's rice-basket, would boast delicious cuisine.
Lucky for me I had a local to guide for my culinary discovery. My friend Eun-hae grew up in Jeonju, and she knew just where to find the tastiest food.
The historic city is probably best known for its namesake, Jeonju bibimbap (전주 비빔밥), which is a healthy combination of vegetables, rice and hot pepper paste served room temperature or in a sizzling stone bowl.
At Eun-hae's recommendation, we ordered some at Honamgak (호남각), a celebrated restaurant located in Jeonju's Songcheon-dong 2(i)-ga neighborhood (송천동2가).
In addition to their specialty bibimbap, we also ordered a simmered beef stew called kalbi jjim (갈비찜). Three types of kimchi, wild mushrooms and a subtly salty beansprout soup, among several other banchan (반찬), or side dishes, came free with our meal.
Satisfied with a delicious lunch, I went back to explore Jeonju's Hanok Village (전주 한옥마을). But after a couple of hours spelunking on a warm summer day, I was craving something refreshing.
So I stopped by Horang (호랑), a charming coffee shop that opened just two weeks earlier by a kind young duo, Pak Joon-ho (박준호) and Oh Min-taek (오민택).
From the outdoor terrace I ordered fresh kiwi juice and the delicious unsweetened drink was served alongside a plate of sesame crackers and a chocolate happy face. But a few minutes later, Joon-ho brought me something else.
It was a creamy white smoothie topped with almond slices. But I couldn't place the subtly sweet taste. Joon-ho told me it was made from deodeok (더덕), an herb often used as a substitute to ginseng. Heretofore I was unfamiliar with deodeok, but I've craved for that smoothie many times since.
Before I left, the guys recommended another nearby restaurant for dinner. Since we covered Jeonju's cultural and historical sights last week, how about we fast forward to the eating part?
Seated on the floor of the unpretentious Gookil Ddeok Kalbi (극일떡갈비), I ordered their namesake Jeolla-do delicacy along with a tall beer. For 10,000 won I enjoyed two minced beef paddies marinated with sugar and soy atop a brass turtle's back.
And no less than 20 side dishes ranging from seasoned baby clams and kimchi pajun pancake to acorn jelly were also included. All were ridiculously delicious.
Thoroughly satisfied though uncomfortably stuffed, I decided to take a walk. Walking among the hanok village's narrow streets and alleyways, it was clear that Jeonju's hanok maeul isn't just a tourist destination, but a thriving neighborhood.
No doubt its businesses benefit from tourists, and I was thankful for the overnight accommodations recommended to me by the kind people at the tourism kiosk.
The Hakindang (학인당) was the home of Baek Nak-jung (백낙중), who was revered for his filial piety. The home, which is a typical example of upper class homes after the Joseon Dynasty collapsed, is now available for overnight guests.
Upon washing and arranging the heavy blankets on the ondol heated floor, a gentle rain started outside. Laying there in the quiet, it was a peaceful end to a charming two days in Jeonju.
For Your Information…

Matt Kelly is native of the US Pacific Northwest and is half-Korean by ethnicity. He lived in Korea for five years and has written hundreds of travel guides for Wallpaper, TimeOut, the Boston Globe and Seoul Magazine and was a host for several different variety shows on Korean radio and television.