In terms of day trips from Seoul, I can't think of a better place than Suwon Hwaseong Fortress (수원화성) in the Gyeonggi Province city of Suwon.
In 1997 when the United Nations designated the Suwon Hwaseong Fortress a part of the world's cultural heritage, they cited its unique blend of eastern and western architectural styles.
Completed in 1796 by the great Joseon Dynasty king, Jeongjo (1752-1800), its construction was inspired by the 16th century Japanese invasions, which destroyed most of Korea's grand palaces and temples.
In a break with the past, Suwon Hwaseong Fortress was designed to protect both a temporary palace for the king and a village from foreign invaders, by means of a 5.7-kilometer long, 5-meter high fortress wall.
But while Suwon Hwaseong Fortress features the stone walls, sentry towers and turrets of a military stronghold, it's also enhanced by the delicate and colorful architecture typical of Joseon-era palaces.
The result is an unusually harmonious integration of styles.
It's been said that the fortress was part of King Jeongjo's plan to move the capital away from Seoul. Why the move, you ask?
Well, Seoul bore bad memories for the king, whose father, Prince Sado, was murdered by his grandfather, King Yeongjo. Upon hearing that Sado was mentally ill and indiscriminately killing people, Yeongjo locked the prince in a rice chest for eight days until he died.
As a result, Jeongjo spent much of his reign trying to repair his father's legacy. If he moved the capital to Suwon, the new king could escape the fractious strife of Seoul palace life, he would be closer to his father's grave, and he could realize his reformist agenda.
King Jeongjo is remembered as a visionary whose reign was a renaissance for Joseon-era Korea.
Silhak (실학), a new school of philosophy that emphasized scientific and practical learning, helped Jeongjo launch both progressive social and technological innovations.
For example, the citizens who built Suwon Hwaseong Fortress were paid, and new inventions, including a machine that could lift over seven tons, were employed.
Despite two centuries of war and conquest, about 75% of the fortress wall remains. If you walk there from the Suwon train station, you'll reach Paldalmun gate (팔달문) first.
The name of the fortress's 2-story tall south gate means, "gate open in all directions." The north gate, or Janganmun (장안문), is the largest gate ever built in Korea.
Destroyed during the Korean War, it was rebuilt in 1979. Both gates are surrounded by an ongseong (옹성), which is a protective stone semicircle.
41 of the Suwon Hwaseong Fortress wall's original 48 watchtowers, gates and pavilions also remain. One of my two favorites is Hwahongmun (화홍문), a graceful pavilion set atop seven stone arches with the Hwaseong stream flowing underneath.
Seobuk Gongsimdon (서북공심돈) is my other favorite. The northwest observation tower's impressive stone and brick edifice is peppered with holes for cannons and archers.
If you follow the stream, at the foot of Paldalsan mountain you'll find Hwaseong Haenggung (화성행궁), the largest of the Joseon temporary palaces.
At its height, the palace included 576 compartments that featured feasts and cultural performances. It was destroyed during the Japanese occupation, but restoration started in 1996 and should be complete by 2010.
Adjacent to it is the Hwaryeongjeon (화령전) where Jeongjo's spirit and portrait are enshrined.
Because Suwon Hwaseong Fortress was built in honor of his father, many Koreans see the fortress as a monument to filial piety, which is a Confucian-inspired love and respect for one's family and ancestors.
To this end, students come here each April to feast and celebrate their elders.
But that's not the only attraction. Visitors can try their hand with a bow and arrow at an on-site archery range, and every Sunday from May to November, a traditional military ceremony is performed by costumed soldiers.
If that's not enough, each October, a citizen's parade follows a reenactment of King Jeongjo's royal tomb visit. No word yet if this year's procession will match the 5,661 people and 1,417 horses of Jeongjo's original.
Whenever you decide to go, know that all 5.7-kilometers of the Suwon Hwaseong Fortress wall and its attractive grounds are open to the public and feature excellent English signage.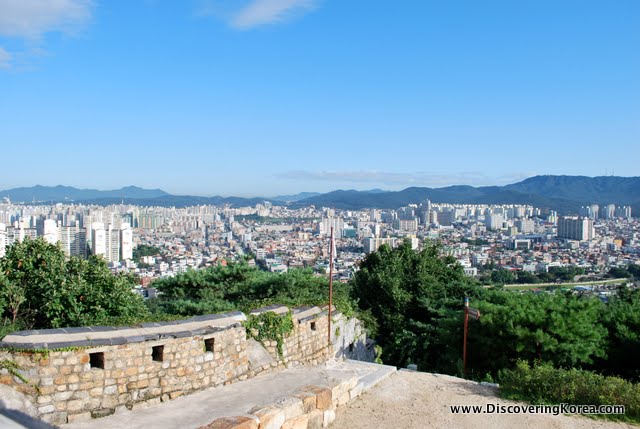 And, since the wall covers both flat and hilly terrain, it makes for a great hike with scenic views of surrounding Suwon.
For Your Information..

Matt Kelly is native of the US Pacific Northwest and is half-Korean by ethnicity. He lived in Korea for five years and has written hundreds of travel guides for Wallpaper, TimeOut, the Boston Globe and Seoul Magazine and was a host for several different variety shows on Korean radio and television.