How about we escape the sub-zero temperatures of Seoul for a reminder of a warmer time several months back?
This time around we hop on Seoul Metro and go west to the port city of Incheon: the city that's striving to be the gateway to Northeast Asia. As one of the world's largest cities, it can't be easy being in Seoul's shadow.
But Korea's port city of Incheon, just 36 kilometers west of Seoul, is making a name for itself with an ambitious plan to become a regional business and logistics hub.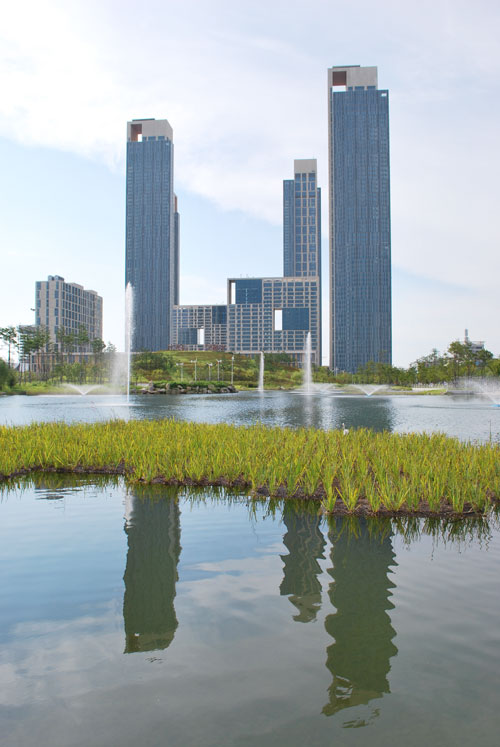 The idea makes sense. One-third of the world's population lives within a 3-hour flight of Incheon. And the city's striking new international airport was rated the world's best for several years straight.
This seaside city of 2.5 million people also boasts Korea's second largest port, and all of this figures into an exciting plan to make Incheon a financial and corporate hub to rival Hong Kong and Singapore.
This ambitious plan is best exemplified by New Songdo City. Imagine Venice's canals, New York's Central Park and Paris' tree-lined boulevards in a place that's completely integrated with next generation information technology… if you do that, you'll see the marketing vision behind Songdo.
Built on reclaimed land in Incheon Harbor, Songdo is being built from scratch with a reported $40-billion dollar price tag, making it the largest private development project undertaken at any time, anywhere.
In addition to many cultural, educational and leisure venues, a 610-meter high tower expects to be the world's third tallest upon completion in 2012.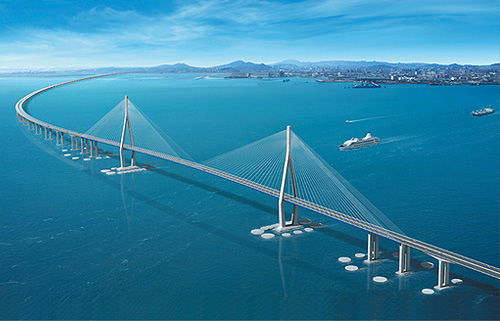 There's also the striking $17.5 billion, 12.3 kilometer long Incheon Bridge. As South Korea continued developing New Songdo City, a tech-focused urban center, the government needed to construct an easy link to the center from the island on which Incheon International Airport sits.
When it is completed in 2009, this 7.4-mile bridge will do just that — and will be one of the five longest bridges of its kind in the world. The cable-stayed portion spanning the entrance to the port proved the biggest challenge.
The entire Songdo project has a 2015 completion date, but thousands already call the new island home, and phase 1 will officially open in August.
It sounds to me like a good stop on an urban planning enthusiast's itinerary.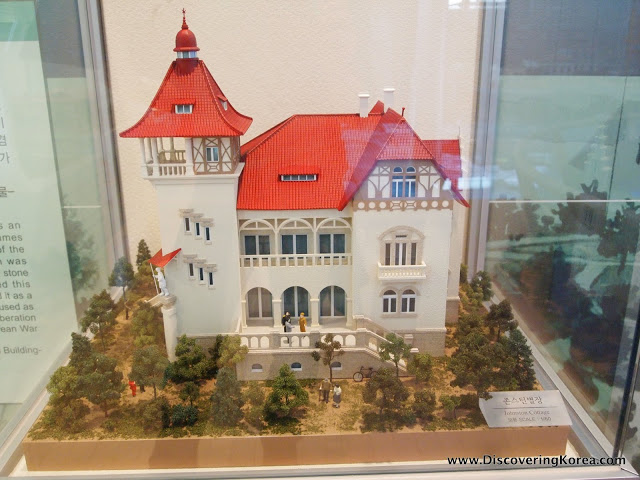 But as Incheon looks forward to realizing its ambitious plans, it also retains reminders of an interesting past.
Although formally founded in 1883 under the name Jaemulpo (제물포), the city's historical record goes all the way back to the year 475, under the Goguryeo king, Jangsu.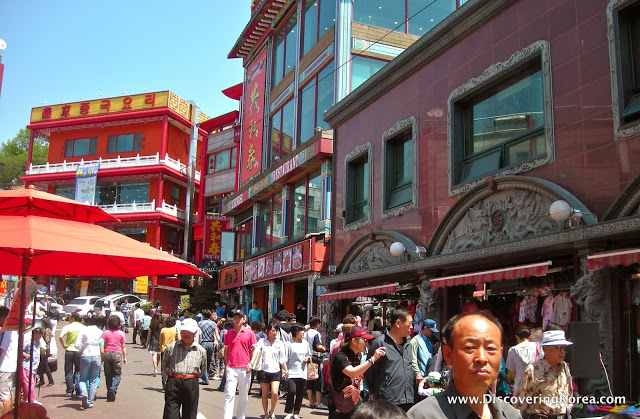 Korea's oldest Chinatown is also here. Beyond the three traditional gates donated by its Chinese sister city Weihai, this Chinatown is probably best known as the birthplace of the popular noodle dish, jjajangmyeon (짜자면).
Koreans love these wheat noodles covered in a salty black soybean paste so much that two men gained notoriety for eating nothing else for several years. There's even an unofficial holiday honoring the delicious black noodles.
Every April 14th, singles mourn their solitary existence on what's dramatically called "Black Day".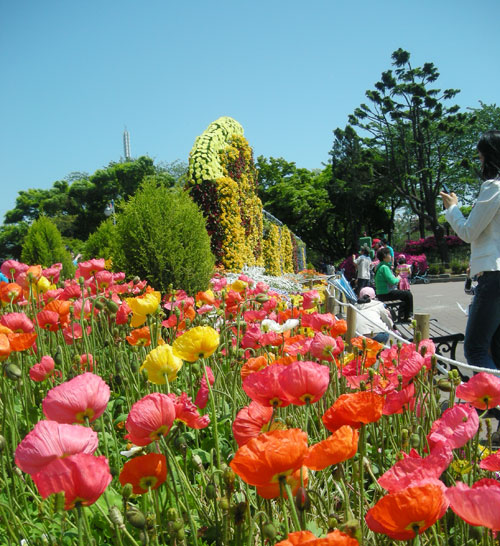 When I visited Incheon's Chinatown, it wasn't April, but I ate jjajangmyeon anyway. And when I finished, I burnt it off with a walk up to Jayu (자유), or Freedom Park.
The hilltop park celebrates General MacArthur's dramatic victory at the Battle of Incheon during the Korean War and features a statue of the General, gardens, and a towering sculpture celebrating 100 years of Korea and U.S. relations.
There's also a panoramic view of the container ships and cranes that power Korea's booming trade industry.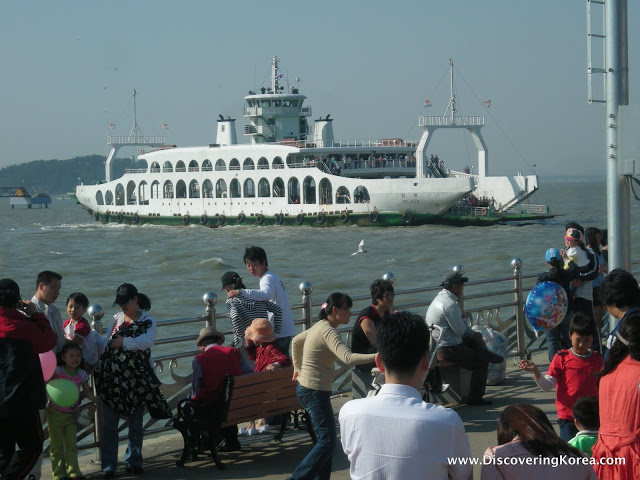 But my favorite part of Incheon is Wolmi Island (월미도). Despite the name, it's a small peninsula known for its waterfront boardwalk, amusement park and a row of cute and colorful hwae (생선회) or raw fish, restaurants.
Raw fish is great but I also had to try the French fry-encrusted corn dog, which was equally delicious! And next time, I'll order two of them before boarding a ferry to explore some of Incheon Harbor's many scenic islands.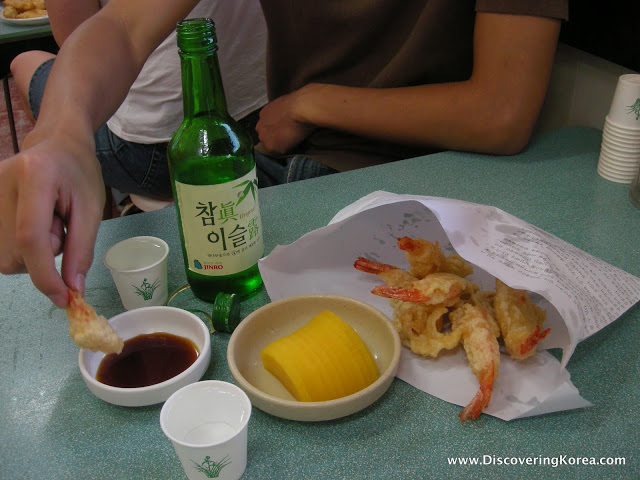 So if Seoul's sheer size has you overlooking its western neighbor, why not hop on the subway for the cheap 70-minute ride to Incheon.
But don't delay, this city on the West Sea is sure to gain popularity when it hosts the first Global Fair and Expo later this year.

Matt Kelly is native of the US Pacific Northwest and is half-Korean by ethnicity. He lived in Korea for five years and has written hundreds of travel guides for Wallpaper, TimeOut, the Boston Globe and Seoul Magazine and was a host for several different variety shows on Korean radio and television.