About one hour north of Seoul there's a picturesque spot where the Han and Imjin rivers meet. But don't make any swimming or boating plans just yet!

The spirals of barbed wire that separate the Imjingang from Jayuro, or Freedom Road, are a reminder that you're only 6 kilometers from the Demilitarized Zone (DMZ).
The DMZ is one of the world's most heavily fortified borders, and it has divided Korea for the past 55 years.
Now, if this doesn't sound to you like an ideal travel destination, stay with me for a minute, because among all these signs of warfare is a peaceful and beautiful village for artists.
In 2001, after two decades of planning, book publisher Kim Eun-ho's vision became reality, and today, over 500 painters, musicians, photographers, writers and sculptors live and work together in Heyri Artists Village (헤이리), a cultural commune of sorts located in the city of Paju.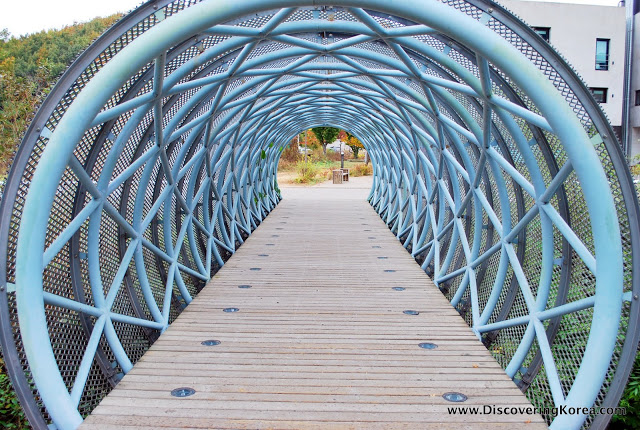 The name "Heyri" comes from a traditional Korean farming song. Those agrarian roots live on in the artist compound's environmentally-friendly design.
The "ecological village" concept includes large areas of green space and a stream and wetlands area. Small parks, footpaths and rest areas also dot the landscape, while buildings, roads and energy use are all designed with environmental conservation in mind.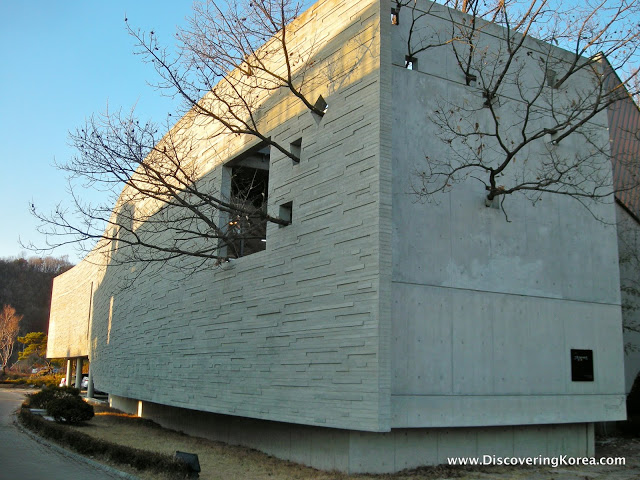 Of course, since Heyri is a place for artists, aesthetics and striking architecture are also major considerations.
In fact, some of Korea's best-known architects collaborated to create the village's master plan, which harmonizes buildings with the natural setting by restricting buildings to 3-stories, by limiting the use of fences and walls, and by encouraging the planting of native trees and wildflowers.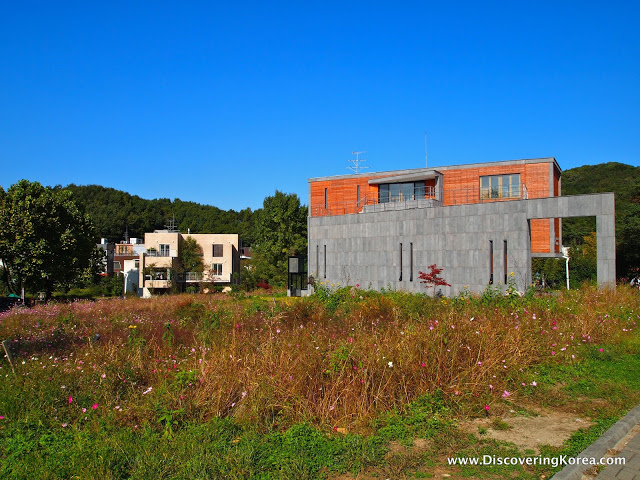 Virtually all of of the buildings in Heyri Artists Village are modestly-sized modern structures of steel, concrete and glass.
The ground floor often features a small gallery, museum or café, while an artist's residence is typically located on an upper floor.
In case you forget that you're visiting a family's home, on a recent trip I saw children's toys and what remained of some jjajangmyun (짜장면) or Chinese black noodles, outside one artist's door.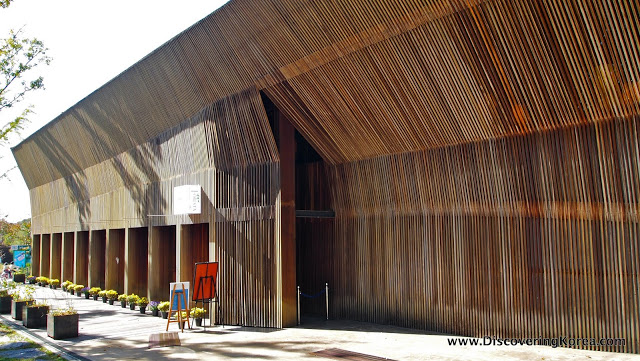 Among the many beautiful buildings, my favorite is Kim Eun-ho's Bookhouse. It's actually a 30,000-book library, a restaurant, an exhibition hall and a café, all encased in shell of gorgeous Malaysian hardwoods.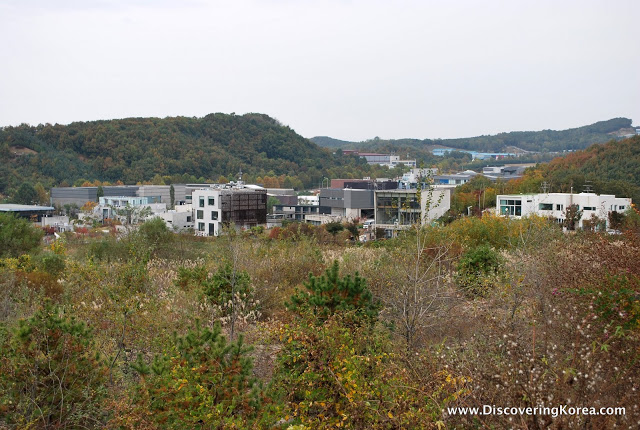 Although already impressive, while walking around the village, it's exciting to imagine what's to come. By 2015, a total of 400 buildings are planned, including a large art school and 50 guesthouses for visitors.
In the meantime, visitors can enjoy the International Folk Film Museum or any of the more than 30 small and medium-sized museums on butterflies, Buddhist art, stamps, paintings, traditional foods and dozens of other topics.
For the kids, the three-story "I Like Dalki" Building will be a hit. Gallery admission fees range between one and five thousand won.
Oh, but one warning, the cafés are beautiful, but a latté may run you 7,000 won!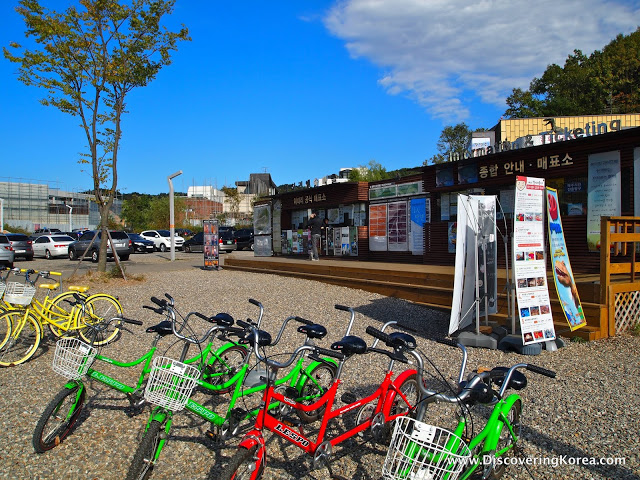 One last suggestion: visit Heyri Artists Village sooner rather than later. Right now, the weather is perfect to stroll around the grounds and enjoy the fall weather.
As you walk around the grounds, I think you'll agree that despite its war-torn location, the artists and families who live in Heyri are testaments to the hope that the divided Koreas will one day reunite peacefully.
For your information…

Matt Kelly is native of the US Pacific Northwest and is half-Korean by ethnicity. He lived in Korea for five years and has written hundreds of travel guides for Wallpaper, TimeOut, the Boston Globe and Seoul Magazine and was a host for several different variety shows on Korean radio and television.