The Jinhae Cherry Blossom Festival has become perhaps South Korea's most popular annual festival.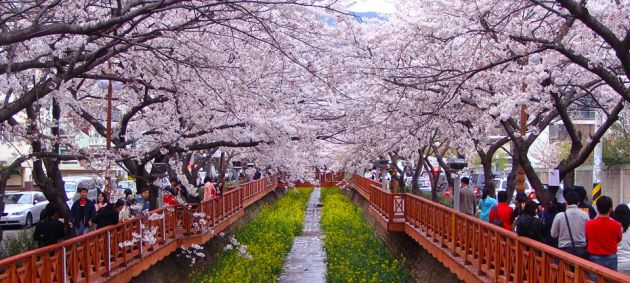 Set in the charming town of Jinhae (진해시) on a mountainous stretch of Korea's namhae, or southern coastline, the town is best known as home to the world's largest number of flowering cherry trees, known in Korean as beotkkot namu (벚꽃 나무).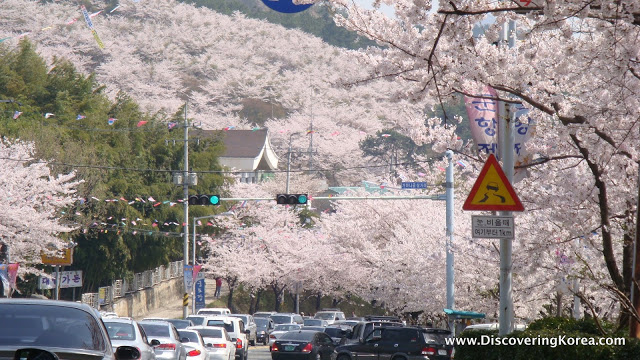 Each spring, the Jinhae Cherry Blossom Festival celebrates the few short weeks when an estimated 340,000 trees burst into a virtual sea of pale-pink blossoms.
Fortunately, for the past 46 years, the hospitable people of Jinhae have shared their local treasure with the world as hosts of the Jinhae Gunhangjae (군항제), or Naval Port Festival.
The Jinhae Cherry Blossom Festival began in 1952, when a statue of Korea's greatest naval hero, Admiral Yi Sun-shin (이순신), was erected in the city's center.
Since 1963, the festival has been held annually to honor him. These days, it's the spectacular cherry trees that attract over 1 million visitors each year.
Many claim that Jinhae's flowering cherries are a species native to Korea. Whatever their origin, over 1,000 of them line the road from Changwon (창원) city to Jinhae, alone.
But nothing can prepare you for the dramatic scene once the port city comes fully into view. Suddenly, you've come upon a valley blanketed in pink!
My favorite spot to visit during the Jinhae Cherry Blossom Festival is the picturesque Yeojwa Stream (여좌천) and Promenade, which are located near the Jinhae train station.
A popular place for couples and made famous by the Korean drama "Romance", the small stream is bordered by yellow canola flowers and a 1.5-kilometer boardwalk that's covered by a canopy of cherry blossoms.
It's simply a picture-perfect backdrop.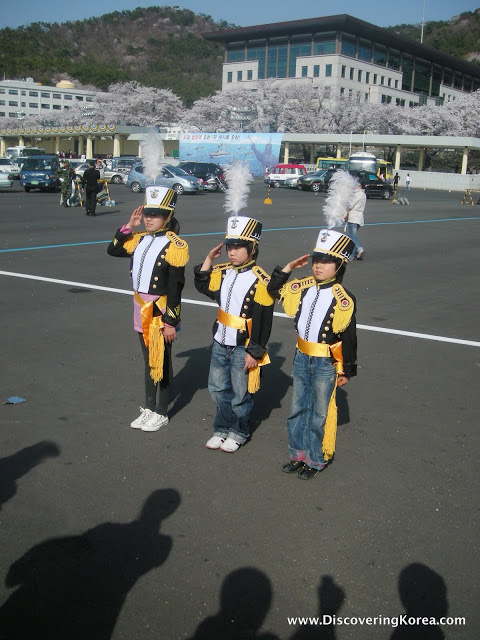 After enjoying the promenade, stroll over to the main stage area featuring live music and performances.
As you might expect, the area around the stage will be packed with festival-goers, but to help visitors to safely navigate the crowded streets, cute and enthusiastic local students are usually on hand to direct traffic while bowing and thanking visitors for coming.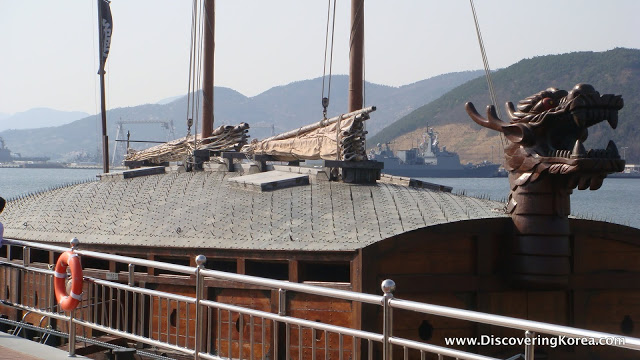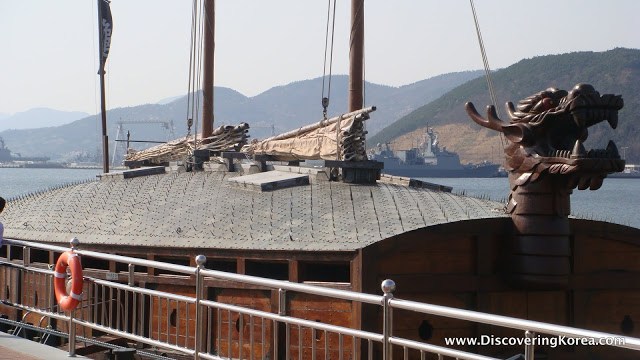 Koreans also know Jinhae as the home to the country's Naval Academy.
The Jinhae Cherry Blossom Festival is also special because it's the only time of year when visitors can access the campus and Naval Museum.
A festival tradition also includes a full-size replica of Admiral Yi Sun-shin's 16th-century Turtle Ships or its contemporary, a four thousand five hundred-ton destroyer. To visit either, expect long lines!
Then again, after all of this sightseeing, you might be hungry. Thankfully, what's a festival without food?
This being Korea, everything from chicken skewers and delicious donuts to whole coconuts are on offer available … if you're partial to boiled silkworm larvae, try some beondaegi (번데기).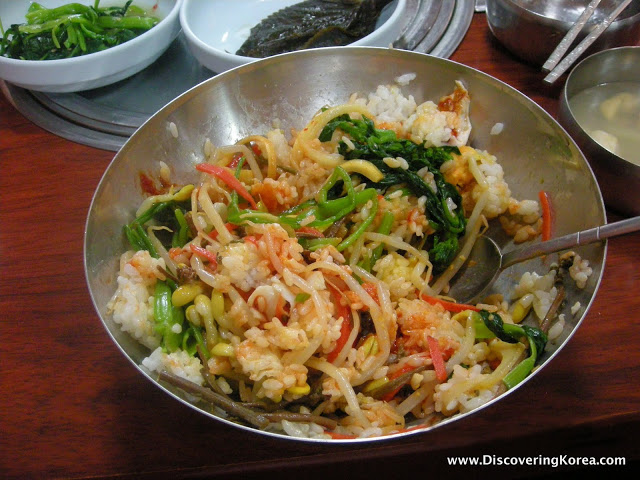 Not your idea of a perfect snack? Well, those in search of a full meal might order some, bibimbap (비빔밥), the healthy and delicious mix of rice and vegetables.
For some local flavor, your bowl will probably feature some of Jinhae's famous saesongi (새송이) mushrooms.
If you're not too full (or exhausted) from your Jinhae Cherry Blossom Festival experience, consider visiting Jinhae's Yongchu (용추) Falls or a nearby Buddhist Temple.
For Your Information…

Matt Kelly is native of the US Pacific Northwest and is half-Korean by ethnicity. He lived in Korea for five years and has written hundreds of travel guides for Wallpaper, TimeOut, the Boston Globe and Seoul Magazine and was a host for several different variety shows on Korean radio and television.