I'll readily admit that I'm not much of a shopper. You could probably tell that from the infrequency of shopping venues here on Discovering Korea.
But Seoul is known by many as a shopper's paradise, and I know that many of you are interested in seeing some of what the city has for sale. So let's compromise.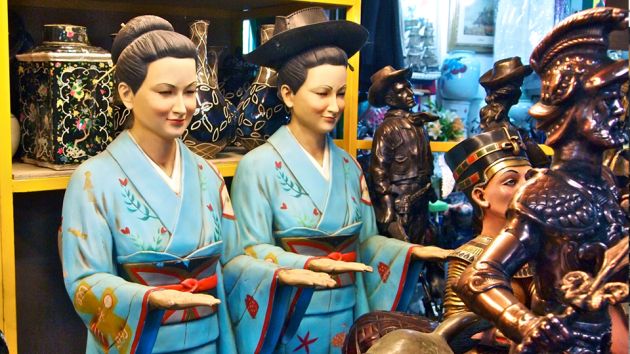 How about we find a market that combines a little history, a little kitsch and some good deals? That market is the Seoul Folk Flea Market (서울풍물시장).
According to Jason in the friendly tourism information office, there are 851 small shops packed inside the Seoul Folk Flea Market, a two-story, 5,000-square meter warehouse that was built by Seoul city back in 2008 at a cost of about $9.4 million.
These hundreds of shops sell everything under the sun, from polished old cutlery to fancy lamps, from Joseon Dynasty-era pottery and a European knight's helmet to a real Siberian Tiger pelt – don't try to take that last one through customs.
In lieu of cliché gifts like mass produced fans or masks, I've found that the Seoul Folk Flea Market is a great place to get one-of-a-kind gifts for friends and family back home.
The original market started on a small street during the Japanese colonial period. But the market really took off in the 1950s when junk collectors from all over country gathered in the aftermath of the Korean War.
Not surprisingly, most of the early stuff was clothes and food products discarded from American military bases or industrial goods rejected by local factories.
Today, there's a curiously large number of shops selling old photos of former president-slash-dictator Park Chung-hee, while others sell watches, another adult toys, and some time ago a very unpleasant man was selling a scary elixir of steamed scorpions… for better or worse he wasn't there on my last visit.
This unique place has many names. It used to be called the Hwanghak-dong Flea Market after the neighborhood beside the Cheonggyecheon stream (청계천).
But when the stream's restoration forced the vendors out, they moved into the now-demolished Dongdaemun Stadium, which became the market's new name.
Some people call it the dokkaebi or goblin market because broken goods seem to get fixed like magic. Some of the merchants call Seoul Folk Flea Market the Ant Market.
Thanks to all of the moves endured over the years, some of those vendors call themselves nomads. They came to sell their wares in this latest location after plans were drawn up to tear down the stadium to build a futuristic Dongdaemun Design Plaza.
While gentrification is inevitable, part of why I enjoy the market is to support these eccentric merchants.
To address some of the vendor concerns, the City has hired consultants to modernize the Seoul Folk Flea Market and make it more attractive to tourists through cultural shows.
To be honest, I think many Koreans are surprised that foreigners would be interested in Seoul's quirky junk, but without a doubt, the Seoul Folk Flea Market is where I experience my favorite kind of shopping.

Matt Kelly is native of the US Pacific Northwest and is half-Korean by ethnicity. He lived in Korea for five years and has written hundreds of travel guides for Wallpaper, TimeOut, the Boston Globe and Seoul Magazine and was a host for several different variety shows on Korean radio and television.