I'm guessing that one of Seoul's newest tourist attractions will soon be one of its most popular. Located in front of Cheongwadae, or Korea's presidential house, the Cheongwadae Sarangchae (청와대 사랑채) is a presidential museum that informs visitors about Korea's past, present and future.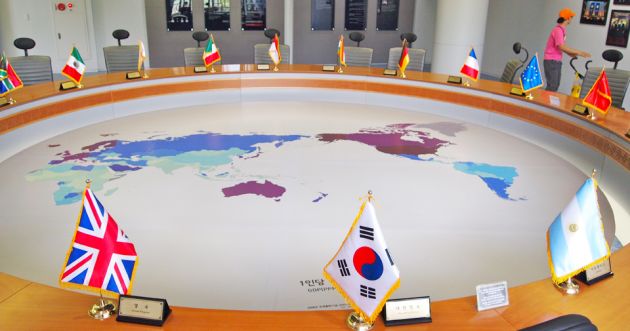 Opened on January 5, 2010, the two-story exhibition and museum space was designed to be more environmentally friendly than most by harnessing the power of solar and geothermal energy, thereby reducing the use of fossil fuels.
It's a fitting response to Korea's ambitious goal to reduce carbon emissions by 30 percent by the year 2020.
The word "sarangchae" refers to a detached room in traditional Korean manors where men would entertain fellow male guests.
Of course, the Cheongwadae Sarangchae isn't limited to men. Divided into five exhibition halls, a gift shop and a small restaurant, the museum is an attractive addition to the tourist itinerary of men, women and children alike.
The Cheongwadae Sarangchae museum's ground floor is divided into two halls.
The Republic of Korea Hall provides an introduction to the nation, some of Korea's most famous historic figures, information about the peninsula's UNESCO World Heritage Sites, and popular aspects of Korean culture, be it food, clothing, architecture and music. The "Hi Seoul Hall" provides a historic look at the city, as well as information about popular places in the city.
The lobby area is also where you'll find Charim (차림), a pleasant, self-proclaimed "neo-Korean" restaurant.
The menu is simple – four options including bibimbap, steak and tomato curry, as well as various beverages and snacks. The airy and attractive interior includes Western-style sit-down tables, and three semi-enclosed areas where you can sit cross-legged on silk cushions beside a low wood table.
The Cheongwadae Sarangchae's second floor features four exhibits highlighting the office of the president, and two of his policy priorities.
For example, the "Green Growth Hall" describes president Lee Myung-bak's controversial Four Rivers Restoration Project and Korea's aim to become a world leader in developing green technology.
The "G-20 Lounge" provides a life-sized G-20 Roundtable, commemorating the Group of 20 wealthy nations' summit that Korea will host in November 2010.
A temporary exhibition displaying color photos from the Korean War, a joint project of the Ministry of Culture, Sports and Tourism and the U.S. Embassy in Seoul.
After viewing the exhibits, when you're on your way out, I highly suggest visiting the souvenir store, located next to the lobby.
A surprising mix of interesting and high-quality gift items about Seoul and Korea are on hand, including an excellent selection of books and postcards from the museum's exhibits.
Finally, when you're on the Cheongwadae Sarangchae museum's brick plaza, it's impossible to miss the gentle peak of Mt. Bugaksan.
But if you turn back towards the building for just a moment, you can see a simple, yet moving tribute.
A line of vertical banners say "Merci," "Gracias," "teşekkürler" and "Thank you" to the 13 countries who sacrificed over 150,000 of their young mens' lives during the Korean War so that South Korea could become the vibrant democracy it is today.

Matt Kelly is native of the US Pacific Northwest and is half-Korean by ethnicity. He lived in Korea for five years and has written hundreds of travel guides for Wallpaper, TimeOut, the Boston Globe and Seoul Magazine and was a host for several different variety shows on Korean radio and television.