The city of Gwangju in Korea's South Jeolla Province is a bustling city of 1.4 million people. The city is perhaps best known as the site of a student democracy uprising in 1980, when 325 people were killed during protests against the military government of Chun Doo-hwan (전두환).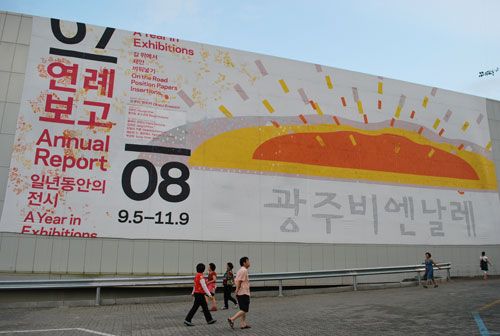 As a result, many regard Gwangju as the heart of Korea's democracy movement. But a generation later, while some don't want to dwell on that tragic past, others continue to draw inspiration from it.
Case in point is the Gwangju Biennale, the nine-week contemporary art festival that's recognized as one of the world's leading large-scale global art exhibitions. 
Started in 1995, the Gwangju Biennale was Asia's first biannual contemporary art festival. Organizers say that Gwangju's tragic past inspires their work today, and ultimately, they hope to express their city's spirit in art.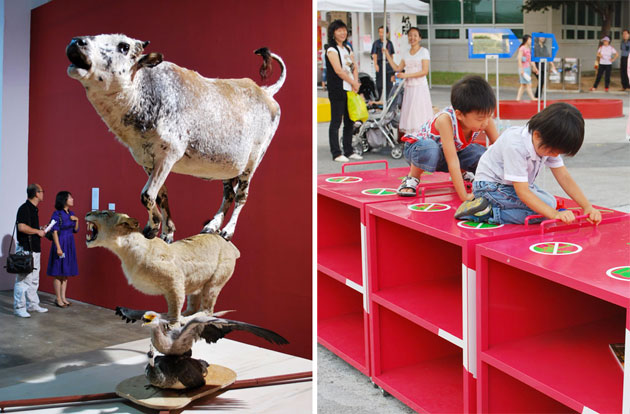 On a warm autumn day outside the Biennale's main exhibition hall, I felt that spirit.
Seven students were performing the 12-string gayageum (가야금), a classical instrument that is indigenous to Korea, while children crawled on colorful, puzzle-shaped benches. 
I was excited to see what else the Gwangju Biennale had to offer, and in front of me was the Main Exhibition Hall – five large galleries featuring hundreds of art pieces from around the world.
Upon entering the galleries, the first thing you hear is a repeating bell, and the first thing you see is a striking sculpture by South African artist Joachim Schoenfeldt.
Picture this: A taxidermied cow stands on the back of a lioness, who rests atop an eagle, with a small peafowl hen bearing the weight of them all. This inverted pyramid of African animals set a surprising tone.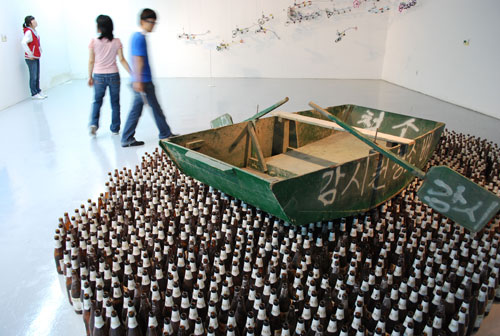 Unlike past iterations of the Gwangju Biennale, number seven has no theme. The title is simply, "Annual Report: A Year in Exhibitions." The collections include dozens of traveling exhibits from the past year and an exploration of historical questions from a regional perspective.
In another gallery, "Sediments, Sentiments (Figures of Speech)", a sculpture by the American artist Jennifer Allora and Cuban artist Guillermo Calzadilla, was a reminder of Gwangju's turbulent past.
A huge foam and white plaster form was bypassed by tunnels. A small speaker inside a tunnel played speeches of current and former world leaders like the Dalai Lama and Saddam Hussein in an operatic style.
According to the artists, the sculpture resembles the aftermath of a disaster, and the singing represents the final soliloquy delivered in a tragic opera.
But with such a diverse collection, what brings it all together?
The Biennale's Nigerian-born Artistic Director Okui Enwezor says that this year's festival continues its tradition of "rigorous globalism" but also aims to pay specific attention to how Gwangju and Korea's postcolonial histories build an active civic identity.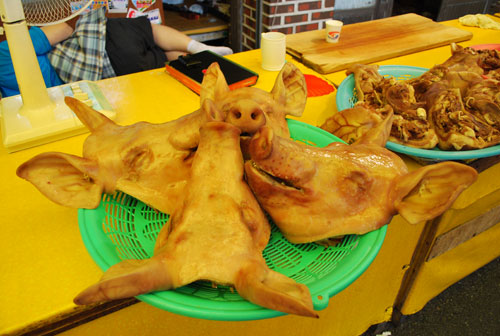 A free shuttle bus takes visitors on the 14-kilometer loop to four other festival sites.
At the Daein Market (대인시장), a traditional public market in downtown Gwangju, there were graffiti installations by Korean artist Gu Hun-ju (구헌주). In one, Beijing Olympic gold medalist and world's strongest woman, Jang Mi-ran (장미란) lifts the metal shutter of a market stall.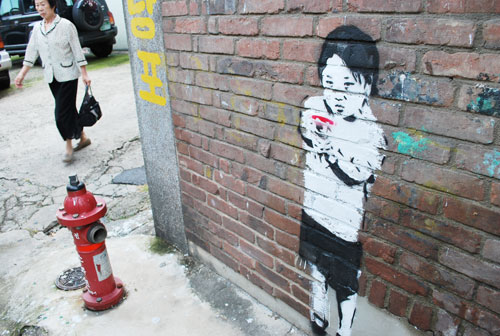 In another, while walking in an alley I found myself amidst a game of laser tag by children painted in black and white. While it's easy to criticize a lot of contemporary art as cliché, I enjoyed how the art was integrated into the living, breathing market.
The next festival location I visited was the Gwangju Theater (광주국장), located just a few blocks from the market. It's is the city's oldest and one of Korea's last single screen theaters.
For the Biennale, it's screening Rainer Werner Fassbinder's 15-hour television adaptation of an Alfred Döblin novel. The film follows Berlin in the early days of the Nazi movement and documents the inhumanity of Weimar Germany.
After two days of consuming contemporary art, my last stop was Mount Mudeung (무등산).
Beside a babbling brook was the Uijae Museum (의재미술관), a small gallery dedicated to Huh Uijae (허의재), a scholar and master of Korean traditional art. Alongside master Huh's paintings were photographs, paintings and small exhibits by nine contemporary artists.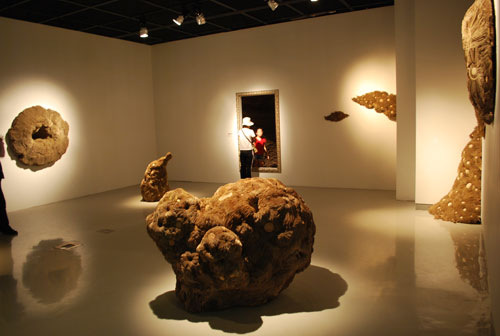 I think the crowd favorite was Mariana Bunimov's sculpture "Chocolate Shack." I watched three women happily breaking off chucks of the chocolate house's 100 kilos of edible walls… but the museum's staff didn't seem to mind.
So, there you have it, a quick peek at what the 2008 Gwangju Biennale had to offer. Although we could only take a small peek at what's being offered, I hope doing so will persuade you to come see it for yourself. 
But if you're planning to visit, you'd better hurry. The exhibits close their doors on November 9th, and won't reopen until the 10th Biennale kicks off, in 2014.
For Your Information…

Matt Kelly is native of the US Pacific Northwest and is half-Korean by ethnicity. He lived in Korea for five years and has written hundreds of travel guides for Wallpaper, TimeOut, the Boston Globe and Seoul Magazine and was a host for several different variety shows on Korean radio and television.