A little over a year ago, a friend and I took a road trip along Korea's southern coast. Not far from the famed stretch of cherry tree-lined road leading to the Hwagae Marketplace is Korean Cultural Property #33.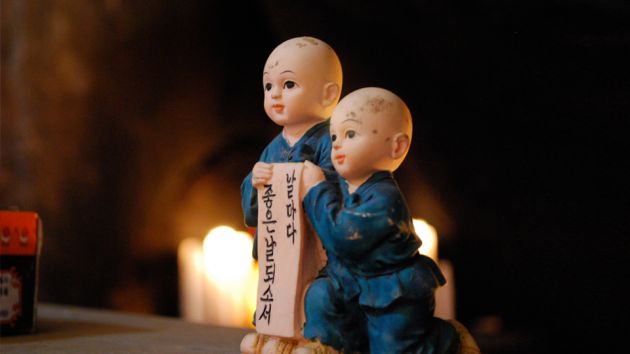 The Saseongam Four Sages Hermitage (사성암) is a small Buddhist temple located in Gurye County on Osan, a foothill of South Korea's most sacred mountain, Jirisan.
Jirisan is well-loved for its rolling, forested hills. And yet, the Saseongam Four Sages Hermitage is notable because it is set dramatically into a wall of exposed granite.
The hermitage is said to have been built by the Yeongi Josa (연기조사) in 544 during old Korea's
. The missionary-monk is also credited with establishing the nearby Hwaseomsa and Yeongoksa hermitages. The Saseongam Four Sages Hermitage's original name was Osanam, before it was renamed Saseongam, in honor of Yeongi Josa and three of Korea's other greatest Buddhist masters who lived and studied there.
Two main pavilions are set against the steep granite cliff, supported by large painted pillars. The Main Hall, which was reconstructed in the 1980s, sits atop three massive red wood stilts, and protects Maaeyeoraeipsang (마애여래입상), a standing Buddha carved into rock.
Cultural authorities estimate that it dates from the early Goryeo Dynasty. To reach the two halls one must climb a stone staircase carved into the rock face.
On the day I visited, the monochrome of the mountainside, staircase and wall was broken by lines of colorful paper lanterns hung in anticipation for Buddha's birthday.
In addition to the two main buildings, if you follow a short path that wraps around the mountain ledge, you'd come to a sanshingak (산신각), or small shrine for the mountain spirit.
According to David Mason's excellent website about Korea's mountain worshipping tradition, the spirit shrine at Saseongam Four Sages Hermitage includes an excellent wall painting featuring traditional motifs.
To the spirit shrine's immediate left is a narrow passageway between enormous boulders. Named Doseongul Cave (도선굴) after National Master Doseon-guksa, the enclosed space protects a triangle shaped shrine area where candles, incense burners and small statues are placed.
Again, according to Prof. Mason, the cave was a site of meditation for the great monk Wonhyo-daesa, as well as Master Doseon some 200 years later.
The other major attraction at Saseongam Four Sages Hermitage is the view. Because of its precarious mountainside perch, an expansive view of the Seomjingang river (섬진강), rice fields and Gurye Township can be had from virtually all vantage points.
To see it for yourself, you could walk the 2 kilometers up an always narrow, sometimes quite steep and dusty, and only occasionally paved road. Or, you could pay a few thousand won to take the small vans that shuttle what can be a lengthy line of tourists up and down.
Rumor has it that 4WD private vehicles can make the trip in the off-season (that is, pre- and post-cherry blossoms).
For Your Information

Matt Kelly is native of the US Pacific Northwest and is half-Korean by ethnicity. He lived in Korea for five years and has written hundreds of travel guides for Wallpaper, TimeOut, the Boston Globe and Seoul Magazine and was a host for several different variety shows on Korean radio and television.