When looking at the urban grit of Seoul neighborhoods, you're forgiven if the words "good design" don't come to mind. But seeing how quickly South Korea rebuilt after a devastating civil war, it's not surprising that design just wasn't a priority.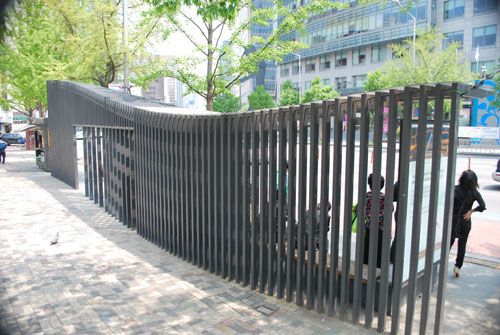 However, observing traditional Korean architecture and culture, it's obvious that in times of peace and prosperity, pre-modern Korea honed a highly sophisticated design aesthetic.
Which is why today, as a world economic power, it makes sense that South Korea is eager to recover its design legacy. In fact, Seoul's mayor made it one of his top priorities.
For starters, in 2008 a plan was unveiled to bring order to the city's colorful chaos. A 10-color palette anchored by what's called "dancheong red" was inspired by the city's history.
The colors will be applied to public buildings, signage and the transportation network. Already, street signs and neighborhood maps employ the colors and two new official city fonts. But the mayor's plan goes much further. In his efforts to transform Seoul from a "hard" city to a "soft" one, Seoul will radically change the character of entire streets and neighborhoods.
In the spring of 2009, the first of some 27 "Design Streets" were unveiled. A 760-meter stretch near Gangnam Station was repaved and fitted with tall "media poles" that emit colorful light shows and can take your photo and even email it to you.
Some 43 billion won is earmarked for the design street projects, which will also add benches, footpaths and refuse bins around the city.
And in the interest of creating a more pedestrian-friendly Seoul, in April 2009 the city started removing 700 hawker stalls in the central Jongno-gu district. The area's narrow sidewalks were famous for the scores of vendors selling trinkets and delicious treats, but on a recent visit, they were gone!
This is part of a larger plan to remove 3,000 stalls outright, while replacing another 7,000 with a uniform design. But one person's urban blight is another's quirky character, and personally, I'm sad to see the vendors disappear. (Update 6/10: Be it a change of city policy or feisty vendors just responding to public demand, on a recent visit the stalls were back!)
But Seoul's dramatic changes aren't limited to its landscapes. As I've mentioned on an earlier show, the bridges on the iconic Han River have been outfitted with illumination systems. In particular, since May 2009, 20,000 nozzles on the 600-meter-long Banpo Bridge (반포대교) shoot 60 tons of water every minute Banpo Hangang Riverside Park. The fountain, colored by lights and accompanied by music, conducts several shows daily.
But if these design projects seem ambitious, there's more. In 2011, the Dongdaemun Design Plaza and Park will open alongside the city's most famous shopping district.
At a cost of over 400-billion won, the Zaha Hadid-designed, titanium-swathed structure will boast convention and exhibition spaces, offices and a museum, along with a large park. Ultimately, city officials hope the plaza will boost the city's brand and support the domestic design industry.
This effort was given a big boost in 2007, when Seoul was selected by the International Design Alliance to be the 2010 World Design Capital.
The designation recognizes Seoul for realizing the full potential of design to improve the city's social, cultural and economic quality of life. In 2010, the city will conduct a yearlong celebration showing how it's integrating design into a larger strategic vision.
Perhaps one example of things to come is a very cool bus stop near Gyeonghuigung palace (경회궁) in central Seoul. More than just a pretty facade, the shelter includes an LCD monitor that lists the wait times of upcoming bus routes.
But in the meantime, Seoul is building its design infrastructure through annual events like its Design Olympiad, and the opening of the Seoul Design Foundation. No doubt, city officials hope these efforts will bring great design back to Korea's capital.

Matt Kelly is native of the US Pacific Northwest and is half-Korean by ethnicity. He lived in Korea for five years and has written hundreds of travel guides for Wallpaper, TimeOut, the Boston Globe and Seoul Magazine and was a host for several different variety shows on Korean radio and television.