Just one hour from Seoul is a peculiar land of misnomers – kilometers of barbed wire line Freedom Road and block access to the sea, and the so-called Demilitarized Zone (DMZ) is the world's most heavily armed border.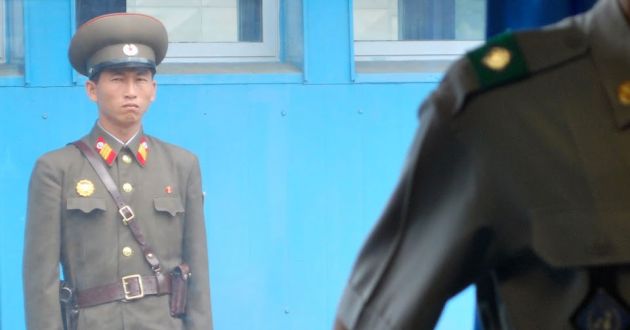 An estimated one million troops stand at the ready along both sides of the 4-kilometer buffer that has divided the Korean Peninsula since a 1953 armistice paused a bloody, fratricidal war.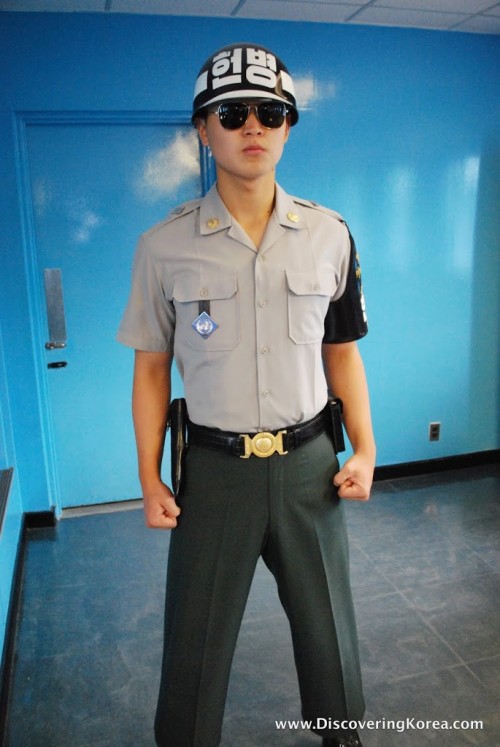 In the 50-some years since, the DMZ has seen occasional flare-ups, an axe murder incident and the discovery of invasion tunnels capable of funneling 10,000 North Korean troops an hour toward Seoul.
Yet, in spite of the ever-present danger, or perhaps because of it, the DMZ endures as one of South Korea's most popular tourist destinations.
To tour the DMZ, Gyeonggi Province is home to some of the most popular sites, including the Joint Security Area (JSA).
The JSA is the only place where South Korean and North Korean troops directly face each other, head-to-head, and the tension is palpable.
If you'd like to tour the DMZ yourself, I've put together this post to help you plan your trip into the Demilitarized Zone. First we'll take a look at some of the major sites. Then we'll look at some of the most popular tours.
Dora Observatory (도라전망대)
The Dora Observatory is painted in camouflage with the words, "The best army under the sky" on prominent display.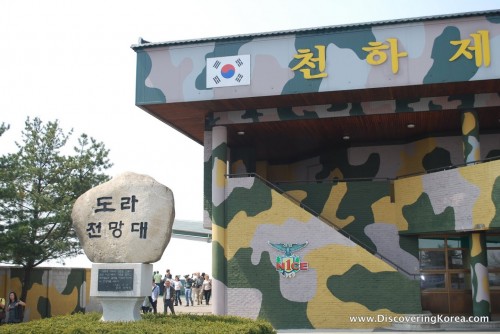 Located just inside the DMZ near Dorasan Station, the building houses an auditorium with a diorama of the western DMZ with a wall of windows facing North Korea.
Outside is a 28-square-meter platform with a row of telescopes facing northwards. Pay 500 won to see North Korea's Gijeongdong propaganda village, the world's tallest flagpole (160m) and the Gaeseong Joint Industrial Complex.
A word of caution: don't take photos from outside the yellow lines unless you want your camera confiscated by security personnel.
Imjingak (임진각)
Located just seven kilometers from the Military Demarcation Line, this three-story building was erected in 1972 with the eventual goal of Korean re-unification.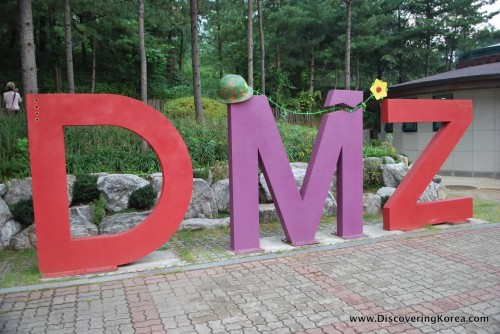 Four million people visit the site annually, which includes several monuments, the North Korea Center, and a Unification Park.
Also on site is an octagonal drum pavilion and the Mangbaedan, an altar where South Koreans with family ties in the North can honor their ancestors on important holidays.
3rd Infiltration Tunnel (제3땅굴)
Located near the Dora Observatory is one of four infiltration tunnels dug by the North to facilitate an invasion of the South.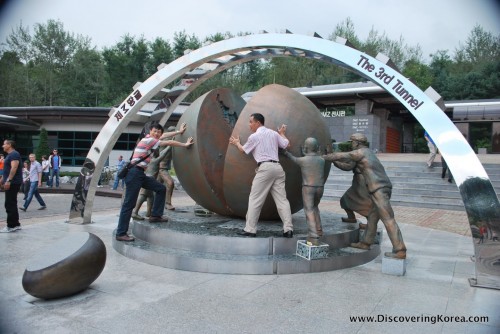 The third tunnel, discovered in 1978, was bored some 73 meters underground and extends over 1,635 meters – infiltrating 435 meters of South Korean territory.
Discovered thanks to a Northern defector, tourists can proceed down a steep pathway 265 meters into the tunnel with a helmet and a hunched back, or take a tram.
A short video presentation is also on site. Photographing the tunnel is prohibited.
Odusan Unification Observatory (오두산통일전망대)
Technically located outside the DMZ, this five-story observatory is located just 460 meters from North Korea.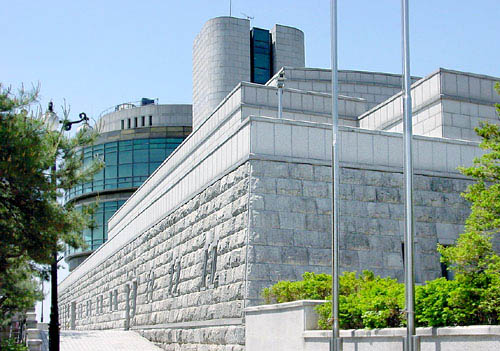 Over 10 million people have visited this scenic spot overlooking the confluence of the Hangang and Imjingang rivers since it was opened in 1992. Inside the observatory are exhibits depicting everyday North Korean life.
Outside, twenty telescopes point northwards where an abandoned show village sits among hills stripped of their vegetation.
Panmunjeom/Joint Security Area (JSA) (판문점/공동경비구역)
Probably the highlight of any DMZ tour is to actually step foot in North Korea, which can happen if your tour includes the Joint Security Area (JSA).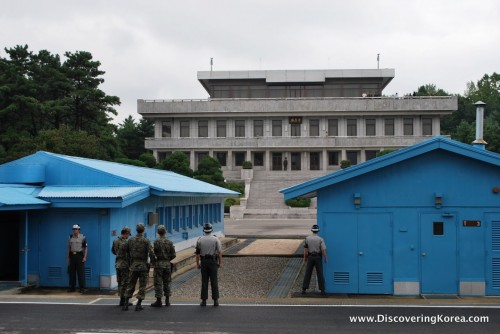 Feel the tension inside the bright blue Military Armistice Commission building where highly formal negotiations take place between the North and the United Nations Command Security Force, which represents the South.
Inside, two SK soldiers donning dark glasses and helmets stand in a silent, strained Taekwondo pose with gloved fists and blank expressions.
A long wooden table is split halfway into either nation, allowing visitors to cross into one of the world's most reclusive states – if only briefly.
There ya go… some suggestions to help you prepare to tour the DMZ.
Organized DMZ tours
I had lived here the better part of three years before I went on one of the very popular DMZ tours.
Although I was non-plussed by the price and not terribly excited to go, I was glad I did. The tragic division of the Korean Peninsula has created a unique glimpse into one of the most chilling reminders of the Cold War.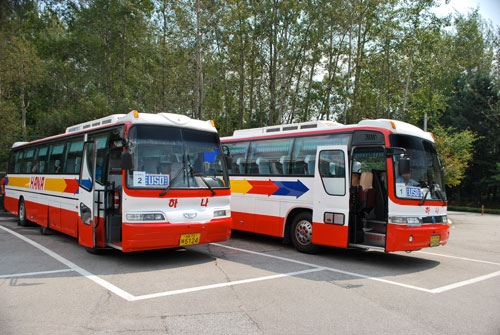 Far more than a hokey tourist trap, the DMZ is an exciting and frightening place.
We've looked at some of the most popular DMZ sights located in Gyeonggi Province. For Part 2, let's see some of the organized DMZ tours that will take you there.
(Please note, this list is provided for informational purposes only. I'm not endorsing any of them… and I've only been on one of them!)
Korail Tours
Korea National Railroad, better known as Korail, has launched its own set of DMZ tours.
Given Dorasan Station's proximity to the Dora Observatory and the 3rd Infiltration Tunnel, it's fitting that the rail company is promoting package deals connecting travelers in Busan, Daegu, Gwangju, Iksan and Seoul to the DMZ via its high-speed KTX passenger trains.
The tour includes roundtrip transportation and access to Dorasan Station, the Dora Observatory, the 3rd Tunnel (tram tour) and Imjingak.
Trains arrive at Seoul Station or Yongsan Station before arriving at Dorasan Station at 11:30. Trains depart Seoul at 17:35 and 18:00.
Korea Wetland Project's DMZ Eco-Tour
If there's any bright side to the fratricidal conflict that has divided the two Koreas, it's that nearly 1,000 square kilometers of land has become a defacto nature preserve.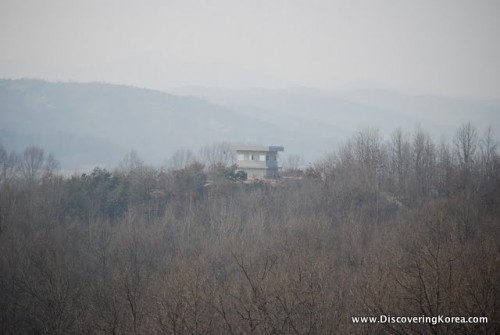 The mountains, forests, marshlands and prairies located within the DMZ form one of the Korean Peninsula's most pristine wild environments. In 2009, two DMZ eco-tours were organized by the Korea Wetland Project.
It's estimated that over 3,000 plant and animal species live in the no-man's land, including Chinese water deer and the red-crowned crane, the world's second most-endangered crane specie.
Short-term plans are to continue the tour's unique glimpse into the DMZ's ecosystems, while one long-term idea is to designate the DMZ a UNESCO nature sanctuary.
Incheon International Airport DMZ Transit Tour
One way that Incheon International Airport keeps being named the world's best is through its convenient and affordable transit tour packages.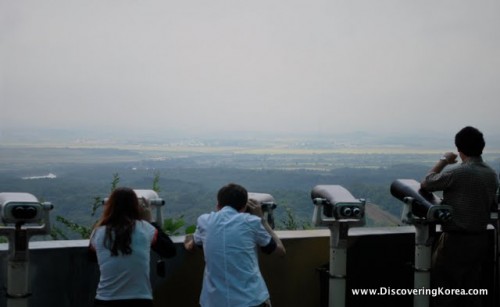 Its "7-hours Tour" shuttles transit passengers from the airport to Imjingak Station, the 3rd Infiltration Tunnel, Dora Observatory, Dorasan Station and Freedom Bridge before returning to the airport.
Tours must be booked ahead and a minimum of two guests is required.
Panmunjeom Travel Center Tour
The Panmunjom Travel Center offers three DMZ tours, with its West Front Line Tour providing access to the Odusan Unification Observatory, Imjingak, Freedom Bridge, the 3rd Infiltration Tunnel and Dorasan Station.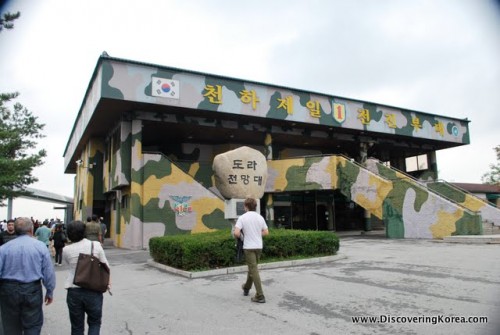 A special Panmunjeom/Joint Security Area (JSA) Tour also includes the Odusan Observatory and Freedom Bridge, and is available for non-Korean citizens with three-days advance notice.
USO Panmunjeom/JSA Tour
The U.S. military's USO (United Service Organizations) Tour is regarded by many as the best DMZ tour.
In addition to visits to the Dora Observatory, the DMZ Theater and 3rd Infiltration Tunnel (walking tour), participants are also allowed entrance into the UN Command Security Force – Joint Security Area (JSA).
After an informative video at Camp Bonifas and a presentation by a member of the U.S. military, the tour culminates with a photo-op inside a Military Armistice Commission (MAC) building, half of which is technically inside North Korea.
Located just meters away are armed North Korean guards with binoculars peering inside.
There ya go… some of the companies that provide guided DMZ tours.

Matt Kelly is native of the US Pacific Northwest and is half-Korean by ethnicity. He lived in Korea for five years and has written hundreds of travel guides for Wallpaper, TimeOut, the Boston Globe and Seoul Magazine and was a host for several different variety shows on Korean radio and television.