War, colonization and rapid industrialization have decimated Korea's architectural heritage, and yet an astonishing amount of it still remains, especially outside the big cities.
And thankfully, local and federal governments are making increasing efforts to preserve what's left of old Korea, especially the numerous "folk villages" that dot the countryside.
Among my favorites is Nagan Fortress Folk Village (낙안읍성민속마을) in Korea's beautiful South Jeolla Province.
Generally, I'm not a fan of the folk village-meets-theme park that tries to recreate village life with paid actors.
Which is why I'm happy to report that most of the folk villages I've visited in Korea are actual communities whose family clans have lived there for centuries (see: Andong Hahoe Folk Village (안동 하회마을), Jeonju Hanok Village (전주한옥마을), Seoul Bukchon Hanok Village (서울 북촌한옥마을) ).
Of course, village life presents many inconveniences in modern Korea, so the government provides modest subsidies to residents in exchange for not building a new three-car garage or outdoor Jacuzzi.
Nagan Fortress Folk Village is situated in a bucolic valley near Korea's southern coast. In the spring, magnolias and brilliant yellow gaenari are in full bloom.
At its entrance are several wooden jangseung totem poles to ward away evil spirits. Beyond the nature beauty, the village itself has been designated a historic site. Over the years, many buildings have been preserved while others were restored to their original form.
The village's most striking characteristic is the massive stone wall that encircles it. At 1,410 meters long, the wall was built as an earthen fortress in 1397 to repel Japanese pirate raids, a frequent occurrence during the late Goryeo Dynasty.
The wall was replaced with stone in 1423, and today, three gates – on the eastern, western and southern sides – and four protruding defense battlements remain. Nagan Fortress Folk Village is considered the best preserved walled fortress town in Korea.
Inside the walls are dozens of private houses, nine of which are designated as Important Folklore Materials by the Korean government.
Typically, two or three grass-thatched buildings wrap around a modest packed dirt yard and garden all surrounded by a waist-high stone wall. Part of the fortress wall arches over the hill.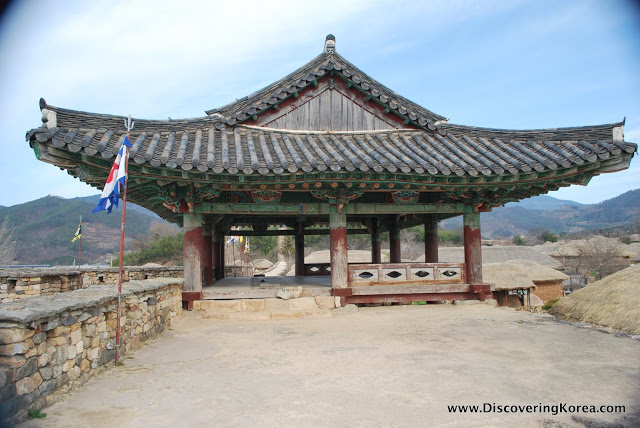 To enjoy a great view of the entire village, climb to the top through a tall grove of bamboo trees and look back over your shoulder.
While Nagan Fortress Folk Village's southern side is mostly residential, its northern half features recently restored municipal buildings, including a Joseon Dynasty-era office.
Near the village's east gate is the Nagan Hyanggyo (낙안향교), a Confucian Academy and Shrine, and smack dab in the village center is a monument to General Im Gyeong-eop (임경업 1594-1646). A memorial ceremony is held on the first full moon of the year in his honor.
One entertaining part of the village is the Oksaji Prison. The adjacent pond is believed to have thwarted escape, and the courtyard has some figures re-enacting a trial of the bound and accused.
Another man with wrists and ankles tied to a horizontal wooden cross has pants down, encouraging spankings from visitors. If more conventional sports are more your thing, every May there's the Nagan Folk Cultural Festival. Try your luck at a tug of war, rope dancing, traditional military arts or singing contests.
Finally, when I visited Nagan Fortress Folk Village last year, there were a couple of cute, friendly dogs on site.
One way the village is unique is because of two stone dogs (originally three) that were worshipped back in the day as guardian deities. While this was a rare event in Korea, it's more common in Japan where it was called Koma-inoo, which means "dog from Goryeo."
This suggests that the dog worshipping tradition actually originated in Korea during Buddhism's spread from the peninsula to Japan.
Oh, one more thing… Inside Nagan Fortress Folk Village are a couple of restaurants, including Minsok Janchi House (민속잔치집), which serves absolutely delicious seafood pajun pancake (해물파전) and soondae blood sausage stew (순대국).
Don't forget to try one of the banchan side dishes – pickled plums!
For Your Information…