No, Valentine's Day isn't an indigenous creation, but Koreans have fully embraced the Western holiday.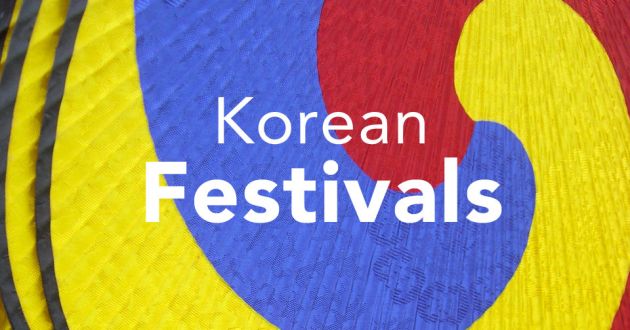 Beyond just a day for shops to sell anything pink or red, it's also a special time to tell someone in your life, saranghae (사랑해), or "I love you." Actually, there are many quasi-official days for love in Korea.
Youth and marketers have conspired to designate the 14th of almost every month a special day, with very specific rules to follow.
For example, although February 14 is observed as Valentine's Day in Korea, traditionally it's when women give chocolate and gifts to their significant others.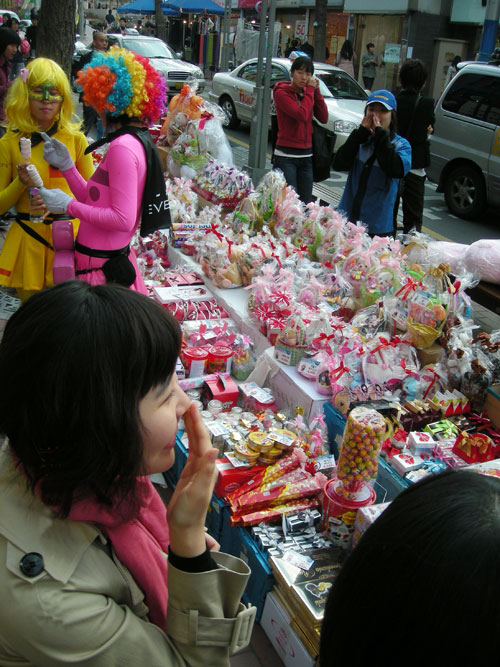 On March 14th, which is called "White Day," the roles are reversed, and get this, some say that men are supposed to give gifts that are three times the value of what she gave you the previous month!
Since this is a travel blog, after all, here are a few ideas about romantic destinations in Korea, whether it's Valentine's Day or any day of the year.
Namiseom Island (남이섬)
One of Korea's best-known spots for lovers is Namiseom (남이섬) or Nami Island.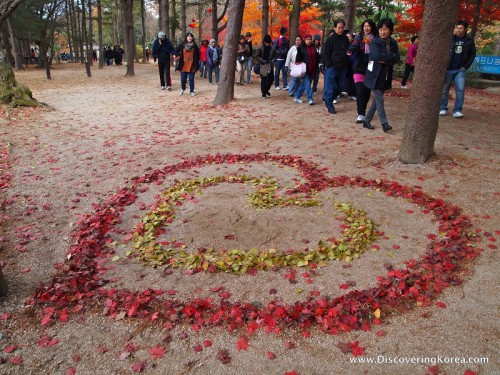 Located in the middle of the Bukhangang river (북한강), which separates Gyeonggi and Gangwon provinces, Namiseom was made an international pilgrimage site thanks to fans of the 2002 Korean drama, "Winter Sonata" (겨울연가).
If you're one of them, you'll know the island's oft-photographed central pathway, which is lined by tall Metasequoia trees. If you and your lover want to visit the precise point where actors Bae Yong Joon and Choi Ji Woo first kissed, there are plenty of signs and statues to guide you.
The small, crescent-shaped island is accessible via a short ferry, and is free of cars.
Jeju Island's Jeongwol Daeboreum Fire Festival (정월대보름)
Much further away is the very romantic Jeju Island (제주도).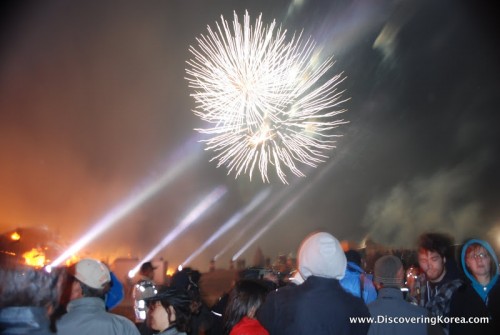 This year the traditional Korean holiday Jeongwol Daeboreum (정월대보름) falls a couple of weeks after Valentine's Day… closer to Korea's White Day, actually (March 8-10, 2013).
Begun 1,000 years ago during the Silla Dynasty, Jeongwol Daeboreum celebrates the lunar new year's first full moon.
Jeju Island hosts an annual festival that is sure to light your fire… and I mean that literally! On that special night, an 82-acre parasitic volcano will be set ablaze beneath a fantastic fireworks show.
The spectacular event is in its 16th year and is one of Korea's most popular events.
Gwangnaru Pedestrian Bridge (광나루보행교)
Now, if staying put in Seoul sounds like a better… and perhaps safer plan, virtually all of the major hotels offer special romance-themed packages at this time of year.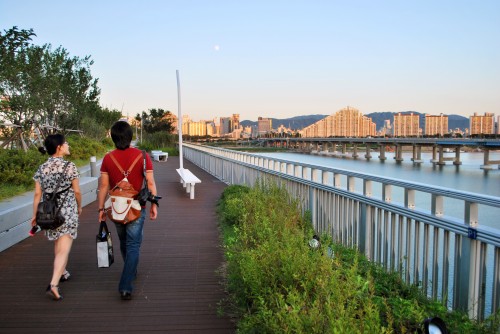 If you care to combine a fancy hotel with a beautiful natural landscape, I'd suggest a walk across the Gwangnaru Pedestrian Bridge with a V-Day themed dinner at one of the Sheraton Walker Hill or W Seoul Walker Hill hotels.
Keep in mind, these hotel packages don't come cheap, but their location far on Seoul's eastern reaches can feel like a true getaway.
Namsan Mountain and N Seoul Tower (남산공원 & N서울타워)
But if even Seoul's eastern reaches feel too far for you (or if a world-class hotel just doesn't fit your budget), there are virtually free options right in the center of the city.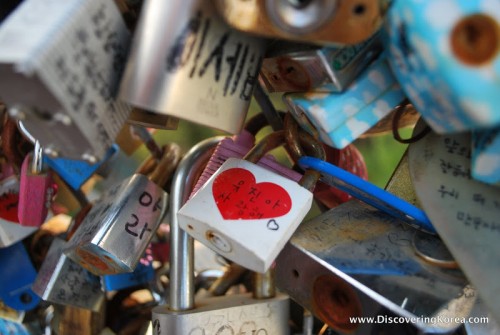 For example, you could simply take a romantic walk along the Cheonggyecheon stream (청계천) or take a cable car ride to Namsan mountain and N Seoul Tower.
From atop Namsan, it's a very beautiful and romantic view. Plus, at dusk you can expect an impressive light show using N Seoul Tower's massive spire as a canvas!
Valentine's Day may not be an indigenous Korean holiday, but love-struck Koreans have taken it on with gusto.
In any case, as the holiday approaches, whatever you do, and whomever you're with, I hope you are feeling especially loved this Valentine's Day.

Matt Kelly is native of the US Pacific Northwest and is half-Korean by ethnicity. He lived in Korea for five years and has written hundreds of travel guides for Wallpaper, TimeOut, the Boston Globe and Seoul Magazine and was a host for several different variety shows on Korean radio and television.