Seoul Jungang Traditional Market (서울 중앙시장) would seem to be an anachronism in relentlessly modern Seoul. Indeed, as a fast-paced, future-embracing city, Seoul has adopted many of the conveniences of our globalized society.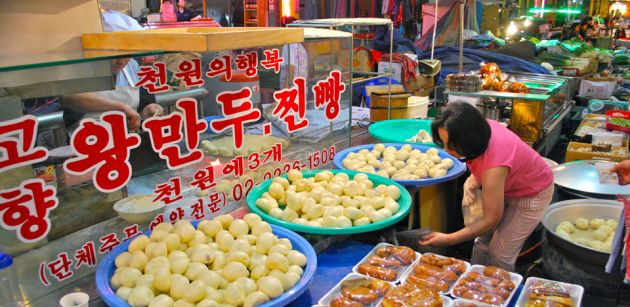 Today, it's commonplace to see familiar global brands, foreign fast-food chains and the fusion of eastern and western styles and cultures.
Of course, these adaptations are convenient for many of us, yet they often lack the specific Korean cultural flavor that makes living in Seoul a special and unique experience.
Luckily, truly Seoul-specific places do remain in the city, and in my experience, some of the best ones are the traditional markets.
Among them, my favorite is the Seoul Jungang Traditional Market (중앙시장). "Jungang" means "Central" and the market is fittingly located near the city's Great East Gate, better known as Dongdaemun.
Seoul Jungang Traditional Market is dwarfed by better-known markets like the Dongdaemun fashion mega-market or Seoul Gwangjang Traditional Market's famous snack carts. The very popular Namdaemun Traditional Market (남대문시장) in central Seoul sees up to half a million customers daily!
Although Seoul Jungang Traditional Market is smaller and less well-known than these other public markets, it's played an important part in the city's history.
For example, until the 1970s, more than 70 percent of the rice eaten in Seoul was traded there. And it's still one of the best places to sample a bit of "jangteo" or marketplace culture.
Seoul Jungang Traditional Market draws a diverse cross-section of vendors and customers beneath its towering, scaffolded ceiling. Natural light pours down to the 274-meter-long stretch of wholesale and retail vendors.
There are hundreds of small storefronts selling grains, house wares, furniture, meat, fish and produce. And in front of them are dozens more portable kitchen stalls.
Although they're on wheels, many have existed for decades and remain popular places for food, drink and conversation. Simply pull out a stool, sample some tasty Korean snacks grilled, fried or simmered right in front of you, and listen to the vendor share some marketplace gossip.
In the early 1990s, there were some 35-hundred traditional markets around the country.
That number declined by more than half in just a decade, as annual sales steadily decreased as supermarket chains and discount department stores lured away their customers.
Korea's economic miracle has brought wealth to many ordinary Koreans, but it's also meant that traditional markets are less central to many peoples' lives.
Yet they remain an important part of Seoul's fabric. And in recognition of that fact, Seoul City has poured billions of won into the markets over the past decade.
Seoul Jungang Traditional Market was itself the recipient of some 2.3 billion won back in 2003. Over 18 months, what was a narrow and disorganized alley was transformed into a spacious and well-lit thoroughfare.
More recently, efforts to modernize the markets have given way to new marketing strategies to attract customers, like hosting market festivals.
One of the most innovative strategies has been to recast some of the market's empty stalls into studio and boutique spaces for local artisans.
The Seoul Art Space Sindang can be accessed from inside the market. Look for one of the stairwells and descend to the lower level.
And, finally, to the surprise of some locals, recent surveys have shown that traditional markets are a favorite destination among tourists to Korea.
No doubt they, too, are looking for an authentic slice of traditional Seoul life.
For Your Information…