I'm always surprised by how quickly a metropolis like Seoul can transform into bucolic countryside, thanks to the city's efficient rail network.
In under an hour and for less than two dollars, one can step out of the hustle of Seoul and into rural Korea.
One of the best places within easy reach is Yangsuri (양수리). Located in Gyeonggi Province's picturesque Yangseo Township, Seoulites know Yangsuri as a convenient and romantic getaway — the perfect place for a day-trip or weekend escape.
Located at the confluence of the north and south forks of the Hangang river (한강), the island-like Yangsuri is the kind of place that can put an urbanite back in sync with nature.
In recent history, Yangsuri was a bustling port of commerce. But construction of the nearby Paldang Dam in the early 1970s moved most traffic over land.
As the area's economy declined, the government realized that the picturesque spot's true potential was in restoring its natural habitat.
To that end, shipping and commercial fishing were banned and the area was designated a greenbelt.
Yangsuri's southern tip is called "Dumulmeori" (두물머리), literally meaning the "head of the two waters." The starting point of the mighty Hangang affords beautiful views around the clock, but is said to be particularly spectacular at dawn.
During crisp mornings in October and November, the temperature contrast between day and night creates think blankets of morning fog that linger above the river's placid surface.
Upon reaching a small gravel parking area located beneath National Road #6, we walked in the twilight along a riverside promenade flanked by a lotus pond on one side and an attractive tile wall on the other.
After about 300 meters the path merged with an open area punctuated by a 400-year-old zelkova tree. Some Koreans still worship trees, and a simple altar at its base was for offerings.
But that morning, several photographers had their lenses focused on a traditional skiff bearing a rectangular sail with a small island in the distance. As darkness gave way to dawn, a thin layer of fog softened every outline.
Facing southwest, we didn't watch the actual sun rise over the horizon. Instead, we waited as the subtle approach of daylight turned our surroundings from gray to blue.
As early morning walkers arrived and the photographers began to leave, my friend Uikwon and I realized it would be another hour or so before our second destination opened its doors.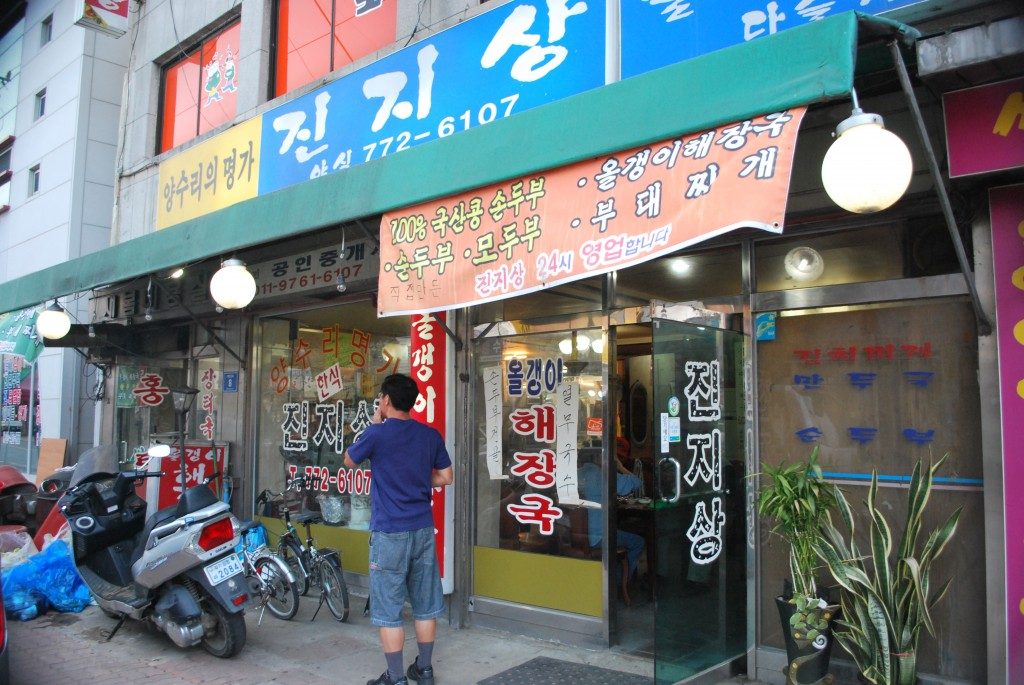 A nearby watering hole advertised lotus root-flavored beverages and snacks, but it, too, was shuttered. So we headed back to town in search of breakfast.
A favorite among early risers, Jinjisang (진지상) is best known for its olgaengi haejangguk (올갱이해장국), a high-protein stew of snails, vegetables and soybean paste said to be good for curing a number of ailments (especially hangovers).
If recovery isn't in order, spicy tofu and kimchi soups are also on the menu. Of course, several banchan—vegetable side dishes—accompany each meal.
By the time we paid our bill, just across the street our next destination was opening its gates. Also located near the confluence of the two lesser Han rivers, a narrow inlet separates Semiwon (세미원) from Dumulmeori.
The large ecological garden's name means, "A place where water and flowers live together," and the park argues persuasively for the restoration of the Han River.
In addition to its Environmental Training Center, just beyond the entry gate is a procession of flat stones set in the middle of a streambed. The path leads to fountains, manicured landscapes and expansive lotus ponds.
In the latter, indigenous mud snails and shrimp consume phosphorus and nitrogen, thus naturally purifying the water.
During the summer, the park is in high demand, so traffic is limited to just 500 visitors. This makes sense, since beyond the soothing effects of a well-designed landscape, Semiwon is a contemplative space.
Bamboo poles with box-shaped lanterns inscribed with poetry dot the grounds. Beyond elaborate fountains and the traditional Yoosanggoksu Garden, a sign resembling a traditional jangseung wooden totem used to ward off evil spirits announces your arrival at "Black Catfish Pond."
According to local maps, a bridge linking Semiwon with Dumulmeori is in the works. I'll be excited to revisit Yangsuri when these two examples of ecological restoration of the Hangang are connected.
After nearly two hours weaving our way through Semiwon, Uikwon and I were approaching the exit, when a staff member directed us into a small building.
Inside, the 3,000 won ($2.40) we paid to enter the park granted us a choice of locally grown, organic produce.
I selected two bunches of sweet purple grapes and he a generous bundle of cherry tomatoes – great snacks for the short subway ride home.

Matt Kelly is native of the US Pacific Northwest and is half-Korean by ethnicity. He lived in Korea for five years and has written hundreds of travel guides for Wallpaper, TimeOut, the Boston Globe and Seoul Magazine and was a host for several different variety shows on Korean radio and television.