For over 20 years, the iconic 63 Building on Seoul's Yeouido island (여의도) has stood as a beacon on the isle's eastern tip.
Beyond its beauty, the iconic curved pink glass tower that's home to the Daehan Insurance Company was Asia's tallest skyscraper when it was completed in 1985.
As a testament to the skyward race since then, today the tower's 249 meters don't even break the world's top 100 list.
Yet while other Seoul towers have surpassed its height, the 63 Building (육삼빌딩) remains the city's most recognizable high-rise.
And beyond being a focal point of the city's skyline, there are a remarkable array of things to see and do inside its 63 stories.
The building's ground floor has a mall-like feel, with a bakery, café, restaurants, an IMAX theater and some 90 various shops. For the business professionals, a convention center, event and banquet halls are also on site.
Among the latter, the Buffet Pavilion, despite its bland name, is an impressive restaurant offering 200 different foods, beautifully presented in both Eastern and Western-themed sections for both lunch and dinner.
Despite being a corporate headquarters located in Korea's financial district, there are always lots of kids inside the 63 Building. And that's because it features many child and family-friendly attractions.
Probably its best known is 63 Seaworld. Some 20,000 aquatic creatures representing about 400 different species call Seoul's oldest aquarium home.
Those ones are living, but near the entrance is a scary-looking mounted coelacanth. The gigantic, pre-historic creature was a gift from the president of the island nation of Comoros to Korea in 1985.
A much cuter attraction are the King Penguins, who play within touching distance of children possessed by both curiosity and caution.
The building's newest attraction is its Wax Museum. Dozens of luminaries, ranging from the King of Rock and Roll, Elvis, to Korea's King Sejong the
Great were handcrafted by Japanese sculptor Satoru Matsuzaki using a combination of honey extract and paraffin. Other Korean historical figures, Hollywood and sports stars and even an ugly old witch round out what's a nice collection, well-presented, but, at 14,000 won per person, a bit pricey.
That said the museum also features a 3-D, 360-degree theater. The pride and joy of museum CEO Kim Hyeouk, it shows both short family-friendly and horror flicks.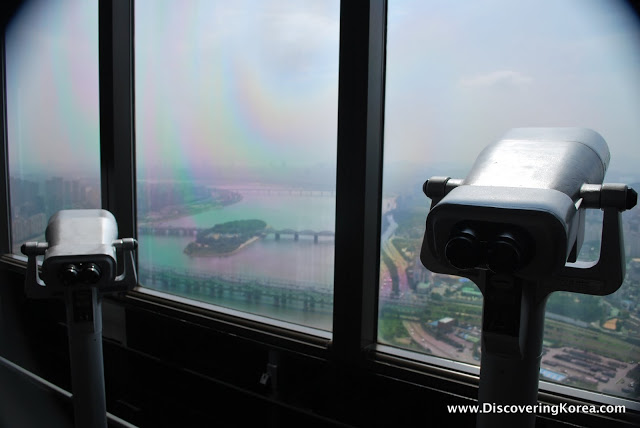 Of course, the best sights at the iconic 63 Building are at the top. Glass observation elevators quickly ascend sixty stories to an observation platform and the 63 Sky Art gallery, which claims to be the world's highest art museum.
The collection, which includes pieces by Andy Warhol and a science-meets-traditional Korean screen piece by Lee Lee Nam, competes with the remarkable city view below.
If a coffee break is in order, the top floor also features the Sky Art Café, whose colorful décor was designed by the celebrated artist, Kareem Rashid.
It's surprising that one building offers so many things to see and do, but the 63 Building has always been a special spot in Seoul.
It's no wonder why, really. As the sun sets over the Hangang river (한강), while other buildings grow dark, a golden hue radiates from Seoul's best-known tower..