Seoulites, it seems, are drawn by an irresistible force to the Hangang river (한강). The vast river bisects the city like a line dividing yin from yang.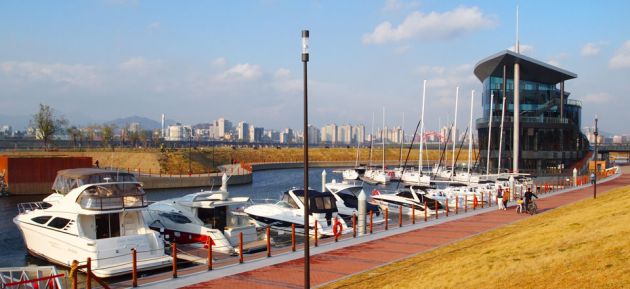 Especially on weekends, Seoul's riverside parks are where tents are pitched and kites are flown while a gentle breeze brings welcome relief from the summer heat.
To celebrate the river, this article will spotlight Seoul Marina and sailing the Hangang.
You'd imagine that especially during the summer months, pleasure boats would be plying the river under motor or sail. And yet, Seoul is conspicuously without much of a leisure boat industry.
In fact, unlike the 19th century when German, American and Chinese steam boats regularly delivered people and goods along the Hangang, today's river seems like a wide open sea-way.
To revive Seoul's identity as a proper port, Seoul City, in a 20-year lease agreement with the Seung Hwa Group, pooled over $20 million to construct Seoul Marina (서울마리나).
Last April, the facilities on Yeouido (여의도) island's western tip were opened to the public. The marina's focal point is a four-story boathouse clad in rows of blue glass and a sweeping, D-shaped roofline.
Inside is a yachting school, three restaurants and a second floor space available for conventions and weddings. Outside, a small harbor with 45 berths can accommodate boats up to 13 meters in length.
Seoul Marina is among the latest in a series of ambitious projects spread over 25 years to restore and revitalize Seoul's greatest icon – its river.
Christened the "Hangang Renaissance Project," the grand plan is to make the river a destination by increasing accessibility and enhancing features. To date, this has been achieved through new bus routes, mid-span cafés atop bridges and dedicated bicycle lanes, among almost countless projects.
Several years into the plan, Seoul Marina seems like the logical next step- now that people are at the river, let's get them onto it.
To that end, Seoul Marina provides the rare thrill of a river sailing cruise. For just 15,000 won per person, or 120,000 won for a skipper and up to eight of your friends, you can see Seoul from an entirely different perspective, day or night.
But to be entrusted with one of the sailboats, a 32-hour advanced course is required to prove your sea legs. Tuition ranges from 50,000 to 720,000 won.
To commandeer your own craft, however, the marina offers a three-level school. Graduates of the 15-hour intermediate level program can have their way with a one-person dinghy for a paltry 4,000 won.
If school drums up your appetite, the clubhouse offers three proper dining options. Among them, the upper levels are occupied by the 106-seat Marina Ru, a contemporary French-Japanese fusion restaurant, and Ru's Tapas Bar with its prime outdoor seating.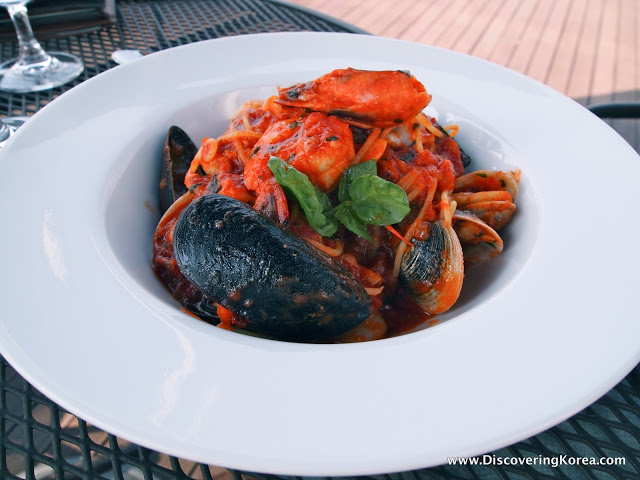 Your best bet, however, is the European-inspired brasserie, Café Breeze. Under a royal blue parasol, enjoy a glass of the house pinot gris and one of their excellent pastas or panini sandwiches.
One of Seoul Marina's best aspects is its proximity to several great parks. Walk or ride a few hundred meters east and you'll arrive at Yeouido Hangang Riverside Park's main attractions, a floating amphitheater and a huge wading pool.
Or, head due west to reach Seonyudo, an inspiring oasis carved from the carcass of an industrial plant. Can't decide? Then simply follow the trails as they wrap around Yeouido's rump.
The part of the island that rests against the mainland is the Yeouido Saetgang Ecological Park (샛강생태공원) . The 150-meter-wide greenbelt is one of Seoul's wilder areas.
A recent issue of Marina World magazine trumpeted the potential of South Korea's leisure boat industry. Then again, with only an estimated 500 sailboats in the entire country, there's seemingly nowhere to go but up.
In fact, Korea has gone from just one operational marina in 2007 to 11 at the end of 2011, and with dozens more in the works.
Ultimately, it's fitting for a peninsular nation with a riverside capital to boast a robust maritime culture.
For Your Information..

Matt Kelly is native of the US Pacific Northwest and is half-Korean by ethnicity. He lived in Korea for five years and has written hundreds of travel guides for Wallpaper, TimeOut, the Boston Globe and Seoul Magazine and was a host for several different variety shows on Korean radio and television.