To pick the seven best brunch restaurants in Seoul, I've had to pick my brain for a while. That's because eating comes easy here in Seoul, and there's been a rapidly growing number of brunch spots across the city.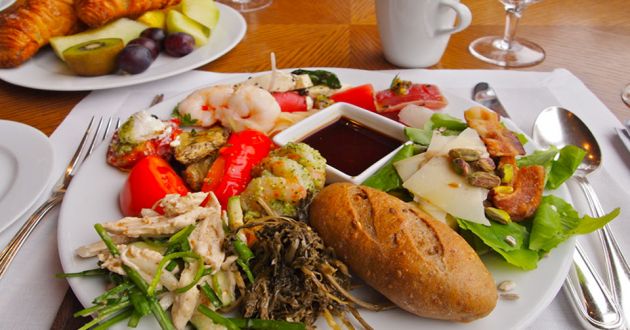 Located in Seoul's trendiest neighborhoods, many Koreans are eager to incorporate foreign cultures into their own. So, whether it's the posh Cheongdam-dong (청담동) neighborhood of southern Seoul, or the student-filled, northern neighborhoods of Hongdae or Edae (이대), brunch is hot.
Come to think of it, brunch and Seoul are a good fit, because on the weekends, Seoul stays up late, and wakes up late, too. So if you're among the reluctant weekend risers, don't worry about missing breakfast, because I've got the seven best brunch restaurants in Seoul (in my humble opinion, of course!).
The Flying Plan Blue
Our first stop is a charming spot in Seoul's multicultural neighborhood of Itaewon.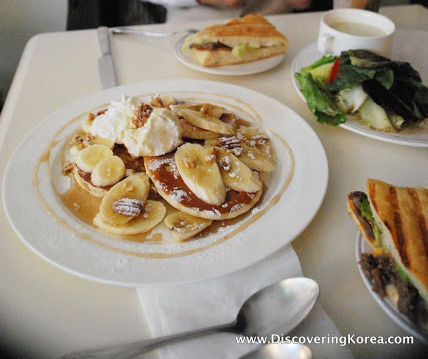 The Flying Pan Blue serves a diverse menu of waffles, sandwiches and egg fare, often incorporating foods less common in Seoul, like hummus and foccacia.
My favorite is a plate of saucer-sized pancakes topped with banana slices, walnuts, syrup and powdered sugar. But what sets these pancakes apart is the generous twin dollops of whipped cream and ricotta cheese.
Paul
Paul is a bakery and restaurant that's located on the ground floor of Yeouido's Marriott Hotel. It's the first Seoul location of the popular, Paris-based chain and, based on the clientele, word has already spread through Seoul's Francophone community.
The wood-beamed ceilings, ornate chandeliers, heavy drapes and black and white checkered floors give Paul an old-world, Parisian charm, and hint at the European chain's 120-year existence. 
Paul's considerable menu includes a small list of crêpes, cheese and mushroom quiches, omelets and ciabatta sandwiches. I ordered an adorable and tasty, capsule-like bacon omelet while my friend chose the tuna ciabatta.
Both were excellent. Although Paul's prices were a bit high, morning soup, omelet and coffee sets run just 15,000 won. Not to mention, where else can you get perfect, absolutely French sliced baguettes with generous pats of unsalted butter?
La Celtique
For a different take on French cuisine, Charles Duval and Yu Yeong Jin's charming crêperie brings a bit of Bretagne to Seoul's Sinchon neighborhood. Flags from the area also known as Brittany don the walls and the food.
But despite the region's notoriously gloomy climate, the restaurant features bright, natural light and sky blue window frames, which lend the place a cheerful air.
Popular among the ladies, chef admits that La Celtique's portions may be too small for male customers. A delicious chicken and onion crêpe served alongside a simple salad is a great savory selection.
For sweeter fare, try perfectly-crisp butter and sugar crêpes or La Celtique's namesake, a medley of warm apples, sliced almonds and vanilla ice cream, topped with fresh whipping cream and a homemade caramel sauce. C'était manifique!
Butterfinger Pancakes
Next up, Butterfinger Pancakes' original location in Cheongdam-dong was one of Seoul's earliest purveyors of the so-called "American-style brunch."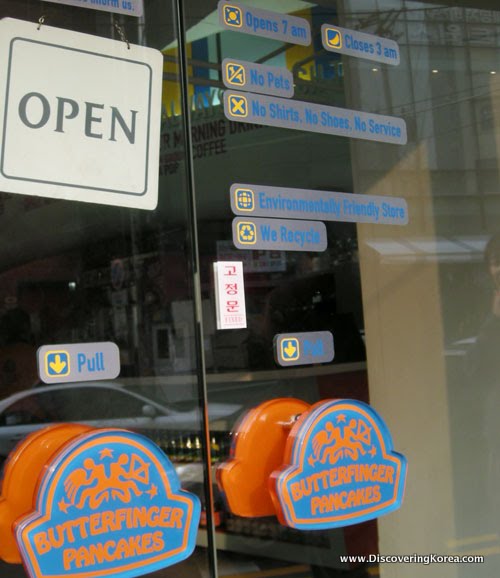 Although the mid-morning meal has become an (almost) ubiquitous activity of young Seoulites, at Butterfinger, their schtick is to come off as an authentic U.S. diner.
But this being ritzy Cheongdam, don't expect diner prices. So while you're paying heaps to enjoy a deliberately un-fancy meal, menu items like the "Waffle Lovers Special," which combines waffles and eggs with pan-fried potatoes and sausage links, are still quite tasty.
D'Avant
D'Avant in Hongdae is a neighborhood favorite that has enjoyed international media plaudits for its Belgian waffles and very cool décor.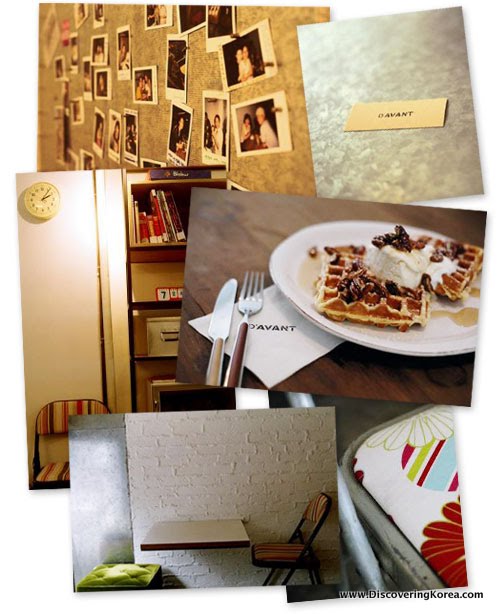 It's definitely Seoul's brunch spot for the highly design-conscious, but, at least in my experience, its fickle hours of operation can be frustrating.
Nevertheless, its granola is very yummy and we all know that accommodations must be made for Hongdae and creative types, generally, right? (joke).
The Parkview at The Shilla
If you feel like indulging yourself, I highly suggest The Parkview's weekend brunch.
Located inside the impeccable Shilla Hotel, The Parkview's extensive array of meats, sushi, salads and soups are delicious and beautifully presented.
What's great about the Parkview is that it incorporates western food with Chinese, Vietnamese and Korean cuisine.
The mounds of ice topped with huge king crab legs were especially popular, but my favorites are the custom cheese plates and a dessert area offering pies, cheesecake, pudding, frozen yogurt and unlimited lattés.
It's fantastic, but it doesn't come cheap. Including VAT and service charges, the weekend buffet will run you 60,000 won ($46) per person.
The Egg and Spoon Race
Finally, my most recent discovery is a tiny restaurant in Seoul's Edae neighborhood.
There are just seven tables inside The Egg and Spoon Race. And for a very reasonable 9,000 won (or under $7), the phenomenal "Potato Omelet Plate," which includes three very fluffy eggs filled with spinach, tomatoes, bacon, cheese and, of course, potatoes, can be yours. 
It doesn't sound remarkable, but it is. The waffles were also excellent, and I'm eager to sample their dinner fare. Although their buttery pastas, sandwiches and, in my opinion, Seoul's best omelet, are obviously inspired by western menus, this brunch hot spot brings a Korean flare to their fare.
For example, a pickled, fluorescent pink medley of chopped radish and jalapeno provide Korean diners with the always-necessary kimchi-like side dish.
There you have it! DiscoveringKorea's list of the seven best brunch restaurants in Seoul. Come back soon, however, as the list (like everything in Seoul) is sure to change!

Matt Kelly is native of the US Pacific Northwest and is half-Korean by ethnicity. He lived in Korea for five years and has written hundreds of travel guides for Wallpaper, TimeOut, the Boston Globe and Seoul Magazine and was a host for several different variety shows on Korean radio and television.