I've talked about the Hangang Renaissance Project before, but if you're in need of a reminder, it's the ambitious plan to realize the full potential of Seoul's iconic waterway as a way to improve the quality of life for the city's 10 million citizens.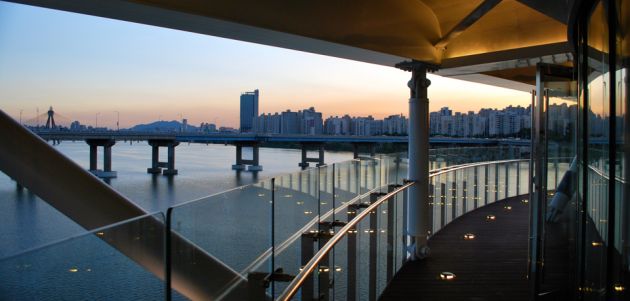 One of the latest examples of putting that plan into action is the Gwangnaru Pedestrian Bridge in Seoul (광나루보행교), also called the Gwangjin Bridge.
Located near Seoul's eastern border with Achasan mountain (아차산), what originated as a citizen's suggestion has become a pedestrian-friendly, park-like pathway connecting the city's northern and southern halves.
It seems like few Seoulites know of their city's new park-bridge, but it's definitely worth a visit. Opened in July 2009, two lanes of a four-lane bridge were transformed into 2,000 square meters of landscaped walkway.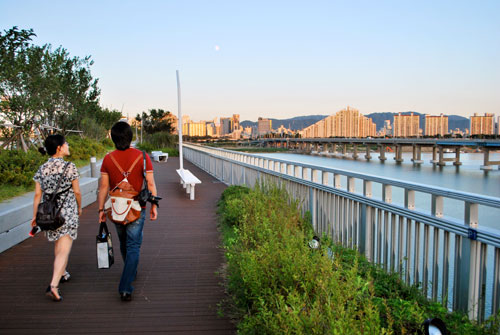 An additional two-and-a-half meters were dedicated to bicycle lanes. Modern benches, public restrooms and illumination systems complement practical landscaping.
The view from the Gwangnaru Pedestrian Bridge is spectacular. While the western view looks back at the big city, the eastern panorama is green forests and a placid river surrounding the Amsa Ecological Park and Achasan mountain.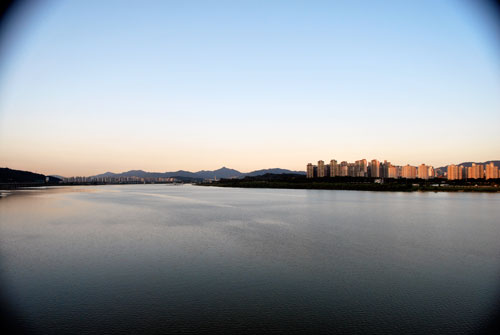 Especially around sunset, the reflection of light atop the wide bend in the Hangang river is especially beautiful.
Some 60 million people visit the network of Hangang Riverside parks every year, but access to them has been an issue. In response, through 2010 Seoul City will install new bus stops, subway exits, elevators and pedestrian-friendly bridges like the new one in Gwangjin.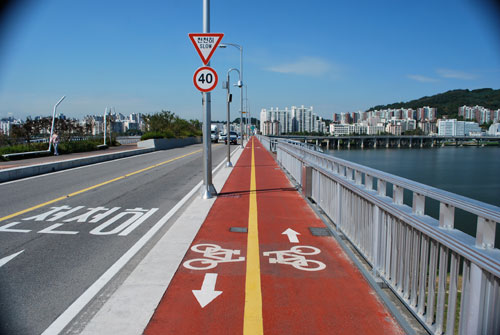 Another cool feature of the Gwangnaru Pedestrian Bridge is the installation of themed cafés on seven Han River bridges. The bridge's River View 8th Avenue café is the river's second mid-span café-slash-observation deck.
Named for its place on the bridge's eighth pillar, the platform is actually located underneath the bridge. Sleek glass and steel staircases lead you below, as helpful signs name the buildings in view.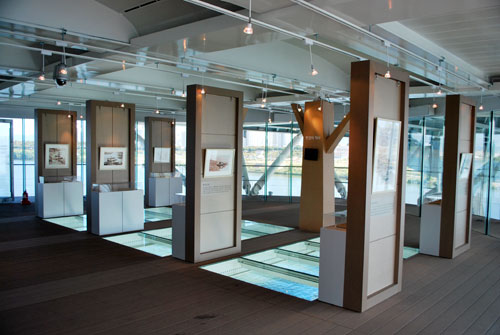 The Gwangnaru Pedestrian Bridge's theme is "art," so appropriately the café's southern side features a small gallery. When I was there, historic snapshots of the Hangang were on display.
Four large sections of the gallery floor are glass-bottomed, offering startling views of the water below. Additionally, a small area describes the Hangang Renaissance Project with videos in both Korean and English.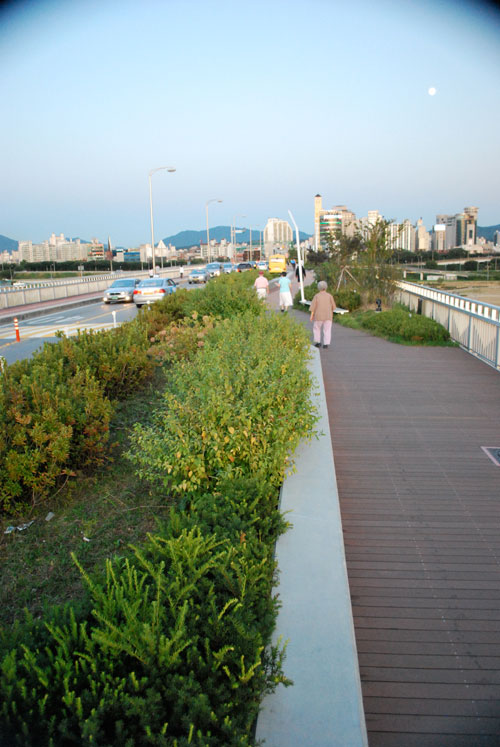 While one side features visual art, the café's northern side is a dedicated performance space. Every Friday and Saturday evening, local singers and musicians can sign up online to perform there.
But despite being called a "café", the River View 8th Avenue's proximity to a protected water source prohibits food sales.
Fortunately, both sides of the bridge offer plenty of things to see and do. On the southern side in Gangdong-gu district (강동구), a large section of the Hangang park system is being converted into a bicycle park.
And nearby, the Pungnap Toseong Fortress (풍납토성) is a 3.5-kilometer earthen wall. To give some idea of how ancient Seoul's history truly goes, the wall is assumed to have protected the first capital of the ancient Baekje Kingdom, which fell some 15 centuries ago!
But if you're looking for a good modern dating course, why not take your special someone on a leisurely walk across the bridge, stop at the art gallery and performance space, and continue across for dinner at the nearby Sheraton Walker Hill or W Hotel?
For Your Information..

Matt Kelly is native of the US Pacific Northwest and is half-Korean by ethnicity. He lived in Korea for five years and has written hundreds of travel guides for Wallpaper, TimeOut, the Boston Globe and Seoul Magazine and was a host for several different variety shows on Korean radio and television.