Most people enter the popular neighborhood of Insa-dong (인사동) from Jongno, the main thoroughfare that has run through Seoul for centuries. From its entrance beside Tapgol Park, Insa-dong starts modestly with a line of snack carts and a baseball batting cage.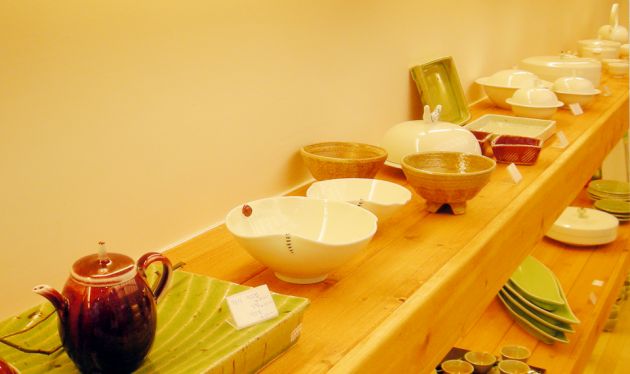 But as the main road continues its diagonal push toward Gwanghwamun Gate, the area's charm is quickly revealed.
Sure, the cheap trinket carts and street food stalls remain, but especially on weekends when the road is off-limits to cars, the cobblestone thoroughfare and an eclectic mix of refurbished buildings make for an attractive mix.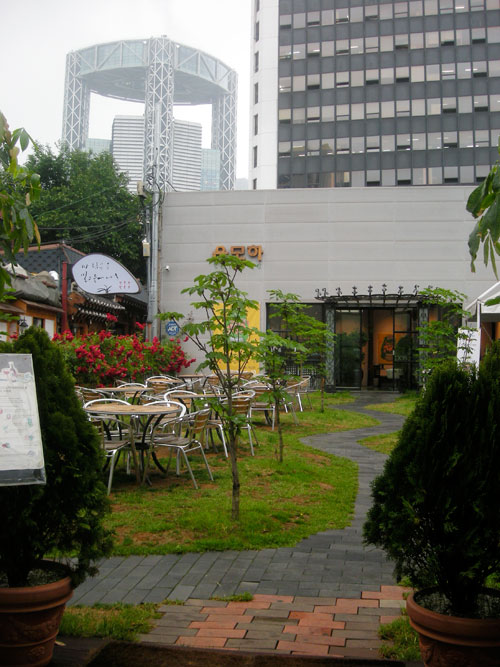 Given its central location, it shouldn't surprise you that Insa-dong is undeniably touristy. Weekend crowds and inflated prices make that obvious.
But that doesn't prohibit the neighborhood's many tea shops, calligraphy stores, restaurants and art galleries to retain their hefty charm. Here's a look at a few of them.
Korea has one of the world's most illustrious pottery traditions, and this heritage can be found aplenty in Insa-dong.
Many of the central artery's storefronts are dedicated to selling ceramics, some old, most new. Just three weeks old, Hukbitnun Saramdul (흙빚는 사람들) is Shin Sang Hun's ceramic showroom profiles the work of four Korean artists.
The cups sets feature faintly-green modern cylinders accented by handles in the shape of curled fish, sparingly accented in blue.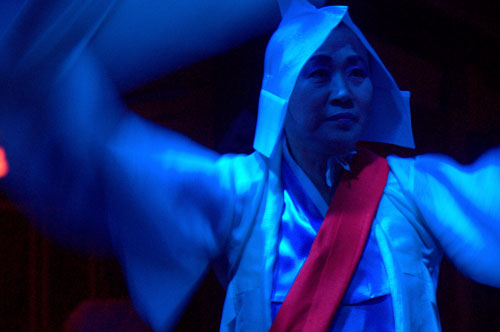 Insa-dong is also popular for its traditional restaurants, and a favorite among old timers and new comers, alike, is Sanchon.
Specializing in Korean temple cuisine, the sole menu items – "lunch" for lunch and "dinner" for dinner, feature 16 delicious vegetarian dishes served amidst a live music and dance performance. Sanchon (산촌) is certainly a great choice if you're welcoming visitors to Seoul.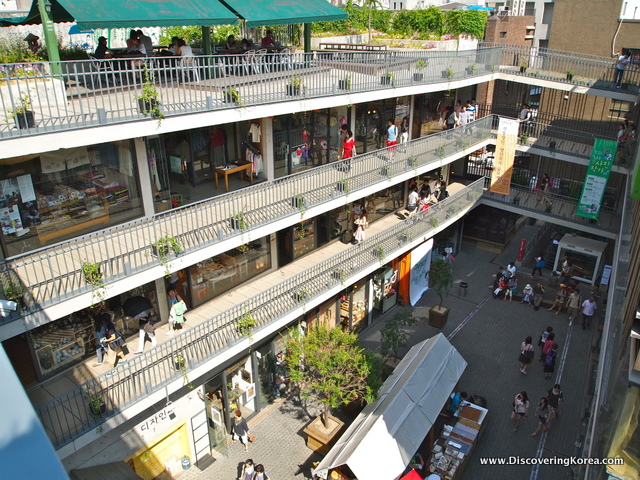 It's a rare feat to install a mall in a special neighborhood and not cringe or cry over the result. And yet, in all its funky glory, Ssamzie-Gil (쌈지길) has managed to enhance the neighborhood, not destroy it.
The open-air, four-level structure prone to playful art installations features a peripheral ramp that leads both shoppers and gawkers – probably more of the latter – past tiny shops selling mostly clothing and jewelry.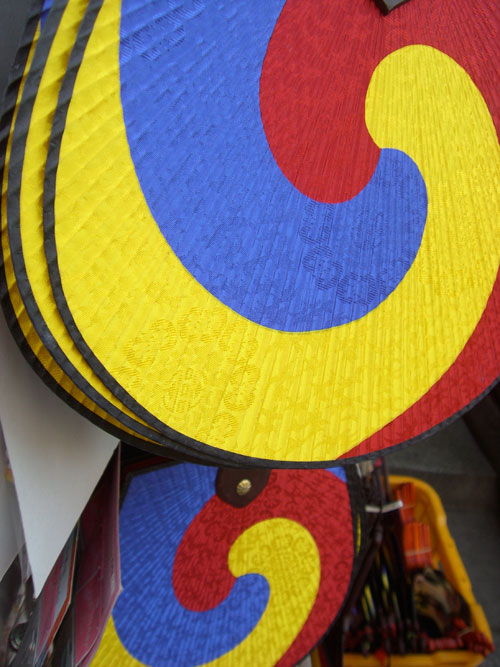 If you wind your way to the top of the complex, why not enjoy some coffee on the long, glass-topped central table at the Between Pages café, or perhaps some kimchi soup in the top-level restaurant?
Beyond the stylish interiors, the exterior affords nice views of the mall and the surrounding neighborhood. On your way back down, it's not usual to find participatory activities on the ground-level, especially on weekends.
For example, try your muscle at hammering a blob of ddeok, Korea's ubiquitous, glutinous rice cake, or sample some traditional Korean taffy.
But after a few hours navigating the busy crowds, if the main road's bustle is wearing you out, take a step off the main path and explore some of Insa-dong's side streets, often the best places to catch a glimpse of old Seoul.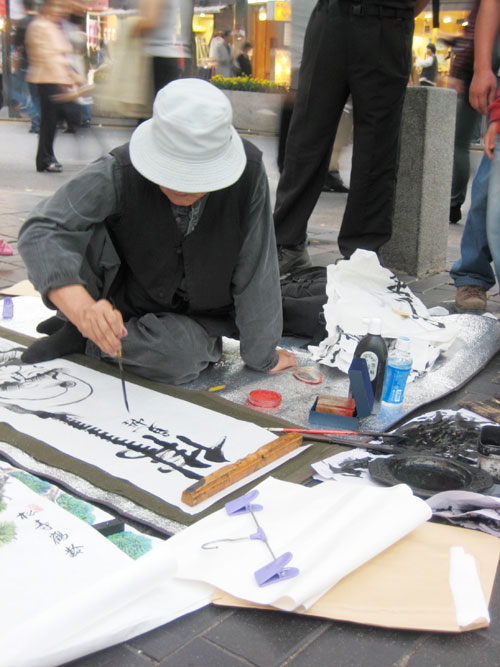 Thanks to its popularity among foreign visitors, Seoul tourism officials have chosen Insa-dong as the test neighborhood for the new U-Tour system, to be available city-wide later in 2010. The automated kiosks connect place descriptions with a helpful map.
If more traditional help suits you better, visit the Insa-dong Info Centre, located one block west of the main drag.
Helpful manager Han Min Jung can answer your questions or fill your bag with maps and brochures. Or, search for yourself on one of the center's free Internet stations.

Matt Kelly is native of the US Pacific Northwest and is half-Korean by ethnicity. He lived in Korea for five years and has written hundreds of travel guides for Wallpaper, TimeOut, the Boston Globe and Seoul Magazine and was a host for several different variety shows on Korean radio and television.