Among the most popular questions I receive on this blog concerns where and when to see autumn leaves in Korea. Given how gorgeous South Korea is during the fall season – thanks to pleasant temperatures and beautiful autumn foliage, I can see why!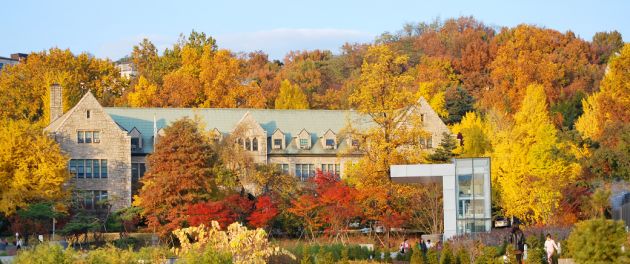 I've had the great fortune to visit most of Korea's popular autumn destinations, from the dramatic Seoraksan mountain (설악산) on South Korea's northeastern coast to the stunning displays of golden gingko trees along Seoul's streets.
To help you plan your own trip to see autumn leaves in Korea, I've put together a 2013 set of leaf-viewing maps – the first is when you should expect to see "first color" across South Korea, while the second estimates "peak color."
Since Korea's mountains are a favorite autumn destination, the green dates are specific to Korea's popular peaks.
According to the Korea Meteorological Administration, this year, first and peak color will arrive a few days later than last year. For the KMA's daily updates, check out their photos and leaf map here.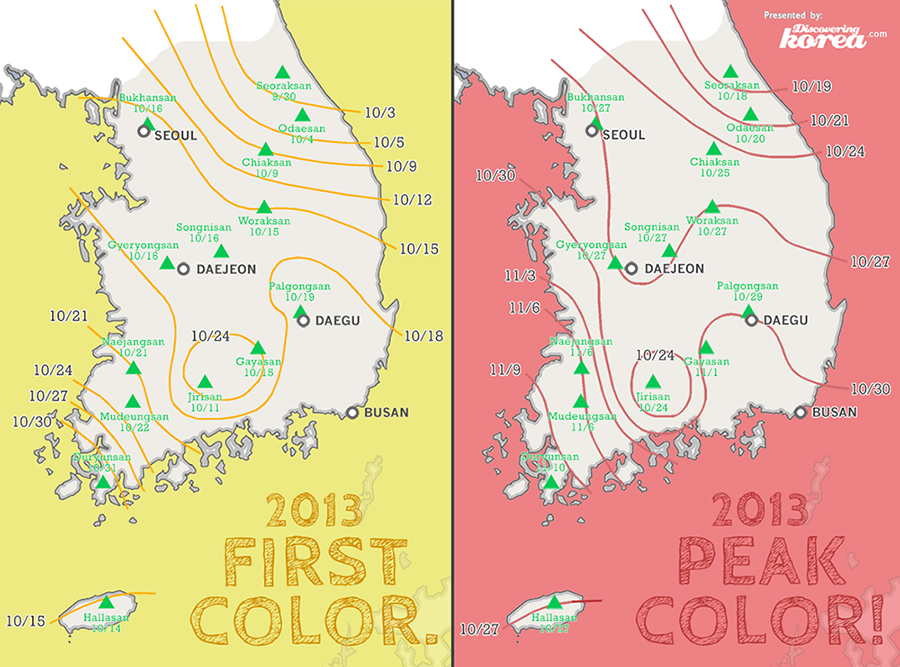 (FYI: If you're interested to know where the banner photo was taken, it's of Ewha University in western Seoul's vibrant Sinchon neighborhood. It's definitely one of the best places to see fall color… and spring color, for that matter.)
Finally, here are a few links to previous posts with more information about where and when to see autumn leaves in Korea in 2013:
Outer Seoraksan Mountain and Gangwon Province
Happy leaf hunting!

Matt Kelly is native of the US Pacific Northwest and is half-Korean by ethnicity. He lived in Korea for five years and has written hundreds of travel guides for Wallpaper, TimeOut, the Boston Globe and Seoul Magazine and was a host for several different variety shows on Korean radio and television.